Top 17 Streaming Video Providers To Try This Year
Streaming is becoming more popular than TV, especially with younger generations. What's more, streamed events, like eSports tournaments, are receiving more viewers than their cable counterparts like the Superbowl.
It's not unexpected. We're always looking for an easier, faster way of doing things. With the world of online content libraries being so easily accessible, it's no wonder that set top boxes and video media servers have been swapped out for the convenience of VOD platforms. So, what is "stream hosting", what are the benefits for content creators, and which are the top streaming video providers?

Before we answer these questions, let's take a look at some interesting statistics that illustrate the amazing growth taking place in live streaming and video streaming.
A report by eMarketer, as early as 2018, discovered that 64.2 million Millennials, born between 1981 and 1996, would watch streaming video or downloaded video at least once a month. In contrast, only 59 million would watch traditional TV at least once a month. Even back then, a whole 9% more Millennials were choosing to stream video on demand (vod) content, rather than watch TV. eMarketer predicted that, between 2018 and 2020, 89% of Millennials would watch online video.
By early 2019 it was reported by CNBC that Generation Z had "all but abandoned traditional television," instead choosing to watch streamed media and digital content on their devices from a media server. As per Wibbitz, the average Generation Z spends 3.4 hours per day watching online videos. CNBC says content producers have moved to YouTube, the most popular of the VOD platforms, where the Generation Z age group lives.
Jack Davis, co-founder of YouTube short film publisher Crypt TV, says Generation Z are "truly endemic internet users." Brian Sokolik, talent manager at Authentic Talent & Literary Management, says the difference with streaming video platforms like YouTube, "is the relationship the audience has with the creators." He adds, "you can have a very direct relationship with your fans."
Amongst other statistics that illustrate the move from TV to VOD streaming, Whistle found 65% of Millennials are streaming Facebook video every day. It's not only the younger generations either. The average US consumer reportedly spends 38 hours per week watching video content, 39%, or 15 hours, of which is streamed. And, between 2016 and 2018 the total amount of time consumers spent on the top five video streaming applications increased by around 140%.
What is streaming hosting?
Using video streaming hosting, or a live streaming platform if you prefer, gives you a central place to publish, store, and manage all of your video streams and streaming content in an online content library.
Stream hosting providers are optimized for media management, sharing, and even multistreaming. They use CDN streaming servers which optimize video and streaming delivery by caching video content on servers distributed around the world. This means when a user accesses a video, the content is provided from a server nearby, resulting in better delivery.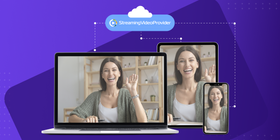 Free streaming providers and video hosting services like YouTube have limited functionality which may not be enough for serious content creators and brand marketers. By contrast, professional video hosting and live streaming platforms like StreamingVideoProvider give you more control over brands, adverts, video monetization, and the quality and security of your streaming content.
Why use a premium streaming service?
As time goes on, you start realising that you want to offer your audience more than what the free platforms allow. Besides, with a free platform, you follow their rules. With a paid platform, you make your own rules.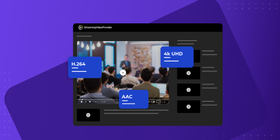 Premium streaming video providers allow you to have your own platform for broadcasting. This is great because it means that you aren't limited by any content guidelines or policies enforced by free live streaming platforms like YouTube or Twitch.
With a premium streaming video provider, you can also get access to a wide range of monetization and paywall options. For example, you can offer one-off tickets along with tiered PPV packages. This means you don't have to worry about selling online tickets to your content with complicated third-party tools.
All of this makes things easier for you, but, more importantly, it makes it easier for your viewers to access your content
In the end, premium streaming video providers give control back to you.
The best streaming platforms also offer some important extras to set them apart from the competition. These include cloud recording, customization and advanced security measures like two-factor authentication.
Here are some key things to expect from the best paid services:
Flexible pay-per-view and monetization options
Cloud recording to archive your live streams
Streaming support across multiple devices
Premium video quality up to 4K UHD
Fast video CDN that delivers your content seamlessly anywhere in the world
Powerful video CMS that allows you to organize your content
Multistreaming (simulcasting) support
2FA and secure video streaming with tools such as IP and Geo restrictions
When to use a professional video streaming provider
You want monetization to be on your terms
Becoming a YouTube partner has grown more and more difficult over the years. So it's only logical for you to want to explore other monetization options. Using a professional video streaming service will allow you to create your own price plan, or even rent out your content!
From one-time fees to recurring subscriptions, you have full control over your monetization options when using premium services such as StreamingVideoProvider.
You want your own branded video player
First impressions count a lot. You don't want your video player to look generic. This is why having your own branded player is a must. A professional streaming video provider will allow you to white-label your video player and make it truly your own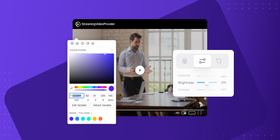 This is especially important when charging a subscription to your viewers. You'd want to provide as much value as possible and the looks of your player are part of this. A premium service will give you customization options to add your own logo, colors and even player controls.
Many professional streaming platforms also support H.264, AAC and 4k UHD for the highest video and audio quality.
You need to protect your content
Once you have put your content behind a paywall, the last thing you want is people sharing tickets. This means losing out on revenue. 2FA (two-factor authentication) is an important feature of streaming video providers that prevents this. It stops viewers from sharing tickets and login information.
You should also check to see if your provider supports dynamic watermarking. This will discourage pirates from recording your live streams.
Last but not least is 128-Bit AES encryption. It gives you peace of mind when storing your content in the cloud.
You want to stream to multiple sites
Another big reason to sign up with a premium streaming video provider is to stream to multiple sites. This is called multistreaming or simulcasting. It allows you to send content to several platforms at the same time.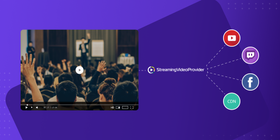 This means you can go live on YouTube, Twitch and Facebook simultaneously.
This solves a huge problem for you as a creator. If your streaming provider supports multistreaming, you don't have to choose which platform you want to stream to. You just flip a switch and broadcast to as many sites as you want.
If you've ever tried to do this without a dedicated platform, you know how difficult it can be.
You want to upgrade your marketing
If you use a professional stream hosting service, you can pre-sell tickets to your event weeks in advance.
You also have access to video analytics. This gives you a deep understanding of your audience and their viewing habits.
Insights and the ability to do early-bird ticket promotions give you more control over your marketing campaigns.
You can also run giveaways that grant the winners free access.
Best stream hosting services
Here's our pick of the best stream hosting services and live video streaming providers out there.
Offering all of the most popular features content creators, brand marketers, and commercial publishers require, StreamingVideoProvider is an excellent all-round streaming platform. It offers instant monetization with Pay Per View, subscriptions and rentals. No commission is taken so you can keep 100% of the revenue to yourself.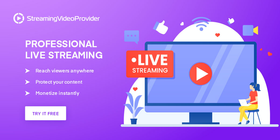 The StreamingVideoProvider cloud video streaming platform has top level security, both for your account and your content. Encryption, password protection, watermarking, and even custom security rules all come as standard. Your content is protected from unauthorized access.
With StreamingVideoProvider you can add live chat widgets and multistream to all the most popular social network streaming platforms, like YouTube Live, Twitch and Facebook, at the same time. The platform, with its user-friendly dashboard, provides detailed analytics for all your published content and channels, at a glance.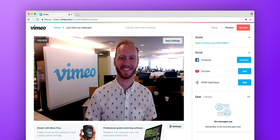 Vimeo Live, now Livestream launched as a live streaming solution in 2017. It sports premium through to enterprise packages and positions itself as the platform of choice for larger organizations. Livestream's premium offering includes standard security and privacy, password protection, private link sharing, unlimited streaming analytics and is ad-free.
The platform has monetization features but with a revenue-sharing model. Pay Per View and subscriptions are only available in the enterprise version alongside more options for multistreaming.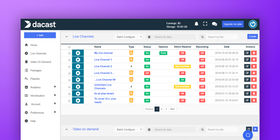 Another good all-rounder for live stream hosting, DaCast has secure delivery as standard including password protection, embed restrictions, and IP restrictions. Security is tokenized and there is SLL payment protection. Real-time analytics is also a standard feature alongside live recording and multistreaming. Advert insertion and paywalls/pay-per-view content are available in Go Premium packages and above.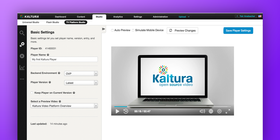 This platform has some unique features aimed at educational institutions and universities. Its pricing matches, with custom options and enterprise pricing available on demand. It doesn't have lower priced options for less frequent content creators and small businesses. However, for developers and those looking for an all-encompassing enterprise grade option, Kaltura's video-as-a-service platform is a contender.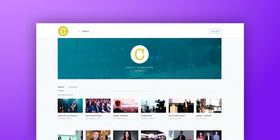 IBM is marketed as a solution for enterprise live streaming with a comprehensive technology offering. The technology giant has bought Ustream and seems serious about developing its video streaming segment. Plans start from $99 per month but, on the upside, IBM's proprietary security mechanisms and usual full range of features can be expected. IBM's Enterprise packages at the basic level include a number of channels, 1TB of video storage, phone support, live polling, and video embed control.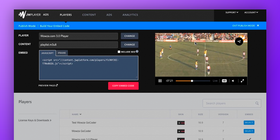 This platform has evolved from being a video player into offering video-on-demand hosting and live streaming. It has integrated tools for monetization and supports VAST/VPAID advertising and has advanced advert scheduling features. But JW Player does not support subscriptions or Pay Per View.
JW Player's security features include tokenized access and DRM support as well as password protected sharing. The platform offers full engagement analytics as well as real-time video analytics.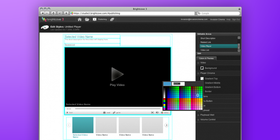 Brightcove's packages are tailored to big-ticket live broadcasters, marketers and enterprises. Its Marketing services package starts at $199 per month and its Enterprise Communications package at $499 per month which includes advanced security and unlimited scale. Brightcove does offer extensive monetization solutions, advertising, and content distribution but these come at a steep price.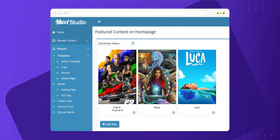 Muvi supports both live streaming and video hosting which is a plus. It gives you the tools to brand your video player and monetize your content. The platform features a variety of apps across multiple platforms and a video CMS. That being said, Muvi's CMS can be confusing and take some time for you to get familiar with. Muvi also offers DRM and watermarking to help keep your content free from sharing and piracy. Although Muvi boasts a powerful CDN, it doesn't support streaming videos in China. This means you may be missing out on a huge market.

SproutVideo offers video hosting and streaming services with a number of great features. From player presets to customization options, you can make the video player your own in no time. The security options include password protection and single sign-on that help you authenticate viewers. You also have access to real-time data about your audience with the deep analytics.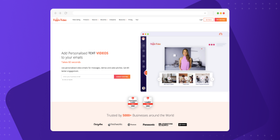 Partnering with Muvi, Hippo Video allows you to create, host, manage, share, and analyze videos. Muvi takes care of the streaming and monetization side of things. HippoVideo focuses mainly on videos for sales and marketing. It features some basic tools for editing. There is also a built-in screen recorder in case you want to create training videos, for example. The collaboration tools help you and your team create quick and effective sales and marketing videos.

Wistia describes itself as a complete hosting platform for marketers. It focuses on hosting services but it doesn't currently support live streaming. This may be a problem if live video is part of your strategy. Wistia provides fully customizable players and in-depth video usage data. Like other platforms on this list, they don't support streaming to China.

Vidyard offers video hosting and management with a very easy to use drag-and-drop interface. The focus here is mostly on sales and marketing. Despite having a lot of good features, Vidyard isn't always as user-friendly as it could be. Again, streaming videos to China isn't possible with Vidyard.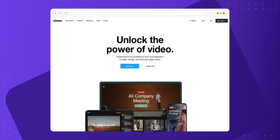 Vimeo is one of the most popular video streaming platforms out there. It has been around for some time, offering both free and paid services. Vimeo has many attractive features such as an easy to use interface, deep analytics and PPV support. Live streaming and other important features are only available on their Premium plan which is $75 per month. This can seem a bit expensive when compared to other services. But if you want a platform for basic video creation and sharing, Vimeo's Plus package starts at $7 per month.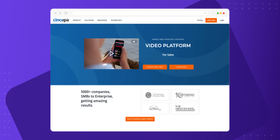 This streaming provider features video, image, and audio asset management. It's a platform that can store your content online and organise it with ease. One of Cincopa's top features is the ability to create your own video website instantly. You can also customize your video player with your own logo and colors so that it matches your branding. Cincopa also integrates with HubSpot and offers live streaming functionality.
Free Streaming Video Services
Our list wouldn't be complete without the free streaming platforms.
DailyMotion is a video hosting and streaming platform you can try for free. It may have some limitations around monetization but it is still a viable option if you are looking to upload your video content online for free. DailyMotion's content guidelines aren't as strict as YouTube's which makes it a nice alternative when you want to host your content online without the risk of having videos taken down.
YouTube is a household name that needs no introduction. We all know the tales of content creators that have made millions using YouTube's ad network. However, in recent times, the criteria to enter Youtube's Partner Program have become stricter. YouTube offers free video uploads and live streaming, but its ever-tightening terms of service and content guidelines make it difficult to rely on.
Facebook has grown out of being "just a social network". The platform is now full of all sorts of features — from job ads to live streaming and video hosting. And if you're just getting your feet wet with live streaming, it's likely to start with Facebook Live. The interface isn't always great but Facebook is used by billions of people worldwide. This means you can reach almost anyone.
The trouble is that Facebook, like YouTube, is free with strings attached. If you use their platform, they can more or less decide what to do with your content.
Compare the best streaming video providers
Let's do a side by side comparison of these providers and the services they offer. For those streaming service providers more focused on medium-large companies and enterprise fulfilment, you usually need to call for an accurate price/service description.
| | | | | | |
| --- | --- | --- | --- | --- | --- |
| | Cloud Recording | Monetization | Multistreaming | Analytics | Price Monthly |
| StreamingVideoProvider | | | | | From $45,$99 with live streaming |
| Livestream (Vimeo) | | Limited until Enterprise | Limited until Enterprise | | $95 Premium, $800 Enterprise |
| DaCast | | Premium | | | From $19,$125 Premium |
| Kaltura | Enterprise | Enterprise | Enterprise | Enterprise | On request |
| IBM Cloud Video | Enterprise | Enterprise | Enterprise | Enterprise | Enterprise from $99 |
| JW Player | | Limited | | | From $10,$50 with live streaming |
| Brightcove | Premium/ Enterprise | Premium / Enterprise | Premium / Enterprise | Premium / Enterprise | From $199,$499 Enterprise |
| Muvi | | | | | $399 Standard $1,499 Pro |
| SproutVideo | | Via third-party | | | From $24.99 $59.99 Sprout |
| Hippo Video | Possible via Muvi partnership | Possible via Muvi partnership | | | From $15 $35 Pro |
| Wistia | | Via third-party | | | Free $99 Pro |
| Vidyard | | | | Teams package | Free $300 Teams Package |
| Vimeo | | Limited | Premium | | From $7 $75 Premium |
| Cinopa | | | | | From $9 $99 Corporate |
| DailyMotion | | Limited | Via third party | | Free although Some features require a restream account |
| YouTube | | Limited | | Limited | Free |
| Facebook | | Limited | | Limited | Free |
Conclusion
The rapid growth of live streaming and VOD services has led to the popularity of a large number of streaming video providers and stream hosting providers. You're spoilt for choice! Many platforms offer an all in one solution, far more comprehensive than free streaming sites like YouTube or Twitch.
If you're looking for a reliable online video streaming platform that features video monetization, we invite you to try StreamingVideoProvider. But the final decision is up to you!
References & Further Reading