How Does Pay Per View Streaming Work? (For Business Owners)
Pay per view, or PPV for short, isn't new. It actually got its start in 1948 when the first-ever pay television service was available for the Joe Louis and Jersey Joe boxing match. Skipping ahead several decades to 1985, and PPV cable channels began popping up. Then, as the internet evolved, pay-per-view services spread online and became available to online content creators.
Yes, the medium has changed but nothing's changed in how pay per view works. Here's what you need to know about it.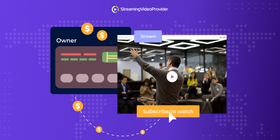 What Is Pay Per View?
Pay per view is a business model that gives your viewers the ability to purchase a ticket in order to watch your paid video content whether it is live media or pre-recorded.
You're essentially putting your videos behind a paywall. Genius, right!?
Here's an example. Click on this video to see how pay per view works with StreamingVideoProvider:
Benefits Of Pay Per View Streaming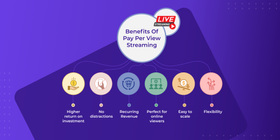 Higher return on investment, compared to ads

Ads might seem like the easiest monetization option. However, you'll need thousands of viewers in order to earn just a few hundred dollars. When charging a fixed fee, e.g. live streaming a PPV sporting event, you can make thousands of dollars in revenue with a much smaller audience.

No distractions

Ads steal your viewer's attention away from your content. Pay per view lets your viewers watch your videos without annoying ads and allows your content to be the center of attention.

Recurring Revenue

If you set up a pay-per-view subscription service, your customers will pay continuously, giving you a viable recurring revenue source.

Perfect for online viewers

Long gone are the days when we were forced to watch whatever cable companies decided to play. With pay-per-view streaming online, viewers can choose what they want to watch and when.

Easy to scale

Figuring out how much you want to charge and earn is simple. For example, if you want to earn $2,000 from a single PPV live event, you can easily calculate that you can charge $20 per person and you only need 100 viewers. Attract just twenty more viewers and Bam! You've earned another $400.

Flexibility

It's all in your hands! You decide how to charge your customers; per video, per collection of online videos (e.g for online courses), or a monthly/yearly subscription.
How Much Money Can You Make With PPV Streaming?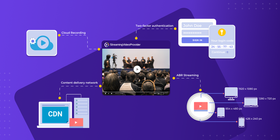 The right answer is that this is solely up to you and the amount of content you offer as well as your pricing. Nonetheless, let's review a few examples to give you a general idea.
Let's say you make money with PPV live streaming. You host, on average, a very modest 20 events per year and you're looking to charge $15 per event. You're also expecting at least 100 people to attend each event. Without selling ad placement, you could stand to earn anywhere between $15,000 to $21,000 per year.
Best of all, this setup is highly scalable. Many of our customers at StreamingVideoProvider make more than $100,000 annually while charging tickets in the $5-$15 range. And, if you're hosting 50+ pay-per-view videos (or events) and pulling in an audience number in the thousands, your earnings will easily skyrocket.
How to Price Your PPV Videos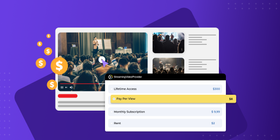 Deciding to monetize your videos is the easy part. Deciding how to price them can be slightly trickier, but we're here to help! Before setting your mind on a pricing structure, you should consider your pay-per-view costs and various other expenses. These should be factored into your price.
A starting price for a single video ticket should ideally be around the $5 mark. This will allow your viewers to sample your content and become comfortable with the payment process.
Another option is to allow your viewers to rent your content. This can be useful for one-off events like shows and live performances.
As you start to produce more content, you may want to offer a monetization package to grant users wider access to more of your videos. This is where a video pass or a subscription can come in handy.
A video pass is ideal for granting access to specific playlists. Or, you can offer an 'all access' subscription which gives subscribers access to all your content.
Let's take a closer look at each of these options.
| | |
| --- | --- |
| | Single Ticket. It's exactly what it sounds like. Viewers can purchase a ticket to watch your video content once. Single tickets are especially popular with live sports entertainment events such as combat sports events, boxing, mixed martial arts. Of course, you can turn any live stream into a live PPV event. |
| | Rental. Similar to platforms like RedBox, you can rent your content to viewers for a limited time. They will have access to a specific video for the amount of time you have set. Just recorded an epic concert? Rentals are a perfect way to let your fans watch a high-quality recording of your special events for just a few days. |
| | Subscription. Another monetization option is to sell a subscription plan to your viewers like Netflix. They pay a monthly fee and have continuous access to your content. |
| | Pass. Passes give your customers access to all of your content during a specific amount of time (e.g number of days) or a specific number of videos viewed. Did your team create a series of training videos? With passes, you can allow viewers to watch ONLY this collection for 30 days. |
Aside from the above monetization options, you can also monetize your content with advertisements.
Best Pay-Per-View Video Hosting Services
So you've decided to move to a premium PPV video hosting service, but you aren't sure which one to choose. Finding the pay-per-view streaming platform that best suits your budget and requirements can be easy if you know what to look for. Let's cover some of the most popular platforms, and see what they have to offer.
What creators want from their video hosting platform changes over time. But StreamingVideoProvider's pay-per-view service offers a ton of video monetization and security options to fit all your current and future requirements.
The Pay Per View streaming and monetization options allow you to sell or rent your content your own way.
Want to sell one-time access to a select video? No problem!
Want to sell an all-access subscription package? Easy!
You can even customize and white-label the HTML5 video player — your logo and color scheme. This means you can erase all traces of the StreamingVideoProvider branding.
Managing your content is super easy with the advanced video CMS. You can organize your videos in folders and subfolders, pre-schedule your live streams, and more.
StreamingVideoProvider's pay-per-view website software also comes with robust security features. The service fully supports Two-Factor Authentication to stop ticket sharing. It also supports configurable domain access restrictions and whitelisting.
But the best feature is that you get to keep all of your revenue. Unlike other Pay Per View platforms, StreamingVideoProviders charge zero fees for ticket sales. Your payments are also instantly available through your chosen payment gateway so you always get access to your funds immediately. And there is also the possibility for video hosting and streaming in China via the powerful global CDN.
StreamingVideoProvider comes with both live streaming and multistreaming features. This allows you to live stream your PPV content to your audience wherever they are. You can go live on multiple sites if you want. Once the live stream is over, your viewers can watch the pay-per-view video recording on demand.
The packages start from $39/mo. There is also a free 15 day trial with all features enabled. You don't even need a credit card!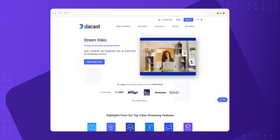 Another popular PPV platform with flexible monetization options is Dacast. Dacast is a pay-per-view provider that supports customizable HTML5 video players. Like with StreamingVideoProvider, you can embed these video players into your website.
Dacast also uses a content management system that allows you to store, manage and arrange your content in bulk.
Live streaming is also available. This allows your viewers to watch popular events live as they happen. Users can catch the VOD at a later time.
Security features include password protection, embed restrictions, and IP restrictions. All this helps to keep your content safe.
Dacast also has coverage for mainland China via their global CDN.
Packages start from $39/mo, and a free trial is available.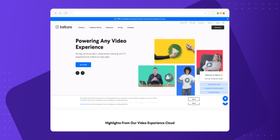 Kaltura is a flexible and customizable video platform that integrates well with other software. This is possible by making use of their powerful API. Kaltura provides a customizable HTML5 video player as well as enhanced analytics.
A primary focus for Kaltura is media management, allowing upload and ingestion to be carried out in bulk. The CMS offers ingesting, distribution, and enhanced metadata management options.
Kaltura supports several monetization options as well as DRM content protection.Single sale options are supported as well as various advertising options.
Another nice feature is their automated captioning service. Both machine transcription and human captioning are available. This can help increase the accessibility of your video content. Kaltura enables you to search within the transcript of each video, making it very convenient when you need to navigate to a specific part.
Price is available upon request and depends on your requirements. A free trial is also available.

Vimeo's video hosting and streaming options have been evolving and improving for many years. Vimeo OTT is a good platform if you are looking to create PPV access, or create a streaming video site (SVOD) like that of Netflix or Hulu.
Custom branding and designs are possible on the HTML5 video player to make your content feel truly unique.
Vimeo uses a multi-CDN consisting of Akamai and CloudFront. Unfortunately, there is no support for access in Mainland China at present.
Live streaming is achieved with a few simple clicks from the dashboard and supports the auto-archiving of content up to 4K.
A limited 'Starter' package is available from $1. The next package up with more important features is $500/mo. It is also worth noting that there will be fees to pay for all of your transactions. An extra conversion fee for international sales is also something to keep in mind.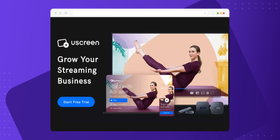 Another platform that offers PPV and various monetization methods is Uscreen. You can create packages that offer rentals, subscription packages, and one-time access to your content. Uscreen supports 130+ international currencies through PayPal, Stripe, and others.
Uscreen utilizes Akamai as a CDN with the option of expanding via your own CDN.
The platform supports live streaming along with automatic recording. This will allow your audience to watch your events if they missed the chance to tune in live.
Uscreen also provides the option to create discounts, coupons, and free trials.
Pricing starts at $49/month with extra fees per subscriber.
| | Live Streaming | PPV Monetization | Global CDN | Extra Fees | Price |
| --- | --- | --- | --- | --- | --- |
| StreamingVideoProvider | | | | 0% | From $39/mo |
| Dacast | | | | 9.9%, plus $0.40 on each viewer purchase | From $39/mo |
| Kaltura | | | | Details upon request | Details upon request |
| Vimeo OTT | | | Excludes China and Indonesia | $1/subscriber per month.International conversion fees may also apply. | Starter - $1 Growth: $500/mo |
| Uscreen | | | | $0.50/sub (per month) | From $49/mo |
Key Features to Look for In a PPV Video Hosting Provider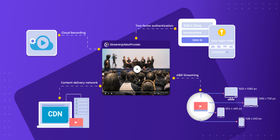 You can easily feel overwhelmed while learning how to set up pay per view video. Most of these platforms are packed with features, with many confusing terms and acronyms.
Here are some key features to look for when choosing your PPV platform.
2FA — Two-factor authentication allows your content to be incredibly secure. This feature stops users from sharing tickets. So, it's saving you money.
Global CDN — Global video CDNs allow for low latency and fast speeds when your audience is accessing your content. It is also worth checking to see if your provider has coverage in places like China because it's a huge market.
Low Fees — When comparing the price of different providers, you should also factor in extra fees. Some providers will charge you per subscriber. Others may charge for converting currencies from international sales or withhold a percentage of your sales.
Video CMS — Once you have added lots of content to your platform of choice, it can be hard to find specific videos. This is where having a video CMS (content management system) with advanced search capability comes in handy.
White-label Video Player — Being able to brand and customize the design of your player is essential. If you are integrating the player into your website, branding can make the experience seamless for the viewer. By the way, if you don't have complete branding, make sure you at least have your own logo; you can try a logo maker for that or hire a professional designer to help you out. Either way, make sure you get a logo and a white-label video player. White-labeling is important because it means you can erase all traces of the provider's brand. This isn't the same as branding or co-branding. In those cases, viewers can still see who your provider is. With white-labeling, they can't.
ABR Streaming — If you are looking to also stream from your provider, make sure the service supports adaptive streaming. This will allow your audience to enjoy your content optimally on any of their devices.
Cloud Recording — Cloud recording allows your live-streamed content to be stored online. This is great for allowing both live access and VOD access for audiences that weren't able to see the event live.
Scaleable Monetization — Make sure that the platform you choose can scale. You may start out without much content or viewers, but over time that will change. Ensure that your platform has extra monetization options to the ones you are starting with. You may want to change the way you sell your content in the future and this means you'll need different monetization methods. Also make sure that you can get access to increased online storage.
Free Trial — A free trial is a great way to try out the features on offer from the top pay-per-view providers. Most platforms will allow you to have access to their features for two weeks. This can be useful to see how user-friendly the interface is and how powerful the features are in practice.
Which Pay Per View Streaming Video Service To Use?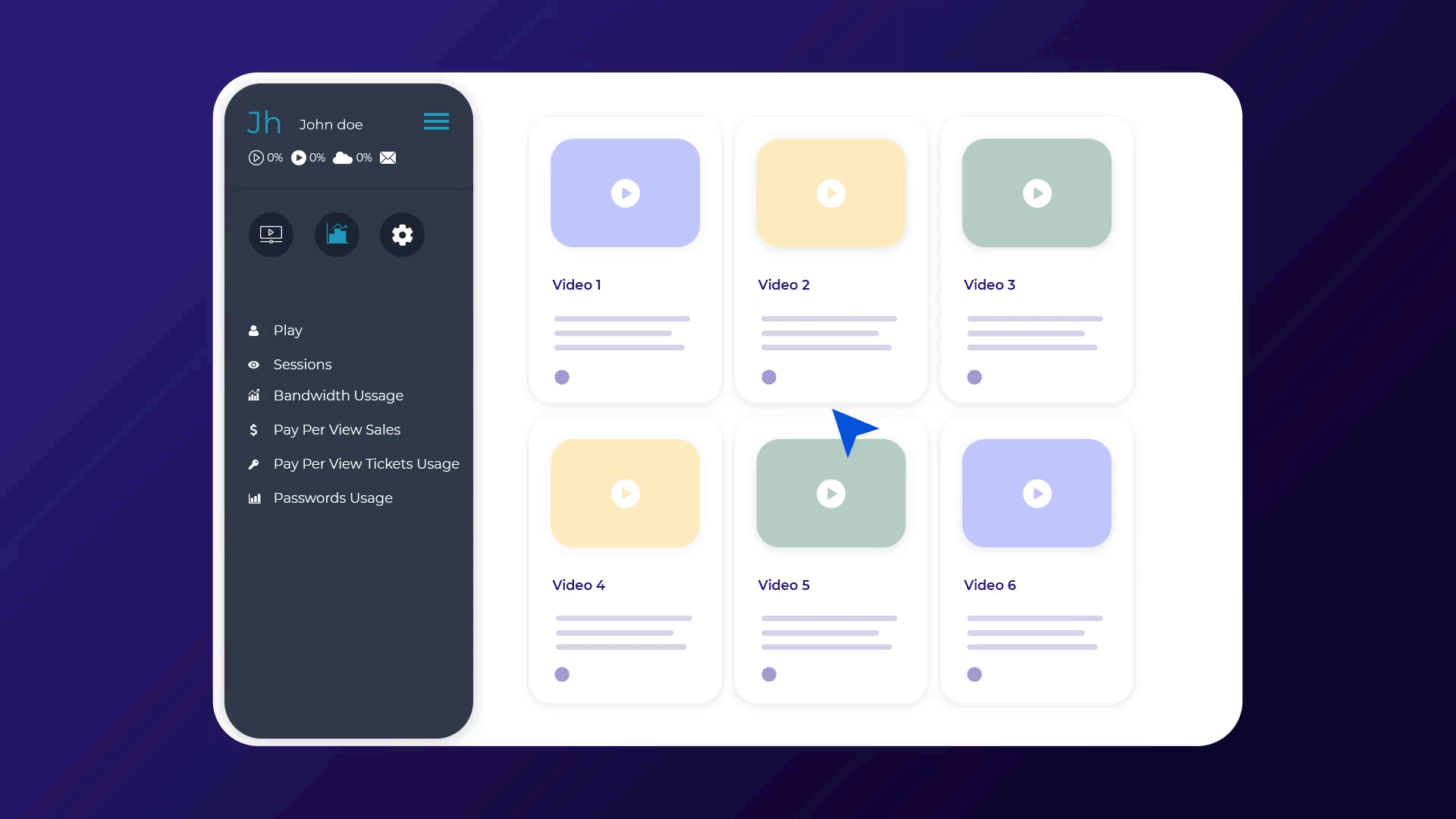 Free platforms like YouTube don't offer pay per view. The only thing that's somewhat close to it is YouTube's new "Membership" feature. Unfortunately, you need to have at least 100,000 subscribers and be a member of the YouTube Partner Program to enable it. And, EVEN if you meet those stringent requirements, you can only charge a fixed fee of $4.99/month.
So, if you want to use pay per view, you will need a PPV video hosting and streaming platform for business. Here are the most important factors to consider when choosing one.
Is pay per view integrated?

If all video hosting services offered pay-per-view video hosting options, it would be great. But, unfortunately, they don't, e.g. Wistia is a video hosting platform but it's not a pay-per-view platform. In the case of Wistia, you'll have to sign up for a third-party pay-per-view system like Cleeng to monetize your videos. This is not only inconvenient, but it could also lead to a security breach.

Are there security and privacy options?

Speaking of security, make sure the service you choose encrypts your video content and protects you from pirating. For example, StreamingVideoProvider uses Dynamic Watermarking to keep viewers from recording your content and posting it to torrent sites.

Are there any additional charges or fees?

Take Vimeo OTT for example. They charge an additional $1/subscriber per month. International conversion fees may also apply meaning things can add up pretty quickly!
How To Stream PPV (Build A Pay Per View Website)
If you're wondering how to live stream pay per view or create a pay per view video, we've got good news: It's easy!
You don't need any pay-per-view plugins or complicated software to set up a Wordpress pay-per-view site. That's also true for other content management platforms. Your pay-per-view video platform will take care of it all.
Let's take StreamingVideoProvider for example. All you have to do is:
Create a free account
Upload a video and set your ticket price in the "Monetization" tab.
Copy and paste the embed code into your website.
Presto! You can start selling tickets on your website and even publish your pay-per-view event on social media.
By the way, StreamingVideoProvider comes with a pay per view PayPal integration as well as 2Checkout, Authorize.net and CCBill integrations. Your viewers can purchase tickets with their PayPal account or a credit card and you get paid immediately.
Conclusion And Next Steps
From professional video production companies to one-person companies, PPV streaming is a great way for anyone to monetize video content. You don't have to attract millions of viewers to make a decent profit and the various ticket options give you complete control. We hope that you now have a clear idea of how pay per view works.
If you are considering streaming pay per view, you can try StreamingVideoProvider for free. We are one of the few video platforms that offer live streaming, video hosting AND pay per view capabilities. In fact, StreamingVideoProvider was the first streaming platform to offer pay per view services back in 2006. You can expect the best protection 24/7 and peace of mind knowing that your content is being safeguarded. Best of all, we do NOT charge a commission. What you earn is yours, free and clear.
You can test StreamingVideoProvider yourself by creating a free account here.
Further Reading