How Does Pay Per View Streaming Work? (For Business Owners)
Pay per view streaming, or PPV for short, isn't new. It actually got its start in 1948 when the first ever pay television service was available for the Joe Louis and Jersey Joe boxing match. Skipping ahead several decades to 1985, and PPV cable channels began popping up. Then, as the internet evolved, pay per view services spread online and became available to online content creators.
Yes, the medium has changed but nothing's changed in how pay per view works. Here's what you need to know about it.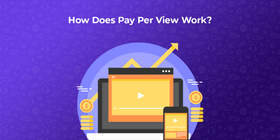 What Is Pay Per View?
Pay per view is a business model that gives your viewers the ability to purchase a ticket in order to watch your paid video content whether it is live media or pre-recorded.
You're essentially putting your videos behind a paywall. Genius, right!?
Here's an example. Click on this video to see how pay per view works with StreamingVideoProvider:
Pay per view monetization options
| | |
| --- | --- |
| | Single Ticket. It's exactly what it sounds. Viewers can purchase a ticket to watch your video content once. Single tickets are especially popular with live sports entertainment events such as combat sports events, boxing, mixed martial arts. Of course, you can turn any live stream into a live PPV event. |
| | Rental. Similar to platforms like RedBox, you can rent your content to viewers for a limited time. They will have access to a specific video for the amount of time you have set. Just recorded an epic concert? Rentals are a perfect way to let your fans view a high-quality recording of your special events for just a few days. |
| | Subscription. Another monetization option is to sell a subscription plan to your viewers like Netflix. They pay a monthly fee and have continuous access to your content. |
| | Pass. Passes give your customers access to all of your content during a specific amount of time (e.g number of days) or a specific number of videos viewed. Did your team create a series of training videos? With passes, you can allow viewers to watch ONLY this collection for 30 days. |
Benefits Of Pay Per View Streaming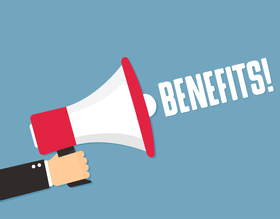 So, why use pay per view to monetize your video content?
Higher return on investment, compared to ads

Ads might seem like the easiest monetization option. However, you'll need thousands of viewers in order to earn just a few hundred bucks. When charge a fixed fee, e.g. live streaming a PPV event, you can make thousands of dollars in revenue with a much smaller audience.

No distractions

Ads steal your viewer's attention away from your content. Pay per view lets your viewers watch your videos without annoying ads and allows your content to be the center of attention.

Recurring Revenue

You can make a video subscription website with pay per view. This means that your customers will pay continuously, giving you a viable recurring revenue source.

Perfect for online viewers

Long gone are the days when we were forced to watch whatever cable companies decided to play. With pay per view streaming online, viewers can choose what they want to watch and when.

Easy to scale

Figuring out how much you want to charge and earn is simple. For example, if you want to earn $2,000 from a single PPV live event, you can easily calculate that you can charge $20 per person and you only need 100 viewers. Attract just five more viewers and Bam! You've earned another $100.

Flexibility

It's all in your hands! You decide how much to charge your customers; per video, per collection of videos (e.g for online courses) or a monthly/yearly subscription.
How Much Money Can I Make With PPV Streaming?
The right answer is that this is solely up to you and the amount of content you offer as well as your pricing. Nonetheless, let's review a few examples to give you a general idea.
Let's say you make money with PPV live streaming. You host, on average, a very modest 20 events per year and you're looking to charge $15 per event. You're also expecting at least 100 people to attend each event. Without selling ad placement, you could stand to earn anywhere between $15,000 to $21,000 per year.

Best of all, this setup is highly scalable. Many of our customers at StreamingVideoProvider make more than $100,000 annually while charging tickets in the $5-$15 range. And, if you're hosting 50+ pay per view videos (or events) and pulling in an audience number in the thousands, your earnings will easily skyrocket.
Which Pay Per View Streaming Video Service To Use?
Free platforms like YouTube don't offer pay per view. The only thing that's somewhat close to it is YouTube's new "Membership" feature. Unfortunately, you need to have at least 100,000 subscribers and be a member of the YouTube Partner Program to enable it. And, EVEN if you meet those stringent requirements, you can only charge a fixed fee of $4.99/month.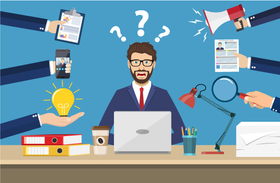 So, if you want to use pay per view, you will need a PPV video hosting and streaming platform for business. Here are the most important factors to consider when choosing one.
Is pay per view integrated?

If all video hosting services offered pay-per-view video hosting options, it would be great. But, unfortunately, they don't, e.g. Wisita is a video hosting platform but it's not a pay-per-view platform. In the case of Wistia, you'll have to sign up for third-party pay-per-view system like Cleeng in order to monetize your videos. This is not only inconvenient, but it could also lead to a security breach.

Are there security and privacy options?

Speaking of security, make sure the service you choose encrypts your video content and protects you from pirating. For example, StreamingVideoProvider uses Dynamic Watermarking to keep viewers from recording your content and posting it to torrent sites.

Do they charge commissions?

Take Vimeo Pro for example. They charge a 10% commission, meaning that for every $10,000 you earn, Vimeo takes $1,000. Ouch!
Here's more information about the most popular pay per view hosting platforms.
How To Stream PPV (Build A Pay Per View Website)
If you're wondering how to live stream pay per view or create a pay per view video, we've got good news: It's easy!
You don't need any pay per view plugins or complicated software to set up a Wordpress pay per view site. That's also true for other content management platforms. Your pay per view video platform will take care of it all.
Let's take StreamingVideoProvider for example. All you have to do is:
Create a free account
Upload a video and set your ticket price in the "Monetization" tab.
Copy and paste the embed code into your website.
Presto! You can start selling tickets on your website and even publish your pay per view event on social media.
By the way, StreamingVideoProvider comes with a pay per view PayPal integration as well as 2Checkout, Authorize.net and CCBill integrations. Your viewers can purchase tickets with their PayPal account or a credit card and you get paid immediately.
Here's a more thorough guide on how to set up a pay per view website (without installing Wordpress plugins)
Conclusion And Next Steps
From professional video production companies to one-person companies, PPV streaming is a great way for anyone to monetize video content. You don't have to attract millions of viewers to make a decent profit and the various ticket options give you complete control. We hope that you now have a clear idea of how pay per view works.
If you are considering streaming pay per view, you can try StreamingVideoProvider for free. We are one of the few video platforms that offer live streaming, video hosting AND pay per view capabilities. In fact, StreamingVideoProvider was the first streaming platform to offer pay per view streaming services back in '06. You can expect the best protection 24/7 and peace of mind knowing that your content is being guarded. Best of all, we NOT charge a commission. What you earn is yours, free and clear.
You can test it out yourself by creating a free account here.
Further Reading