Conference Live Streaming: The Complete Guide
Everyone is live streaming these days! It has become increasingly essential to reach your audience in a time where attending conferences or events in person can be difficult (or even impossible). So, conference live streaming tools and platforms are becoming a must-have.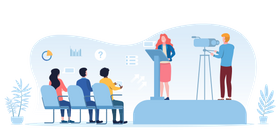 We have seen huge success with the streaming of conferences and conventions such as Twitch-Con and Comic-Con. Streaming is popular with people that are attending these events in person as many want to view the production in VODformat after the event has ended. This is one of the clear benefits of live streaming events. Your audience can experience the event in person, and also see all the bits they missed once they get home.
How to live stream a conference or event
If you want to learn how to stream a conference, the first step is to plan out how the event will be structured.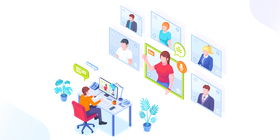 Before you configure any live streaming equipment, live streaming software or consider a conference streaming service, think about the number of attendees and your requirements. This helps you discover the optimal live streaming setup.
For example, if you have a group of people answering questions at a panel, you will want to consider wide-angle camera shots to fit in all of the participants on stage. You may also think about which live streaming microphones, live streaming cameras and switchers are suitable for that scenario.
Will you need multi-camera streaming? Operating with several cameras is certainly difficult but it greatly enhances some types of events like online graduation ceremonies and professional virtual conferences. It gives you the ability to seamlessly switch between camera angles. And this equals a great, professional-looking viewing experience.
During the planning stage, you should ask yourself the following key questions:
How many people will attend?
Will there be multiple interviews or presentations at the same time?
Will you need multiple cameras?
Will you want to seamlessly switch between audio and video feeds?
Is the venue's Internet bandwidth sufficient?
What type of hardware is required to stream the conference?
Is your streaming provider compatible with your requirements?
We cover more of these details in the FAQ section below. We'll now cover the six simple steps to start streaming a conference using a live video streaming service because most people that come to our website request this information.
The great thing about StreamingVideoProvider is that we offer a comprehensive feature set while making it very easy to start streaming your live conference or event. Our process is as easy as this:
Create a free account over on our website.

Click on "Add Media", and then "Live Stream". Once you have chosen a name, select "Create".

Find your stream in the video panel and click "Live Studio".

Click "Select Source" to add your streaming equipment. Click "RTMP encoders" to connect to either your software or hardware RTMP encoder.

Copy the "RTMP URL" to your streaming software (such as OBS) or hardware.

Click on the admin panel, then "Start Broadcast".

If you want to sell (or pre-sell) tickets to your live conference, there are just a few additional steps to take.

You can also use the multistreaming features to broadcast your live stream to several destinations at once such as Facebook Live, YouTube Live, and so on.
When you are done, simply embed the video player on your own website by copying and pasting the embed code – it couldn't be easier!
FAQs
How difficult is conference streaming with no prior experience?
It can be quite daunting at the start for those that have never live streamed or even made video calls before, but with a streaming platform such as StreamingVideoProvider, it's very simple.
If you are completely new to the idea of streaming, we suggest getting started with tools such as OBS streaming software for your computer. Sign up for our 14-day free trial and experiment with the settings. You can try streaming your webcam, for example, or your desktop.
Another option is to try some of the free streaming services such as Facebook Live, YouTube and Twitch. Keep in mind, however, that you won't be able to sell tickets to your conference on these platforms.
This process will get you familiar with configuring your hardware to work with the software, and eventually your chosen streaming provider. You are well on your way to discovering how to stream a seminar or any live event in real-time with ease.
Once you get to grips with how things typically work while broadcasting, you can then gradually move to a professional live streaming setup and to increase the production of your stream.
What are some simple ways to enhance my stream?
Streaming a live conference with multiple cameras is great for a lot of reasons. This type of setup is ideal for panels where groups and individuals answer questions both as a collective and in a one-to-one format.
Using multiple cameras with a switcher allows changing between group and individual shots. This creates a high production quality for your streaming video conference.
As with most things, the more you become familiar and comfortable with event live streaming, the better you will get at it. You should watch your VODs back after the event to identify the numerous things you can do better with the event itself and the way it is filmed.
What hardware and software will I need?
We have written previously about the importance of choosing the right video conference streaming software along with the correct equipment and streaming service. If you are using a laptop or PC, a great starting point is using OBS as conference streaming software alongside your hardware. This allows you to get a feel for how things work together and provides you with a better understanding of the process as a whole. Check out our guides on how to set up OBS and the best OBS settings for streaming. Another alternative that we recommend for small events (less than 100 people) is free video conferencing software.
Some broadcasters prefer using a hardware encoder such as the EzeCaster Pro, but you are completely free to experiment with what works best for you and your event.
For some streamers, action cams are best. This is when you're broadcasting sports events and other hard-to-capture moments. For events like conferences, however, it is best to experiment around a DSLR setup. If you decide to invest in something like the CANON XA40 4K UHD, you will not go wrong.
Many people new to conference capture and live streaming will spend most of their time focusing on which recording equipment to use. This is worth researching, but don't forget to consider other equipment such as detachable microphones, mixers, and switchers.
Switchers will be essential for multi-camera setups to enable you to switch the video and audio source when appropriate. This does a lot for your production quality and is a great investment for those looking to get into streaming live conferences or events regularly.
What internet speed will I need?
Your internet speed will determine which broadcasting settings and video quality are possible. The better your internet bandwidth, the better the bitrate and resolution of your content can be.
Below is a brief breakdown of the recommended video output based on your upload speed. You can find your upload and download speed by visiting this website.
1,756 KBPS / 1.756 MBPS upload speed – Ideal for 720P
4,256 KBPS / 4.256 MBPS upload speed – Ideal for 1080P
8,320 KBPS / 8.320 MBPS upload speed – Ideal for 4K streaming
If your upload speed is lower than the above, you will not be able to stream in HD quality.
Can I put my content behind a paywall?
Yes, if your conference streaming service allows it.
Make sure that your streaming platform provides the ability to monetize your content before you sign up. Some services integrate with third-party payment providers but this can be tricky.
There are many different ways to start making money from conferences. Ideally, your live stream conference platform should offer the ability to sell one-time access (a.k.a. pay per view streaming), or alternatively offer a subscription package granting access to current, previous and subsequent live conferences and events.
It is important to have these features because you may want to branch out in the future with additional content. Then, you'll need a way to grant your audience an all-access package.
Once you initially start to broadcast conferences, don't forget to think about the future. Which monetization method will work best for your content if you broadcast regularly? How will you expand in the future?
You should also consider selling event access directly from the player, and enable ticket sales to take place before the event has begun. This is great for those that want to drum up interest and generate traffic via targeted marketing campaigns in the weeks leading up to your event. For example, check out the demo below to see how this works in StreamingVideoProvider.
Can I stream using a free platform?
If you are getting started with learning how to live stream in HD for the first time, or are learning how to shoot a conference video, using a free platform is a great starting point. YouTube, Facebook Live and Twitch are all very competent platforms for beginners.
However, when we want to broadcast events, conferences and pay-per-view content, the limitations of the free platforms become clear. If you are looking to live stream a conference, a paid solution is a must for multiple reasons.
A big positive that comes with a paid solution is the ability to customize the appearance of your player. Additionally, having full control over the distribution of your content is only possible when using a paid service. For example, StreamingVideoProvider has a number of privacy and security features that even allow you to do private live streaming if you want.
This is far more advanced than the basic video streaming options that come with a lot of the cheaper or free options available.
What should I look for from a live streaming provider?
It is important to choose a conference live streaming provider that meets all of the requirements you have set out in the planning stage. Here are some key things to look out for when choosing your streaming platform:
Directly live stream from service
PPV and monetization support
Cloud recording and access to VODs
Security measures such as two-factor authentication to reduce unwanted ticket sharing
Player customization
Easy website integration for non-coders
When looking at streaming video providers, the platform you choose should be simple to use. There is nothing worse than adding another obstacle between you and your content.
The best platforms will allow for easy copy and paste embed codes. This makes integration on your website easy which is important if you are not a software or web developer.
Another feature to look for in a conference live streaming platform is "live streaming hosting". This enables you to keep your video content archived for easy access for both you and your audience.
Top streaming providers for conferencing and events
There are some great options to choose from when it comes to conference live streaming and event streaming services. Our shortlist only features those that offer monetization via paywalls, one-off ticket sales or subscription packages.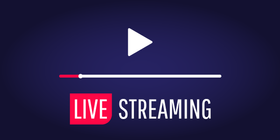 | | | | | |
| --- | --- | --- | --- | --- |
| | | | | |
| Live Stream Directly | | | | |
| Monetisation | | | | |
| Anti-Piracy | 2FA, Domain and IP restrictions | Access codes | Domain restriction | Password, GEO restrictions |
| Fees | None | Paid Tickets - 2% + $0.79 (Region Based) | 10% | $1.68 Per Managed User + $0.29 + 2.9% Per sale |
| Analytics | | | | |
| Player Customisation | | | | |
| Pricing | From $39/mo | Upon request | $75/mo (annual) | From $99/mo |
As you can see in our comparison table, there are several services that are definitely worth your attention.
Some conference live streaming platforms such as Cleeng and EventBrite provide a comprehensive management system and monetization tools. These can do the job if you can put up with the fact they lack the ability to live-stream directly.
Additionally, there is a fee per-sale on many platforms including Vimeo Premium.
We've solved these problems with StreamingVideoProvider and we strive to offer an all-encompassing package for an affordable price. Most importantly, there are NO ticket sale fees.
Conclusion
We hope you now have a better understanding of what is required to live stream video conferences. In the end, we would suggest choosing a conference live streaming platform that can complete the whole process from beginning to end.
This ultimately simplifies your workflow. You don't have to rely on separate services for monetization and conference live streaming. Streaming media conferences isn't as difficult as you would think. You just have to pick a platform, configure your equipment and start making money from your live events.
Further reading
If you want to learn more about any of the terms or subject matter above, please visit the following links: