We recognize the importance of private video sharing & secured video streaming since most of our customers are hosting and delivering valuable video content to their viewers. That's why we built very strong security features to ensure your content cannot be downloaded or accessed by unauthorized viewers, leaving you in full control over the video delivery and distribution.
Live Demo
Test Drive Our Security Features
Showcasing 128 Bit AES Encryption + IP + Cookie Hotlinking protection as well as password protection that will appear at 10 seconds of the video playback. Use this 5CBG1I77EC to bypass the password protection wall.
Try downloading this video using the popular video downloaders to see it for yourself.
Features
Encryption, Hotlinking, IP, Geo and Domain Restrictions

Prevent Your Viewers Downloading Your Videos
As a private video sharing site, StreamingVideoProvider encrypts your videos with the powerful 128 Bit AES / RC4 algorithm. This protects your videos from being downloaded and potentially stolen by an unauthorized viewers who are using video downloading tools. We constantly work on adding new features to keep your videos safe.
Learn More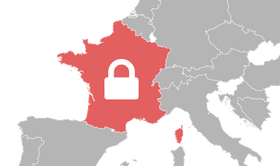 Control Access Based on Geo Location
You have the ability to allow or block viewers based on their geographical location. This can be set with a high degree of detail which will only permit viewers from certain zones such as cities, areas and countries. Your videos, your rules.
Learn More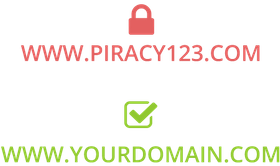 Lock Down Your Players To Whitelisted Domains
Simply lock down your embed code to work only on your whitelisted domains. This way you can ensure that your viewers cannot copy and paste your video player embed code onto their own website and make it run there.
Learn More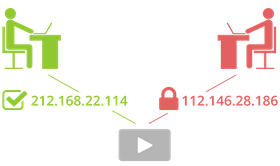 Lock Down Your Videos To Your Employees Only
The IP access control option ensures that only allowed IP addresses or IP ranges can have access to your videos. This is an ideal solution for companies who wants to run internal training videos and ensure only their employees can watch them.
Learn More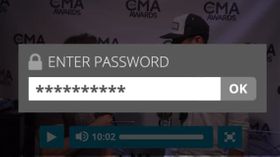 Lock Your Videos With A Password
Easy & simple way to password protect single, group or all of your videos and allow only password holders to have access to them. You can manage and track password usages at all time.
Learn More
Frequently Asked Questions
Can I use multiple security features at once?
Yes, absolutely. You can enable one security feature or as many as you like at the same time. For example you could use 128 bit AES HLS encryption combined with password protection and domain locking to your website. This gives you endless possibilities to secure the videos in the exact manner you require.
Can I embed the player in a secure HTTPS site?
Yes, you can do so by enabling the HTTPS option in the publishing panel before generating your embed code. This ensures that the generated player is fully compatible with your secured page.
How does StreamingVideoProvider deliver my video content?
Here at StreamingVideoProvider we use a large array of our own
global content delivery network
to deliver your videos and live event streams online. We have cloud video CDN points across all 7 continents including
China
to ensure that your videos can be viewed smoothly on all devices as well as maintain our high standards of security.
Do I need to worry that videos are going to be blocked like YouTube and others?
No, YouTube and others can be blocked by Schools, Universities, Offices and other managed environments as these platforms videos are categorised as leisure and entertainment. All our videos are categorised as business and education and get delivered via port 80. Making them available on managed networks
When using Password Protection can I track and manage usage?
Yes, each password you create generates its own set of data which can be viewed and managed from the 'Orders & Passwords' > 'Passwords' Panel. Here you are able to see the passwords creation date as well as who and when it has been accessed with the password. You can even disable and delete the password from here.
Can I restrict my videos to only be viewed from specific offices?
Yes you can do this by using the IP Access restriction feature. Simply type in a single office IP address or a IP address range in the IP Access restriction panel and only viewers with the allowed IP addresses will be able to view your content.