A Guide to Live Streaming Video Marketing for Content Marketers
The pandemic has caused many shifts in the way business and society in general works. One of the things that have grown incredibly during the lockdown is live streaming.
A few years ago, it seemed like the exclusive domain of entertainers and gamers. Now, it has become an integral marketing channel for businesses and brands.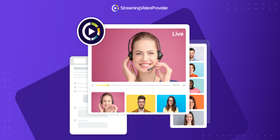 According to Optinmonster, 89% of video marketers say their live video efforts are showing positive ROI.
This tells us that virtual communication is now the main way for companies to communicate with their customers. In-person events have been replaced by webinars and other hybrid and live streaming events.
The study also found that as many as 91% of businesses plan to keep streaming once the pandemic is over, and 81% even named it their social media priority for 2021.
Live Stream Marketing 101
Live streaming video marketing is clearly here to stay, so it is a good idea to get in on it while the train is still at the station and discover how exactly it can benefit your business.
If you're looking to get started with a live streaming strategy, you will find lots of helpful information in this guide. We have talked with many trusted digital media marketing companies to serve as live stream marketing examples and give you some of their best tips for setting your business up for live-streaming success.
Let's begin!
Benefits of Live Streaming
There are many reasons why live streaming should have its place in your live streaming marketing strategy.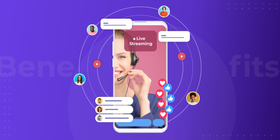 First, it is cheaper than having a pre-recorded video produced and edited for your business. The only upfront expense comes in the form of your gear, which will vary significantly depending on your audience.
What we mean is that achieving professional video quality may not be necessary for your brand, and some mid-range or even lower-tier gear might be perfectly fine.
Second, according to Neil Patel, social media platforms have adjusted their algorithms to make live streaming more viable. Basically, these platforms want to encourage their users to go live more often, which means they'll likely push your video to as many screens as possible.
Another benefit of live streaming lies in the fact that it is one of the most organic ways to engage with your audience in this day and age. With the lockdown in place, and public gatherings brought to a minimum, we have fewer opportunities to communicate in real-time.
Using live streaming and the accompanying chat functions, you can spur natural conversations with your prospects and potentially build a stronger community around your brand.
Defining Your Goals
Before you jump headfirst into any endeavor, the smart thing to do is map out your video strategy and determine why you want to do it and how it will help you achieve your goals. Use a marketing plan template, to plan your goals from A-Z, and think about your current situation.
Are you launching a new product, hoping to make a splash? Are you simply looking to build more engagement with your audience? Or maybe you're looking to capitalize on B2B live streaming. Whatever your position may be, live streaming can help steer you towards your goal, as long as you choose your video marketing metrics correctly.
One of the most important things to remember when it comes to live streaming is that you need to be able to offer value to your audience. So, whether you're creating video content for a training program or something promotional, you need to add uniqueness to it.
That said, you can even show your pitch deck at some point in your stream, as long as the value proposition is good and it brings something exciting and new. Other things you could offer are exclusive interviews with industry experts, tutorials on how to make the most of your product, etc.
On the other hand, if you feel like you don't have much value to offer at the moment, curated video communication or a Q&A session could also be excellent ways to connect with your prospects.
Setting Up Your Live Stream
Let's take a look at the equipment you'll need to set up a basic live streaming setup, starting with the camera.
Camera
The truth is, you don't need a fancy video camera for live streams. Most high-end smartphones are powerful enough to record a decent live stream. What you should invest in, though, is a phone tripod, which you should be able to grab for about $30.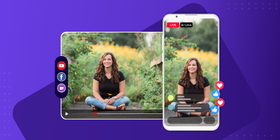 Alternatively, you could go for a dedicated webcam — good ones run at around $80 — or if you feel like your brand's reputation depends on high image quality, you could get a decent DSLR for about $500.
Lighting
Anyone who has ever dabbled in amateur photography or video production knows that lighting can make or break a frame. However, that doesn't mean you need to get fancy with lighting setups. All you need to remember is that light in front is much better than light overhead.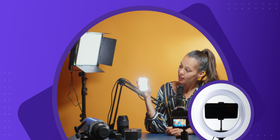 If you're streaming during the day and have access to natural light in your office, try to face the window. Invest in a desk lamp, preferably white, and place it behind your monitor if you're streaming at night.
Whatever you do, avoid sitting directly under a ceiling light as it is guaranteed to give you raccoon eye shadows.
Audio
Although your smartphone will probably do just fine in terms of video quality, relying on it for your audio could cause a few problems. Most smartphone microphones aren't well suited for this type of use, as they are calibrated to record when positioned just a few inches away from your mouth.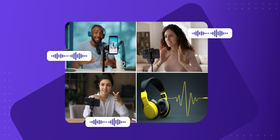 The good news is that this problem is easily solvable, as you probably already have a pair of wireless or cable earbuds with a built-in microphone which do perfectly fine. If you want really sharp audio, you can get an external microphone designed specifically for smartphones — a good one will set you back $50 — $60.
On the other hand, if you're looking to live stream from your computer, many options are available depending on your needs. If you don't know where to start, check out this review of the top 5 microphones for live streaming.
Promoting Your Live Stream
The only way to make sure your audience tunes in is to get the word out. Here are a few tips to help you attract as many viewers as possible with live stream promotion:
Send out a compelling invite — Be sure to send an event invite on social media and include all the crucial information like the streaming platform you'll be using, the date and time of the event, how people can join, and what the live stream will focus on.
Plan well in advance — Sure, one of the benefits of streaming is that you can go live at a moment's notice, but we still suggest planning the event and having a dedicated time slot that doesn't coincide with other major events.
Promote the live stream to your subscribers — You probably have a mailing list or two for your various marketing initiatives, so you'll probably want to invite these prospects to your live stream event. That said, don't spam your email subscribers with incessant invites; moderation is key.
Don't shy away from paid ads — If you have a bit of extra cash, you might want to consider implementing a social video strategy like a paid campaign on social media to drive even more traffic to your live stream.
Closing Thoughts
From product announcements to marketing webinars, live streaming can be an excellent way for brands to keep their audience engaged and interested.
We hope that the live streaming tips we shared above inspire you to connect with your prospects and customers in new ways!
References & Further Reading