How To Start A Streaming Service In < 1 Hour
Imagine that for a moment. If you could build a streaming video website, you would have your very own platform. You'd set your own rules and monetize your live stream any way you want to. You wouldn't have to worry about YouTube Live or Facebook Live cutting off your live stream in the middle because their robots decided that the music playing in the background was copyrighted.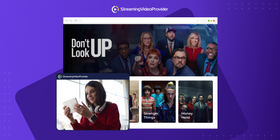 We know, we know! It's very exciting, but it sounds complicated, doesn't it?
The truth? It's not complicated at all! You can easily set up a live broadcast on your website without any coding knowledge.
What You Need To Start A Streaming Service
Domain + Web Hosting
What it is
To put it simply, a domain is the personal web address users will use to access your site. Web hosting is the virtual space you rent to store all the files needed to run your website.
Why you need it
Let's say you're throwing a party and you invite some friends. You tell them all about it but you forget to tell them where the party is being held. Ridiculous, right?
That's why you need a domain. To tell everyone where the party's at. And that's what the hosting is for, to actually "host" (or hold) the party.
A Wordpress Site
What it is
WordPress is a free open-source platform that allows you to install millions of templates and plugins that allows you to bring to life all sorts of website ideas.
Why you need it
You need a website to stream from and the whole idea is to completely avoid coding of any kind. Having a WordPress site gives you that freedom of building your site on your own; no coding necessary. Of course, that also takes a lot of time. Another option that could speed things up and make them even easier is to use a website builder like Boxmode.
Wordpress Video Theme
What it is
Of the thousands of different themes to choose from, WordPress has a few hundred that truly make your video player the prime focus. Their designs are tailor-made to give users the best viewing experience possible.
Why you need it
This is all about how to stream a video, isn't it? So you need a theme that lets you showcase your videos. Make sure it looks good on mobile because more than three quarters of streaming video traffic comes from mobile devices.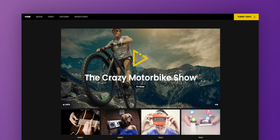 Live Streaming Services
What it is
Live video hosting and streaming video providers take care of the technical aspects of broadcasting. A live streaming service distributes your video content globally, enables playback on any device and provides you with a live stream media player that you can embed directly onto your site (among many other things).
Why you need it
The best way to stream live video on your website is to use a reliable live streaming service that will handle all of the techy parts of video streaming. It streamlines the distribution of your live stream to social media (including restreaming) and ensures high-quality video on all devices.
How to make live streaming websites (step-by-step)
How to Make Money Live Streaming
There are three main ways to earn a pretty penny with live streaming; ads, subscriptions and pay-per-view. You can mix and match these to come up with the right business model for your case. Let's have a closer look:
| | |
| --- | --- |
| Advertising | Similar to how YouTube does it, you can sell ad placements before/during/after your videos or even as banners on your site. With the implementation of VPAID and VAST ads, you can "ad" it up (bum dum tink! ← Rimshot) and develop quite a revenue stream. And you don't have to split with anyone. You keep 100% of your revenue. |
| Subscriptions | You can also go full-blown Netflix and sell subscriptions where users can pay a flat monthly fee for access to your content. |
| Pay per view | You can allow users to pay for one video stream at a time. If you happened to be streaming a concert from your local coffee shop, charging viewers per view is a good way to monetize the event. Or you could be hosting an online seminar on the wonders of our galaxy. Similar to selling tickets, your revenue will be based on the frequency of your events and how many people attend. Pay per view is the perfect choice if you typically do one-time events or you want to sell and rent videos on demand. |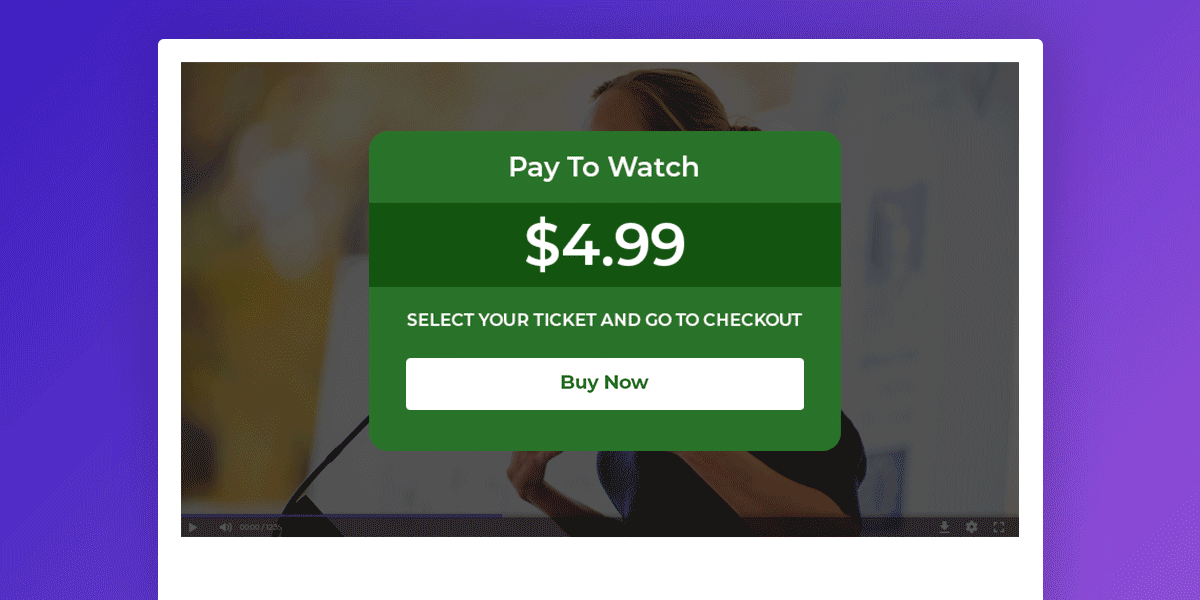 How to Embed Live Video on Your Site
Now that you have everything you need, let's put the pieces together. Whether you want to create a music streaming website, a movie streaming website or a sports streaming website, the process is the same. Here's how to put live streaming video on your website:
Quickly sign-up for a FREE StreamingVideoProvider account. (No credit card required)
Click "Add Media" and click over to the "Live Stream" tab. Give your live stream a cool name and click "Save".
(OPTIONAL) Enable extra features like chat, description and playlist. Just select the live stream with your mouse and use the dropdown on the right.
Click "Live Studio".
Connect your live stream in one of two ways.

Webcam: Start broadcasting instantly with your webcam
RTMP: You can connect an encoder like OBS

Click "Start Broadcasting"

Install the Raw HTML WordPress plugin.
Copy the embed code to clipboard. This is the HTML code you need for live streaming video. On your WordPress site, create a new page and paste the embed code.
BOOM! There you have it! A beautifully working live stream player all ready for your amazing videos. Now it's time for you to earn some dough!
Conclusion
Now you're done! You've got your hosting platforms, your domain, your themes, your embedded video and now a way to make money from it!
A few things to remember before you start raking in the cash; choose trusted and highly efficient platforms and programs. Speaking of this, WordPress and StreamingVideoProvider go together like cookies and milk, so you can hardly go wrong.
Also, don't forget to do your homework when choosing domain and hosting. There are plenty of tricksters out there. Read the reviews to figure out which platforms meet your personal standards.
References & Further Reading