What Are OBS Scenes And How To Use Them + Examples
Once you're done setting up OBS, you can dive into the advanced features such as OBS scenes. These will help you to greatly enhance your live stream production value. If you configure your OBS scenes and sources correctly, your broadcast can go from an average looking stream, to something that looks very sleek and professional.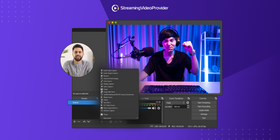 What are scenes in OBS?
You can think of scenes as visual templates that show various elements on screen for your audience. They are among the key OBS settings, enabling you to change your layout, add live feeds from your webcams, live streaming cameras, and other devices.
How do you add scenes to OBS?
A scene can be easily added in OBS by clicking on the plus sign displayed in the image below. Once you have clicked this, you will simply be asked to choose a name for the scene. All of your overlays, sources and general on-screen elements will need to be added via a chosen scene.


Once you have added your scene and named it, make sure it is selected and move to the box on the right side of the image below to click the plus sign. This brings up the various sources you can choose from for your newly created scene. The handy thing is, once you have added a source in one scene, you can easily use it again in another.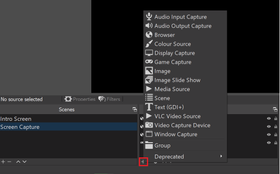 This is the process that streamers go through to add both alerts and overlays to their streams. Overlays play a huge part in making your stream visually appealing, and unique to you.
Congratulations! You now know how to make a scene on OBS.
How OBS scenes work
For example, you may want a scene for your stream with "starting soon" text. However, you will probably want another scene with your alerts once you start broadcasting.
In this scenario, we could configure two scenes with different elements and sources added via OBS.
The below example shows a typical OBS configuration for a beginner streamer that has an "Intro Screen", and a second scene called "Screen Capture". We will switch to "Screen Capture" once we want to start our broadcast.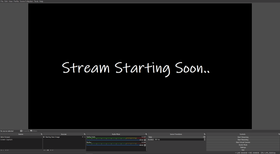 Within the "Intro Screen" scene, you will notice that the only added "source" is an image file.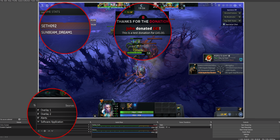 With our second scene that you can see above, there is a lot more happening. As you can see, our second scene is called "Screen Capture" which consists of a few sources that we will break down step by step.
Overlay 1
Highlighted in yellow, this OBS overlay displays recent followers, and displays the data on top of our game/screen capture so that both are visible to the audience. The data in this case is pulled via Streamlabs, which links to your Twitch/YouTube account, and is added as a "Browser" source type.
Alerts
Highlighted in red, this displays recent donations from your audience, and also displays the data on top of the game/screen capture. Again, the data here is pulled via Streamlabs and is added as a "Browser" source type.
Software Application
Highlighted in white, this displays our game/screen capture to the audience. As we want our overlays to appear on top of the game footage, it is good to get into a habit of listing them in OBS in order of priority. Overlays need to be on top of your footage, so they are listed above it in the "Sources" section.
Following on from this, I can add a third scene that is listed as "Outro" which I can switch to when my stream is ending. This could consist of different sources such as music playing, scrolling text, or other elements you can add as appropriate — this is a great chance to be creative and stand out from other streams.
What are some good ideas for OBS scenes?
It can be overwhelming when you first install and set up OBS and start thinking about which scenes and sources to add. When you are starting out, it's best not to get ahead of yourself. A great starting point would be to add a basic introduction screen within one scene, and a screen capture or a webcam capture on another as seen in our example above.
Once you are familiar with OBS and adding scenes and sources, you can start to experiment around with adding things such as different cameras and media sources.
Green Screens with separate camera feed
Configuring a scene with a second camera, and adding a green screen can make for some impressive results. Although it requires a lot of space and is quite time consuming, for professional streamers and content creators it really can take your production quality to the next level.
A "webcam only" scene
Sometimes less is more. Adding a "webcam only" scene is very useful for nearly all streamers as you will always want to talk directly to your audience at some point in your broadcast. This is not only very handy to have, but very easy to configure which is great news for those new to streaming.
Multiple camera scenes
If you have no real use for green screens and feel that it is a bit overkill for what you need, consider just adding multiple cameras. You can alternate between different cameras depending on the stream, and they are very useful for content such as online podcasts and interviews.
You can make different variations of the above suggestions — some variants can have the donations overlay, and some can be without it. You can also do the same with your webcam overlay and screen capture scenes.
Community chat scene
If you are going to be away for a short break in the middle of your stream, a good option is to display your community chat through a dedicated scene as you can see below.
Popular Twitch streamer Lirik does a good job of this by overlaying his live chat onto a television template in a living room setting. He also has displayed his sponsors and recent followers in picture frames either side of the screen which creates an impressive result.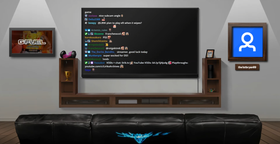 Lirik is a great example of how to be creative with your chosen overlays and input sources, and utilise OBS transitions between scenes.
Combined with OBS scene transitions, overlays, and a varied number of sources, you can create a production quality that rivals traditional television broadcasts.
The below table shows the different types of scene setups possible in OBS based on varying experience levels.
| | | | | | |
| --- | --- | --- | --- | --- | --- |
| | Number of Scenes | Scene Types | Setup Time | Required Tools | Overlay Usage |
| Beginner | 3 | Intro, screen capture, outro | 10-15 minutes | Basic image editing tools | Basic text, social media links |
| Intermediate | 5 | Intro, webcam, screen capture, PiP, outro | 30-45 minutes | Photoshop, basic video editor (if required) | Basic webcam overlay, basic alerts using default OBS scene templates. |
| Advanced | 10+ | All of the above, green screen specific scenes, multiple scene variants | Multiple hours | Video and image editing software, green screen tools | Advanced overlays containing multiple elements. Custom alerts set to match visual style. |
OBS scenes examples
When you start to learn about advanced OBS techniques, you can end up getting some really impressive results. These work great for regular broadcasts, but can also be transformative if you are broadcasting a live event.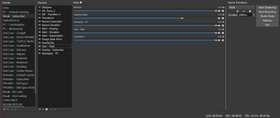 Adding a lot of varied scenes can make for some fantastic results, and pushes the limits of what is possible with current streaming technology and software. OBS allows the user to stream scenes via different greenscreen environments as you can see in the following images.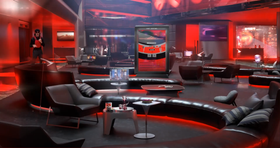 This is an example of how Dr Disrespect uses OBS scenes for streaming, and how multiple sources and a green screen can create a virtual environment. If you are wondering how to switch scenes in OBS, they can be easily switched in and out via a hotkey you can define in Settings > Hotkeys or by using the OBS automatic scene switcher.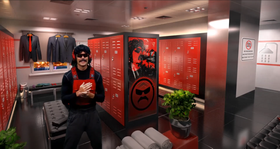 Configuring multiple scenes for OBS Studio with different environments can dramatically improve the visual variation of your content mixed with smooth OBS scene transitions.

Here is a more typical example of switching to a scene with a webcam, and utilizing a green screen effect while using scene transitions in OBS.
FAQ
Can OBS record two scenes at once?
Unfortunately, there is no way to record multiple scenes at once in OBS. However, if you are looking to use sources / elements from two existing scenes at once, you could create a third scene combining them for those times where you want to record both scene's elements simultaneously.
How can I combine OBS scenes?
You can't actually combine scenes within OBS, but you can do the next best thing. As mentioned previously, you can combine the features of the scenes that you want to link together, and simply add them to a new scene. When creating your new "combined" scene, you can select "Add existing" under sources rather than having to input the source details from scratch. This should end up giving you the desired effect instead of actually combining the existing scenes from the OBS interface.
Why are OBS sources not showing when streaming?
A common problem if you are starting out is that your screen capture may not always be displaying correctly under OBS sources. A common fix for this problem is to double click on your screen capture source, and make sure you are either selecting "capture any full screen application", or "capture specific window". Make sure you have selected the correct active window, and you have nothing above your screen capture source in the OBS source list to eliminate the possibility of a conflict with your sources.
Conclusion
Scenes and sources in OBS are essential for all streamers, regardless of experience level. You can get some fantastic results if you don't mind investing some time into configuring your scenes, and a bit of extra cash to buy additional cameras and a green screen. You can also improve your broadcast by looking into the many OBS widgets and OBS plugins available that further enhance your streams, and set you apart from the competition.
To learn more about configuring OBS scenes, visit the following useful links which also include some great general OBS tips.