How To Choose The Best Camera For Live Streaming Your Church Services: A Step-By-Step Guide
In today's tech-savvy world, a wider audience reach and higher audience engagement are vitally important. Live streaming is essential for businesses, personal branding messages, and even churches.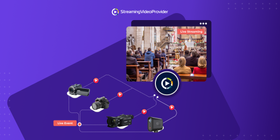 Now more than ever it's crucial to keep people interested in the church and spread the Word of God. That's why live streaming your church services can grow your church attendance and get your message out to more people.
Yet, how do you go about streaming your church service? What equipment do you need to run a successful, weekly live stream? Do you need to buy the best microphones for church or will a basic one do?
These are some of the questions you should ask when you want to help the church create its own live stream. First, let's discuss why a church needs to live stream its services.
Why is live streaming your church services a clever idea?
Simply put, modern life has shifted the way things work. In the past, everyone went to church on Sunday, no exceptions. It was part of Western culture. However, modern life has changed these circumstances. Many people work and travel for their jobs on Sundays, making church attendance difficult.
As a result of the global pandemic, many churches weren't able to remain open due to Covid-19 restrictions. So, the need for people to attend church remotely was necessary.
Lately, many churches have moved online and used their social media accounts to reach their members. And live videos are one of the leading forms of content on social media. This makes broadcasting the next step to growing your church.
What live streaming equipment for a church do you need?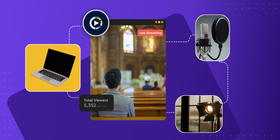 To record your services, you'll need a church live stream setup. The most obvious part of this setup is live streaming cameras for your church with a camcorder.
Streaming services in a church is not the same as recording a gaming live stream. It's often necessary to place the camera at the back of the church auditorium. When placed here, it will be out of the way and won't cause distractions. So, you'll need a camera with a long-distance zoom lens.
Then you need a capture card to convert your camera's video signal to a digital format for your computer to recognize. You can get this nifty device with a USB that makes it easy to plug it into your computer. Or you can invest in a streaming encoder.
And the last piece of your streaming setup is video broadcasting software. Popular software includes OBS, which allows streaming to multiple platforms, or vMix.
Choosing the best camcorder or best cameras for church live streams
One of the biggest decisions is choosing what camera or camcorder you will use to capture your live streaming video. There are a few aspects to factor in when choosing your camera equipment.
Church lighting conditions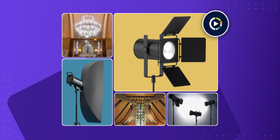 The light performance in your church will drastically affect the quality of the video you are shooting. So, it impacts what camera you should buy. If your church is not brightly lit, then you need a camera that works well in low light. However, if you have a modern, well-lit church, it's not such an issue.
Zoom capabilities
When recording services from the back of the church sanctuary, it's important to consider optical zoom capabilities when choosing your camera. An action camera will ensure a close shot of the pastoral team, and you make them look good to the viewers.
Image resolution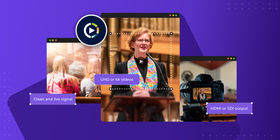 You also want to consider the image resolution or image quality when choosing a church streaming camera. While it's true some streaming services like Facebook Live won't render UHD or 4k videos, you still want to shoot in HD, at least. If you can afford it, buy a camera or camcorder that records at UHD or 4K level. This investment will pay off in the future when 4K becomes more widespread.
Overall, you'll want to go with a camera or camcorder that has a good, clean, HDMI or SDI output. For distances under 25 feet, HDMI is better and for over 25 feet you need to choose an SDI option.
The two must-needed features for a live streaming camera are better-than-average video quality and a clean and live signal out while the camera is recording. Not all cameras have this feature so it's important to make sure your camera or camcorder has both features.
A camera for every budget
Now we know what we're looking for in a video camera/camcorder. Let's explore the best cameras for church live streaming, from the cheapest option to the most expensive.
Best Low Budget camcorder: Canon Vixia HF R700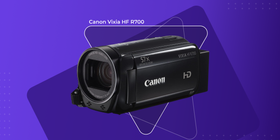 If you need a live streaming setup on a budget, this is the option for you and your church.
This camera is great for beginners, and it is much better than trying to live stream from your phone. It has some nifty features that are easy to learn if you're starting to do live streaming. It only costs a mere $299.99, making it the cheapest on the list. For a more detailed description and review of the camera, read this review on The Nerdy Tech website.
Specs
Resolution: 1920 x 1080
Aspect ratio: 16:9
Microphone: Built-in and 3.5 mm input
Weight: 235 g / 8.3 ounces
Estimated battery life: N/A
Warranty: 1 year
Cost: $299.99
Best Small streaming option: Mevo Start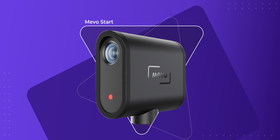 Let's start with how much this piece of live streaming equipment doesn't look like a camera. It's small and unintrusive, which makes it a wonderful choice to put in the back of your church's sanctuary. It's so small that hardly anyone will even know it's there.
This smart camera allows you to customize shots with your tablet or phone app while you're filming. The company also boosted connectivity, low light capabilities and added a bigger battery in their 2020 model. The Mevo Start is perfect for live streaming your church services. For more information on this camera option, read this review.
Specs
Video: 1080p encoding in HEVC or H.264
Lens: 3.6 mm lens with low distortion, an 83.7-degree field of view
Audio: 3 MEMS mics with spatial processing, 3.5mm AUX input, USB-C auto input, or from a mobile device via the free Mevo Mic App.
Connectivity: 802.11ac to a local Wi-Fi network, via host device's 4G LTE signal, or wired Ethernet connection (via optional adapter)
Supported Streaming Platforms: Facebook, YouTube, Twitch, Twitter, LinkedIn, or custom RTMP destinations.
Recording: Saves a copy of your live streams to microSD or can record only, without live streaming.
Dimensions: 3×1.3×3.4 in, 8.2oz
Estimated Battery Life: Up to 6 hours
Warranty: 1 year
Cost: $399
Best camera for your buck: Canon EOS Rebel T7i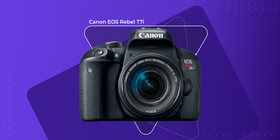 If you prefer a camera over a camcorder, this is the ideal option for you. It works well in low light and is an excellent choice for live streaming church services.
Specs
Sensor: 24.2mm APS-C Dual Pixel CMOS AF (22.3 x 14.9mm)
Focal length conversion on lens: 1.6x
Memory: 1x SD/SDHC/SDXC; UHS-I compatible
Viewfinder: Optical pentamirror, 95% coverage
Max video resolution: Full HD 1920 x 1080
ISO range: 100-25,600 (51,200 expanded)
Autofocus: 45, all cross-type
Screen: Vari-angle 3-inch touchscreen, 1,040k dots
Shutter speeds: 30-1/4,000 sec, Bulb
Weight: 532g (body only with battery and card)
Dimensions: 131 x 100 x 76mm (body only)
Power supply: Li-ion battery (supplied), 600 shots
Price: $739.00
It's not the cheapest live streaming camera for churches but it's a good option to shoot video and take photos. This article will give you more information about this camera option.
Best for higher quality video at a decent price: Canon Vixia G40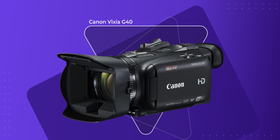 This camera can shoot live stream video at a cool 1080p HD. It has everything you need to film your church services, including great low-light capabilities and an easy setup right out of the box.
Specs
Resolution: HD 1080
Aspect ratio: 16:9
Microphone: Built-in and 3.5 mm input
Wi-Fi: 2.4 GHz and 5 GHz
Weight: 765 g / 1.68 pounds
Estimated battery life: About 2 hours
Warranty: 1 year
Cost: $1099.99
Although it's a big jump up from the Canon Vixia HF R700, it's worth the price and is still a great bargain. For more information, check out this review here.
Best choice for pro-level: Canon FX-105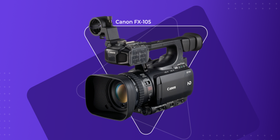 If you want the best, this camera may be just that. It's compact and shoots high-quality HD videos, a full 1920x1080. It boasts loads of professional features as well.
Specs
Resolution: HD 1920 x 1080
Aspect ratio: 16:9, 4:3
Weight: 1070 g / 2.4 pounds
Estimated battery life: Depending on the bitrate, 100–165 min.
Warranty: 1 year
Cost: $2,499
For a list of full specs and a review, read this article.
Conclusion
So, there you have it!
Whether you're recording for your church website or to broadcast your services, these are the 5 best cameras for streaming your church services. If you need multiple cameras, we've shown you each camera's specs so you'll know where to place them. And here's a little more info about multi-camera live streaming.
At some point, you'll need to see if a mirrorless camera or DSLR camera is better suited for your church services. For now, this guide will not only help your ministry to be more tech-savvy, but it'll also help increase your membership.
Have fun, and God bless!
References & Further Reading
George J. Newton is a business development manager at Essay Writing Services and Buy Coursework. He enjoys organizing events, particularly online conferences. Among his main responsibilities are technical preparation for events and managing of live streaming cameras. He also writes technical posts for Thesis Help.


Start Streaming Your Church Services In 2 Minutes
Try It Free