What Is The Best Way To Live Stream Youth Sports?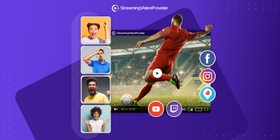 Let's take a short trip back to 2007, the year Netflix stormed the whole world when they began to offer online streaming video.
Sure, Amazon was the first platform to bunk a shot at it, but also, at the same time, as surprisingly as it seemed, it was Netflix that reached global success. Soon after, television stations decided to get into action. A year later, the birth of Hulu upped the ante.
It wouldn't be long before the big wigs in the sports entertainment industry grow a sudden hunger for a piece of the pie.
It's worth noting that before the introduction of online live streaming of major sporting events like the FIFA World Cup, NFL SuperBowl, NBA March Madness, etc., viewers had to tune in via cable providers who religiously insisted on charging premium rates for their sports packages.
This must have led to a big picture of what sparked the "cord-cutting" craze: streaming services like PlayStation Vue, Hulu Live, Sling TV and even Amazon Prime took to airing major sporting events on their varied platforms, and in turn had a massive breakthrough.
Now this begs the question: Shouldn't all live sports events, whether big or small, be streamed online?
Yes! It's no longer a matter of big budgets. Anyone can broadcast sporting events and make money doing it.
So, here is the best way to broadcast youth sports: On your website.
Read on to learn why and, most importantly, how to do it.
Why Broadcast a Youth Sports Event on Your Website?
The answer is undeniably simple: To reach as much audience as possible.
Before the advent of online streaming, there was a TV in every home; and viewership was limited to the number of people a stadium could take in.
But now, with the power of online streaming, the world could become a fan base where just about everyone is hosting live sports streams.
Let's throw in a bit of perspective. Say you coach little league baseball. Every game night you see a turnout of 200 fans.
Even if your team had a relatively large fan base, it wouldn't make much of a difference if your stands can only hold up to 250.
Yet, as funny as it sounds, your team has 3,000+ followers on Facebook and 5,000+ followers on Instagram.
Now do you allow your loyal fans to continue following your team via game day pictures and short videos?
Or do you go ahead and set up a sports broadcast to stream your games live and maybe offer bonus contents like training and workout sessions?
If you choose "to go big instead of going home," you'll need to learn how to broadcast your sports event on your own website.
How to Broadcast a Youth Sports Event
Step 1: Gather Production Equipment
Whether you want to live stream basketball games or any other sport, you need a few basic pieces of live streaming equipment for a sporting video live stream. At the crux of them all: a good live streaming camera and a microphone.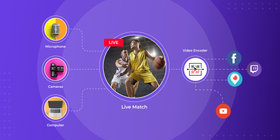 If the playing arena isn't well lit, you'll also need lamps and other light sources.
Since you're live streaming sports events to a site, you'll also need a computer with a strong processor and a reliable internet connection. With those basic items, you should be ready to broadcast instantly.
Step 2: Choose Your Streaming Platform Wisely
Free platforms
Streaming sites like YouTube and Facebook are good options. They're free, and everyone has access to them.
If your goal is to simply market your youth sports team and you want to make your live videos available to everyone, then sporting video streaming on social media is the right plug.
For example, you can use Facebook Messenger to send real-time game updates to your fans.
A free streaming platform may not be the right choice when you want to restrict access in any way or incur a subscription fee or you want people to be able to purchase your content or updates.
Free sites automatically assume rights to your content, allowing them to remove your videos if they wish to do so.
On a free platform, anything you post is viewable to anyone, anywhere, in the world and those with the right know-how can easily download and share your videos as they deem fit, without your permission.
For example, if you want to post a locker room pep talk to rile up your team and fans, you won't be able to block your opponents or rivals from viewing it.
Then, there's the biggest issue—money. Running a youth sports team isn't an easy endeavor, and it certainly isn't free.
Sure, you might have sponsors but if you can add monetization to your revenue streams, your team will be much more secure financially and sustainably.
With Youtube and Facebook, though, you can only monetize your videos by selling ad space. On YouTube, for example, that's only if you meet specific terms and conditions.
Advertisements can only appear on Youtube channels that have more than 1,000 subscribers. The revenue weighs a scale of a few hundred dollars if you consistently attract 20,000 viewers every day.
Another potential issue is that ads can be quite distracting to your viewers and potentially make them averse from your page.
If you want to monetize and protect your sports content, a better solution may be to run the streams on your own site.
Business Video Platforms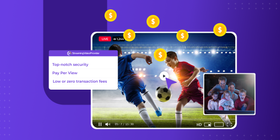 If you decide to broadcast your youth or children's sporting event on your website and monetize it, you'll need a business video platform. Here are some features to look out for:
Top-notch security. Avoid having your videos downloaded and pirated. Make sure the platform you choose takes security seriously. Some of the best ones may use video encryption algorithms such as the 128-bit AES encryption as well as functionality such as watermarking and geo-restrictions.
Pay Per View. Broadcasting your sports event with pay per view is the best way to sell your HD videos because it means that viewers pay a fixed price or a subscription fee to watch your games. Unlike ad revenue, pay per view is predictable. Whether you want to sell live and on-demand content with one-off tickets, multiple viewing tickets or even monthly subscriptions, you'll need a platform that can handle it all efficiently.
Low or zero transaction fees. As you begin selling tickets, some platforms will charge a commission for each sale. This can become a huge issue when your ticket volume starts growing, e.g. If your streaming video platform takes a 10% commission, that will translate to $1,000 fees per every $10,000 earned. Many video monetization platforms take a cut from your sales but some don't. StreamingVideoProvider, for example, has zero transaction fees and you can get paid instantly.
Step 3: Ensure a great viewing experience
If you want to make your site really awesome, try embedding a live chat widget. Live chat will allow your fans the chance to rant and rave about up-to-the-minute action without skipping a beat.
Not only will it drive traffic to your site, but it'll also keep fans glued to your sports streaming page as they continue to discuss the game even after it has ended.
Make sure your site runs smoothly and can quickly and properly handle the needed features.
Professional video platforms like StreamingVideoProvider provide these important features with every account. So, you need not worry about embedding a random third-party chat app to complicate your video streaming.
Step 4: Earn
With the right provider, this is the easiest step. Just select your pay per view option, then sit back and watch your profit increase as fans binge watch you best matches.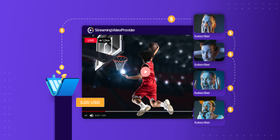 Conclusion
So, there you have it! Whether you're streaming high school and youth basketball, baseball, hockey, or even football, these broadcasting tips are all you need to start streaming youth sports events.
If your goal is to market and attract more fans, free social media sites like YouTube or Facebook are the best way to live stream sports events. If your goal is to allow more fans to support you
financially, while being a quick click away from the comfort of their homes, then go for a business video platform that enables pay per view streaming.
Further Reading & Resources