How To Do Live Streaming: The Best Live Stream Setup
"How to do live streaming?" – if you want to attract an audience in this digital age, you certainly have this question on your mind.
Live streaming has emerged as a key marketing channel for individuals and businesses alike because it's extremely popular.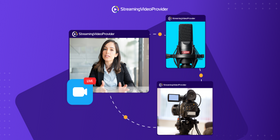 According to the consulting firm Magid, approximately half of all US internet users surveyed in 2017 reported watching live videos at least once a week. The numbers have surged significantly since then, with an Interactive Advertising Bureau survey reporting an increase of 47% in 2018 alone.
If you're wondering how to start streaming, this guide will walk you through all the requirements for a live stream setup.
How Streaming Works?
Live streaming video is delivered over the internet in real-time. It differs greatly from typical on-demand video content that requires you to have the entire thing on your computer to view it. With live streaming, you can start viewing the content as soon as the first data packet arrives.
This is what sets it apart and contributes to its growing popularity–it doesn't take up much HDD space and allows faster, real-time access to content.
Live Streaming Setup
The process is fairly simple.
First, the video camera and microphone record the video and audio input.
This information passes through a capture card that converts it into a format that the computer can understand.
The capture card then sends the information to the encoder software installed on the computer.
This software can provide you with much more than just encoding features – you can edit, create multi-screen displays, specific layouts and carry out any tweaks you want with your video in real-time.
The last step is the live video platform that will broadcast your stream to the audience.
Here's the broadcast equipment you typically need and how it works together.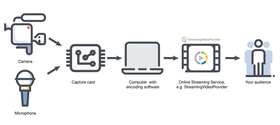 This live streaming setup diagram is a good representation of what is required:
Camera
Microphone
Capture Card
Encoding Software
Streaming Platform
Note: This diagram and explanation apply to a typical live stream using an external camera—when you're live streaming to YouTube, Facebook Live or Twitch. The process is different if you are using your mobile to live stream.
What Equipment Do You Need To Stream?
By now, you have a rough idea of what is needed for live streaming. But there's more to it than meets the eye.
Here's a deeper look into each of the components and streaming accessories required for the best streaming setup:
Audio And Video Equipment
People focus too much on auxiliary equipment – such as the lighting or layouts – without upgrading their audio and video equipment. But remember, audio and video can have a major impact on the overall quality of your live stream. For example, if you are a singer, you may want to opt for an XLR microphone for streaming to make sure you get the best possible audio quality.
Live Streaming Camera
There are various types of live streaming camera equipment available based on user choice and budget. If you're broadcasting an important live event, you may want to deploy a multi-camera live streaming setup that makes use of more than one type of camera.
Here's a guide on the best cameras for live streaming.
Mobile Devices
For starters, beginners can even record their live streams using smartphone cameras as it offers high quality despite being an inexpensive video camera.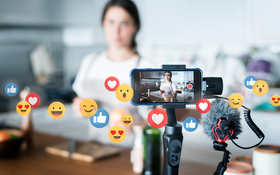 Webcams
This is another viable option if your budget is limited. For example, if you're a beginner who's playing games and want to stream on YouTube or Twitch, you can use a webcam such as the Razer Kiyo. You'll probably only need to add a facecam to your game capture and a webcam will be enough for this job.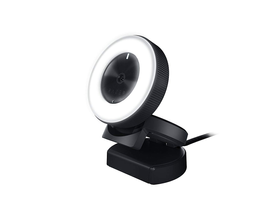 DSLR Camera
DSLR, short for Digital Single Lens Reflex, is a few levels above mobile devices and webcams when it comes to the quality of your live video. Additionally, these offer you more choice when it comes to lens, frames and editing equipment. The Canon EOS 80D is one of the great options out there.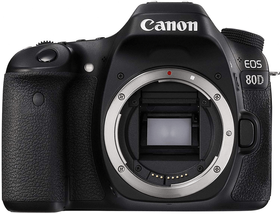 Professional Camera
If you're looking to create a highly professional live stream setup, then you must choose a professional camera. While on the higher-end of the budget, these cameras provide unparalleled quality and additional features required to bring your live stream to life. The Blackmagic Pocket Cinema Camera is a good choice.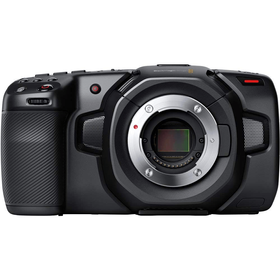 Microphones
The sound quality of your live stream is just as important as your video quality which is why experts always advise to opt for an external live streaming microphone.
Whether you decide to use an external microphone, a lavalier microphone or a USB one depends on your use–but the constant amongst all is that they guarantee a higher level of sound quality than internal mics.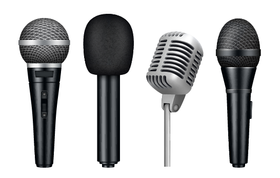 Stable Internet Connection
You can have a professional streamer setup installed on-premise, but if your internet speed is slow, your audience will be deprived of the high-quality experience you would ideally want them to have.
When it comes to live streaming, your upload rate matters the most. However, on average, upload rates are lower than download rates across the globe.
There are many factors involved – such as fluctuating speed, frames per second, the quality of your video and the use case. For instance, a game live stream has a significantly faster change of visuals than a podcast.
Here's a table that will help you analyze what your internet upload speed should be.
| | | | |
| --- | --- | --- | --- |
| Video Quality | Frames Per Second | Recommended Bitrate | Internet Upload Speed |
| 480p | 30 | 400 – 1200 kbps | 1.5 Mbps |
| 480p | 60 | 1500 - 3000 kbps | 2 - 3.5 Mbps |
| 720p | 30 | 2500 - 4000 kbps | 3.5 - 5 Mbps |
| 720p | 60 | 3500 - 5000 kbps | 4.4 – 6.2 Mbps |
| 1080p | 30 | 3500 - 5000 kbps | 4.5 – 6.5 Mbps |
| 1080p | 60 | 4500 - 6000 kbps | 5.5 – 7.5 Mbps |
Encoder
An encoder is one of the most important components of any live streaming setup. While your hardware (camera, microphone and any other component) may be able to record your live stream, they are not able to stream media on their own. This is where an encoder comes in handy.
There are two types of encoders – let's take a look at each of them.
Hardware Encoder
Hardware encoders are small box-shaped devices that attach to your camera and audio sources on one side and to your desktop computer on the other. All of the encoding processes take place in the box and it returns stream-able data that can be uploaded via the internet.
Software Encoder + Capture card
As the name implies, software encoders or live streaming software are programs that need to be installed in a separate computer that allows you to edit as well as encode data. To use a software encoder, you need a capture card.
Examples include capture cards like the Blackmagic Design Intensity Pro—these are common for in-game streaming setups but can also serve for live streaming in general. The video below has more information about capture cards.
Now, let's go back to the software encoder. Here's how this works: The media feed first goes into capture card, then to the computer and finally into the software encoder which prepares it for live streaming.
One of the most popular software encoders is Open Broadcaster Software (OBS).
Live Video Hosting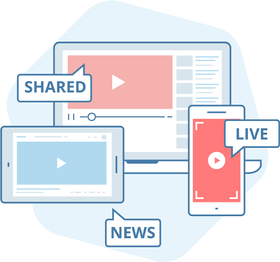 Once you have encoded your live stream, you need a streaming service to broadcast it. The popularity of live streaming means that there are various hosting options available.
Let's look into them:
Free Video Hosting
If you have just begun live streaming and are yet to gather a following, then free video hosting platforms might be a good fit for you.
Popular social media websites, such as Facebook and YouTube, are two of the most common live-streaming hosts due to the accessibility, exposure and ease of use.
Due to the very nature of social media, these platforms present privacy concerns that may not affect you in the start – but will present a threat if you're looking to monetize or protect your video.
Business Video Hosting
Business video hosting platforms allow users to broadcast videos as well as monetize and protect them.
While they do involve in-platform purchases, in return you get:
For people who want to take their live streams seriously, business video hosting platforms like StreamingVideoProvider provide peace of mind as well as a sustainable source of income.
How To Start Streaming Now
Ready to start streaming now? All you have to do is create a free StreamingVideoProvider account. Then, follow the steps below.
Conclusion
On the surface, live streaming is very easy to setup. In reality, different variables dictate how to do live streaming for each independent user.
In general, your streaming kit should include a camera, a microphone, a stable internet connection, an encoder and last but not least, a high-value video hosting platform.
References & Further Reading