We Reviewed The Top 5 Best Microphones for Live Streaming
If you want to improve your live stream quality, there are many different avenues to explore. A good place to start is Bitrate and resolution settings. But your next step is to look at your hardware and its limitations. In this post, we'll answer the top questions that people ask about microphones for streaming.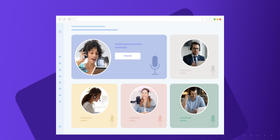 Purchasing a dedicated microphone isn't an immediate concern for new streamers. With a microphone already in the cameras, you can get an external microphone later on. But, the truth is, a dedicated microphone can improve the quality of your live streaming, and enhance the viewer's experience.
XLR microphones are the kings of sound quality. They have been around for some time, and are still recommended for live band performances. The problem with this type of microphone is the technology — they use an XLR cable that requires a specific port. And there is also the high price point.
On the other hand, USB microphones have made huge leaps in sound and build quality, and their prices are reasonable. There are also many options lately to buy dynamic microphones for streaming at a lower price.
Let's have a closer look...
How to choose a microphone for your stream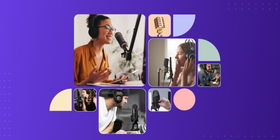 Choosing the best microphone, whether it's an XLR microphone for streaming or some other type, is a key step in picking the right streaming equipment. It depends on your type of content, and your recording environment. For now, we will assume that you'll record live streams indoors with a static setup.
As a first step, you need to figure out if there'll be any regular background noise in your streaming and recording environment. This will play a big part in choosing the microphone that's best for you. It will help you to decide if you need a microphone with a shock mount or more sophisticated noise-canceling features.
Here are some key features to look for when you choose your microphone:
Cardioid, bidirectional, or omnidirectional polar patterns
Pop shields or filters to improve sound
Robust and portable design
USB connectivity for budget and beginners
XLR connectivity for quality and experienced users
Reasonable price
If you are new to microphones and streaming, those terms may be a little confusing!
Let's look at them in more detail.
Polar Patterns
You can think of a polar pattern as the direction that your microphone picks up sounds while recording. There are a few different types of polar patterns used in live streaming microphones.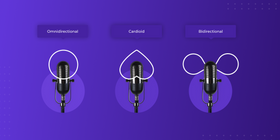 The most common ones are cardioid, omnidirectional, and bidirectional. All of these patterns target different scenarios and configurations to get the best results possible while recording.
Cardioid
This polar pattern is ideal for most streaming and recording configurations mainly because it can reduce background noise and capture sounds directly in front of the microphone.
Cardioid microphones are typically used by streamers that sit in front of their computers while broadcasting.
Bidirectional
Microphones that have a bidirectional polar pattern are great for recording sound at the front and back of the mic, while rejecting sounds coming from either side.
These are also sometimes referred to as 'figure-of-eight' microphones.
Omnidirectional
An omnidirectional polar pattern allows sound from all directions to be captured by the microphone. These can be very helpful in specific situations, depending on your streaming setup and requirements.
Frequency response
You may also stumble upon the term 'frequency response' while researching microphones. This describes the frequency range that your microphone is effective in. In most cases, a range between 20Hz - 20KHz will be suitable for recording voices and general audio, but this depends a lot on your configuration and content type.
Pop shields
Pop shields are a great accessory that can dramatically improve the sound quality of your broadcast. The purpose of a pop shield is to eliminate 'popping' sounds that can be heard when we say certain words.
The air that comes from your mouth while speaking will hit the pop shield reducing 'plosives', creating a more consistent and professional sound.
If you stream without a pop shield, the sound can be distorted because of the excessive airflow reaching the microphone.
Microphone connectivity — XLR or USB?
There are two common connection types for microphones, USB and XLR.
For most beginners USB is a great choice due to price and ease of use. UBS microphones are typically very easy to get up and running quickly without any experience.
USB is known for its 'plug and play' nature whereas XLR requires an audio interface. Because of this, XLR microphones can be a bit more difficult to get up and running if you are a beginner.
If your aim is to get the best sound quality possible from your audio capture, an XLR microphone is the way to go because of its low signal-to-noise ratio. XLR gives little to no interference.
The best microphones for streaming compared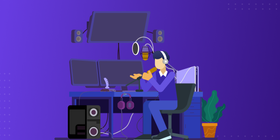 Let's talk about which microphones are the best for live streaming.
Polar Pattern

Frequency Response

Connectivity

Pop Filter

Price

Cardioid, Omni, Bidirectional, and Stereo

20Hz–20,000Hz

USB

Sold Separately

$115

Cardioid or Omni

20Hz–20,000Hz

USB

None

$49

Cardioid

70Hz–20,000Hz

USB

Sold Separately




$142

Cardioid, Omni, Bidirectional, and Stereo

20Hz–20,000Hz

USB

Built-in

$160





Cardioid, Omni, Bidirectional





Cardioid 80Hz–18kHz

Omni 20Hz–20kHz

USB

Sold Separately

$130
Blue Yeti USB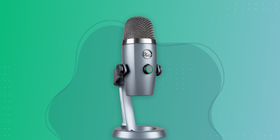 The Blue Yeti USB microphone brings a lot to the table for both beginners as well as seasoned streamers. It offers four polar patterns to choose from — cardioid, omnidirectional, bidirectional, and stereo. These options make it a versatile microphone that you can use in many situations.
A lot of users prefer this microphone because you can use it for both streaming and recording. Whether you're streaming with OBS or some other streaming software, get the Blue Yeti if you plan to record in different scenarios or expect to use more than one microphone when streaming.
Most streamers position this microphone flat on their desk. You can also make use of the multi-pattern polar settings by connecting the mic to a suspension arm for optimal effect.
Very versatile microphone
Four polar patterns
Easy to get up and running
Needs a suspension arm to reach its full potential
JLab Audio Talk GO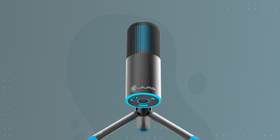 The JLab Audio Talk GO is a noteworthy choice if your want to improve the audio on your broadcasts. Priced around $50, it's a good value for money. It offers two polar patterns - cardioid or omni. And it also has a convenient quick-press mute button. This is a great entry-level microphone that's ideal for beginners who want to upgrade from a webcam microphone.
It's a portable and robust microphone that's quite easy to set up.
Reasonable price
Two polar patterns
Easy to get up and running
Not suitable for advanced streamers
Elgato Wave 3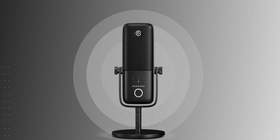 As a high-end microphone, the Elgato Wave 3 is the go-to choice for many streamers, and with good reason. Wave 3 focuses on cardioid polar capture to eliminate background sounds. This helps you to record audio that sounds professional. A lot of broadcasters consider the Wave 3 as the best mic for no background noise.
Another great feature of this microphone is the proprietary clip guard technology. This technology automatically adjusts levels to stop distortion. The result is a reliable and clear output.
We recommend that you use this in conjunction with an arm and pop shield to reach its full potential.
Focus on quality — clear audio output
The cardioid polar pattern works well at reducing background noise
Clip guard technology, which stops distortion
Not as versatile as some other mics — "cardioid only" may be limiting
HyperX Quadcast S

Another multi-purpose microphone is the HyperX Quadcast USB microphone (S). Like the Blue Yeti USB, it supports cardioid, omnidirectional, bidirectional, and stereo polar patterns. Meaning that this microphone is suitable to use in a variety of configurations with clear audio capture.
With a built-in shock mount and pop filter, you won't have to worry so much about bumping into your desk or hitting it with your arm and ruin the sound output.
The unique colorful lighting effect will add an element of fun to your streaming time.
Four polar patterns for added versatility
Built-in pop filter and shock mount
Tap-to-mute sensor
RGB lighting might put some users off
Samson G-Track Pro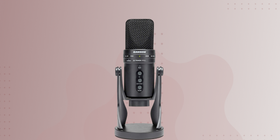 Since the Samson G-Track Pro supportscardioid, omnidirectional, and bidirectional polar patterns, it works well in different recording environments. This mic has die-cast zinc construction with a heavy gauge mesh grille that's built to withstand knocks and bumps. It's ideal for digital nomads who are always on the move.
It has a different frequency response depending on the polar pattern in use. You need to keep this in mind when alternating between the different patterns.
Three polar patterns
Robust design
Front panel mixer
Can have trouble isolating vibration from keyboards and other knocks
Frequently Asked Questions
A great option to get started is the MAONO AU-04 USB microphone kit. This condenser mic includes a pop filter and shock mount which holds the microphone steady with a damping function. Something like this is ideal when you first start streaming to YouTube, Twitch, or on your platform.
The Jlab Audio Talk Go is another excellent USB live streaming mic if you're new to recording. This microphone comes with two-directional pattern modes - cardioid and Omni. These patterns make it quite versatile for recording. It's also well-suited for multiple streaming configurations.
There's not one popular brand, but the trend is to use microphones that are versatile, robust, and connect via USB. Streamers often buy Blue Yeti and Elgato Wave 3 because both are sold at a reasonable price, are easy to use, and offer great features.
Microphones such as the Blue Yeti are condenser microphones. These microphones work best for more subtle sounds and high-frequency sounds. Dynamic microphones are often used for live music recording since they work better with loud or harsh sounds such as a snare drum.
When streaming at your computer in a stationary position, put your microphone in front of you at 8-10 inches from your mouth. In most cases, this is the best position.
Choose a cardioid microphone such as if there's a lot of background noise in your streaming environment. You can place this type of microphone right in front of you to help reduce noise. For beginners, we recommend Razer Seiren X. For those that want to take it to the next level, the high-end Neumann TLM 102 is a great choice.
If you use another type of microphone, you'll need to experiment to find the sweet spot. Use a mic suspension mount or arm and record yourself a few times with the mic at different distances from your mouth. Listen to these recordings and use them to select the best placement for your mic.
What are some other tips for improving sound recording?
Besides picking a good quality microphone, there are a few things you can do to improve the quality of your recording. Try these tips to produce a more professional sound:
Ensure that you place your microphone based on its optimal polar pattern.
Use a suspension arm to improve the sound, and reduce unwanted knocks.
Consider a shock mount to reduce unwanted vibrations from your desk.
Using a pop filter to improve your recording.
Ensure your microphone is 8-10 inches away from your face while recording.
Use a cardioid microphone to help reduce unwanted background sounds.
Conclusion
Of course, the best microphone for live streaming will depend on the type of content you're creating.
Here's a quick overview.
If you record podcasts in different formats, it's best to get a microphone with more polarity types. You'll need either the HyperX Quadcast S or the Blue Yeti USB. Both of these microphones perform great as part of an audio setup for live streaming.
Choose the Elgato Wave 3 when you need a mic that doesn't pick up the background noise.
If you are new to streaming the JLab Audio Talk GO is one of the best broadcast microphones to improve your broadcast quality. You can also consider the MAONO AU-04 USB microphone kit. It's is ideal for beginners and includes most of the equipment you need to get started.
Most streamers consider these two options as the best budget microphones for streaming.
To further improve the quality of the output sound or add effects, try some of these OBS mic filters.
References & Further Reading
If you'd like to find out more about any of the terms mentioned here, please visit the links below.


You Can Earn More From Your Live Streams With Pay Per View
Try It Free