How to Craft a Video Distribution Strategy
In the world of marketing, it is no longer about keeping up with the Joneses. It's about getting into that outside lane and overtaking them. You already know how important good content marketing is — connecting you with your customers (and potential customers) and driving them towards that crucial decision to make a purchase.
But how important are videos to your content strategy? Are you yet to take the plunge into having video as part of your game plan?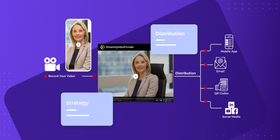 You should. There is hardly anything you can do these days without video and live video is especially popular. Live content earns 27% more minutes of watch time per viewing compared to video on demand.
Streaming video hosting is being used for everything from live events streaming to live streaming of sales conferences. Video should be an essential part of your overall content tactics as should distributing the video content.
Why Video Is Important
The use of video has also hugely increased, especially with so many people moving to a remote or hybrid remote working model. You may use video to keep your remote workers connected, to provide customers with user guides for new products, to organize webinars... the list goes on and on.
Using videos in marketing is now extremely popular. Consider the following statistics:
86% of organizations use videos in marketing.
93% of marketers using videos within their strategy say it's an important factor.
80% of video marketers say that the medium has increased traffic to their sites.
94% of video marketers say video helps increase user understanding.
So, the benefits of video are clear. You likely already know how video conferences can help remote sellers increase sales. But if you want to make a move to using video as marketing content, how do you build a distribution strategy?
7 Tips to Build Your Distribution Strategy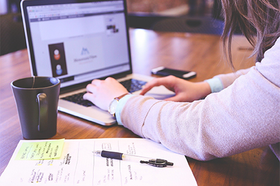 1. Planning
You already know that any solid strategy needs to be first planned out and it is no different when it comes to distributing your marketing videos. Before you even unleash that budding directorial Oscar winner on whatever device they are going to shoot their masterpiece on, make a plan that takes in some of the following ideas.
Budget - what budget matches the channels you plan to post the video to? Is it going to be professionally shot (with a budget to match) by an external agency or filmmaker? Or will it be shot in-house by Bob on his iPhone 12? Calculate potential ROI so that you are not forever chasing a break-even point with your video budget.
Channels - you can create a solid foundation by setting up a YouTube channel for your organization. This means all your videos are hosted in one place where users can find them. It also makes it easier to share video content.
Goals - what are your goals with this video? Are you looking to make an effective training video for your staff ? A friendly 'how to' guide to help customers learn all the features of a product? Define your goals and video metrics, and stick to them.
Targets - who is the video aimed at? Knowing the demographics you are targeting means you can investigate your audience's online behavior. Which channels do they use regularly? What do they like to watch? What length of attention span are they likely to have? Understanding the answers to these questions can determine both the type of video and how you choose to distribute it.
Do not skimp on the planning stage. This is a rookie mistake that could eventually lead to extra production costs down the road. When coordinating with your teams, take advantage of web applications for collaboration and task management.
What is a web application and how can it help?
Simple, it's an app that works in your browser. There's Asana and Trello for task management, Toggl and TimeDoctor for time tracking, Slack for chat, and so on. These are all web applications.
During the planning stage, you need to balance between what you want to achieve, your overall budget (which includes both the cost of making the video and the cost to distribute it), and what the likely returns will be.
2. Format
Before your videographer rushes off and makes something in widescreen digital cinema print, consider how people will view your video. With 54.8% of internet access in the first quarter of 2021 coming from mobile devices, the format of any video is one of the most crucial factors you need to take into account.
You need to make sure that your videos are mobile-friendly and accessible from all devices. Fail to do this and you're immediately losing more than half of your potential audience. By ensuring your videos are widely accessible, you not only increase your potential initial audience but also the secondary audience that comes from sharing your video content.
3. Channels and Platforms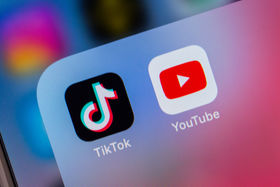 Let's assume you have a YouTube channel and a Facebook page and a LinkedIn page, you know, the whole shabang.
How do you decide which channels to share your videos on?
This will depend on several factors: who you are targeting, and the channels they frequent. Is it just a case of uploading your videos to the channels you choose then sitting back and waiting for the revenue? No, you need to consider different needs.
The main platforms you're likely to use are the classics: Facebook, Instagram, Twitter, Snapchat, and maybe LinkedIn. The technical requirements for each differ slightly. For example, the video aspect ratio for Facebook is 16:9 and the maximum length is a whopping 120 minutes. For Instagram, the ratio is 1:91:1 and your video length cannot exceed 60 seconds.
One "cheat" you could consider for these examples is to make a "trailer" to post on Instagram and link to the longer video on your YouTube channel or elsewhere. Write a catchy description and you're done.
It's definitely worth taking some time before you start shooting to learn the different restrictions on each social media platform.
4. Length
While your budding Spielberg may have a three-hour epic planned out in his head, the reality will bring him down to earth with a bump.
As the amount of information presented has increased over the years, the average attention span has plummeted. People simply won't watch a video that is too long, or at least not in numbers to provide a decent ROI.
Putting aside the length restrictions some platforms use, you should consider imposing your own restriction before unleashing your film crew. Even that can vary according to your message and other influential factors, but, as a rough guide, consider 2 minutes as a maximum length with the optimum length being around the one-minute mark.
This is where tools like a good storyboard creator can come in handy. They help you see what your project will look like before you go into production. A well-planned shoot is always better for your budget.
5. SEO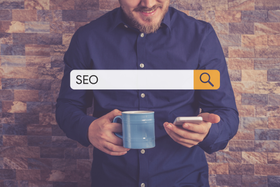 Yes, it's a video, and yes, you do still need to consider SEO. While a percentage of your audience may be presented with the video automatically in their social media feeds, one of your goals is to maximize that audience as best you can. To do so, you need people to find your videos (wherever they may be) via an internet search.
Just as with your written content (blogs, FAQ guides, etc.), this needs a good degree of SEO. So, it's important to get familiar with SEO and SEO tools and brushing up on Google analytics tips is a good first step.
But ho w do you integrate SEO best practices into your video?
Here's a primer:
Have the name/title of your video incorporating one main keyword.
Have the video captions turned on.
Use keywords in the video description.
Make sure your video is not on autoplay.
Have the video transcript option enabled.
6. Emails and Websites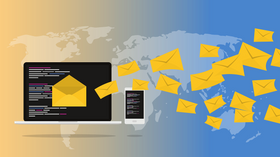 Of course, your marketing strategy is about much more than social media. Your video distribution has to follow pre-existing marketing tactics. That means you need to look at ways of getting your videos out on every possible channel.
It is simple to embed your video into any email marketing campaign, especially if it's relevant to the additional content in the email. For example, you have a special offer on a particular product and you have a video that highlights the features of that product. Bring them together in your email campaign to help drive conversions.
When planning your marketing campaign, consider using marketing tools to make sure the content is personalized per channel. RPA software for marketing is a great way to plan and personalize your marketing campaigns for maximum ROI, while saving time and automating mundane tasks.
Your website is your 'home base', so any videos should also be placed there. If it's a new video (for example, for a product launch), put it on your homepage where users will see it instantly. If it's a simple product-specific video, then place it on the relevant landing page. Also consider embedding live streaming videos on your site to gain a wider audience for your online events.
7. Thumbnails
Again, one of your primary goals is to have as many people as possible viewing your video. One way of achieving this is by having a thumbnail that makes viewers want to open the video. Think of book covers; a well-designed book cover can play a major role in a decision to buy. You can think of your thumbnail as being that book cover that persuades people to click.
The thumbnail should be attractive and draw people to your video. It should also be relevant. There is no point in making a video of a stunning beach hotel and having a thumbnail of mountain views. Keep it clear, keep it attractive, and keep it relevant to the main subject of your video.
The Takeaway
The use of video in many areas of your business is important. From hopping on a web meeting to stay connected and discuss your video distribution strategy to making intensely shareable marketing videos and distributing them efficiently. Video is everywhere and you can't ignore it.
As a modern organization, you need to embrace every aspect of video, whether you plan on hosting a major live conference or you want to launch a streaming video website. If you are not already fully utilizing video distribution, the Joneses may be well ahead of you.


You Can Distribute Your Content With 1 Click
Try It Free