Video delivery worldwide to Desktop, iOS and Android mobile devices is not an easy job, but thanks to our super fast multi-bitrate global CDN network, we've made it easy for you to stream your events live using any RTMP encoders, RTSP IP Live Cams, USB Webcams or by using an iOS mobile devices. When it comes to your pre-recorded video content, we offer batch uploading and encoding plus various of publishing options that will enable you to embed, share and deliver your videos online. See the live demos below for all streaming video options.
Content Delivery Network (CDN)
Super Fast Video Hosting and Live Streaming Video CDN Network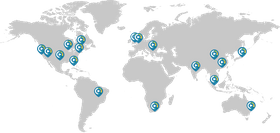 Start streaming your events live today by using StreamingVideoProvider - The No1 global video CDN provider. Deliver your video content with ease using the multi-bitrate full HD streaming services sitting on top of our super fast global video CDN network.
18 Content Delivery Points Across the Globe
Your videos and live streams are delivered from the edge
USA
Washington
San Francisco
Los Angeles
Chicago
Kansas City
Dallas
New York
Reston, VA
Miami
Canada
Europe
United Kingdom
Netherlands
France
Germany
Poland
Italy
Bulgaria
Africa
South America
Asia & Australia
Turkey
Dubai
Japan
Singapore
India
South Korea
Malaysia
Australia
China
Sichuan
Shenzhen
Beijing
Shanghai
Hong Kong
Features
Unmatched Set Of Unique Features All Under Same Roof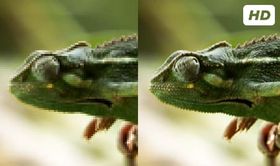 Full HD Video Delivery
Increase Viewer's Experience With High Definition
Deliver breathtaking HD video to your viewers using multi-bitrate video streaming. Your videos look crisper and more lifelike, giving your viewers the best image quality with our super fast CDN network technology. It is a big advantage when your audience is enjoying and engaging with your content.
Watch HD Showcase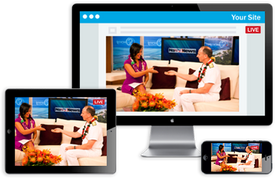 Deliver Multi-Renditions with Adaptive Streaming
Our Multi-Bitrate HLS video CDN network gives you a true edge for your customer's viewing experience. You can send up to 3 separate RTMP streams in varying qualities, such as HD + SD + Low. The player automatically changes the quality for each viewer individually depending on their connection speeds.
Learn More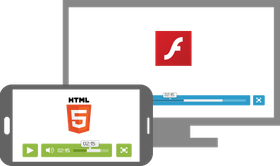 HTML5 & Flash Video Streaming
Smart Player With Auto Fallback Technology
The StreamingVideoProvider proprietary universal delivery service uses state-of-the-art server technologies and device auto-detection to switch automatically between HTML5 and Flash streaming to ensure that your content is delivered in the highest quality to all desktops, tablets, mobiles and connected TVs - Allowing your videos to be watched any time, anywhere.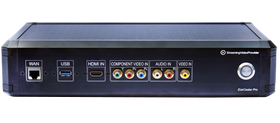 Stand Alone Professional Live Video Encoder
The EzeCaster Pro is a stand-alone full HD multi-bitrate RTMP live streaming video encoder that lets you stream live video to HTML5, iOS, Android and Flash devices, from cameras, camcorders, visual mixers or other play-out devices connected via HDMI, RCA Component or Composite connections.
Learn More
Frequently Asked Questions
Is the Content Delivery service (Bandwidth) included in service price?
Yes. Each service plan comes with monthly bandwidth.
Can my viewers watch my videos and live broadcasts on their Android and iOS devices?
Yes. We deliver your videos or live broadcasts using latest technologies like
HLS
and MPEG-DASH* to your viewer's Desktop and Mobile devices such as iOS and Android, all without the need for you to worry about providing separate formats to make it work on the different devices out there because we do it all for you.
When I broadcast from lets say USA, would my viewers who are located in Australia be able to see it?
Yes. We have local publishing points where your incoming RTMP stream is automatically sent to. For example If you are based in San Francisco and start broadcasting live, your stream will go to the closest ingest origin server which is also located in San Francisco. Then viewers around the world will be connected to their closest streaming servers that will be connected to the San Francisco origin server from where your stream will be pulled and relayed to the end viewers.
What is the maximum concurrent / simultaneous viewers that can watch my stream?
There is no limit on that as long as you have big enough service plan as publisher to cover all the viewers. In case you start running low on credit, you can always upgrade your account at any point of time.
How does the multi-bitrate streaming works?
We currently support multi-bitrate streaming if you use our
EzeCaster Pro
which can output up to 3 separate bitrate streams or you follow our
guide on how to do multi-bitrate streaming
that explains it. For VOD we'll enable you to choose different renditions in our new video panel that is coming soon.
Do I need to use different video players for Desktop, iOS or Android support?
No, when you get the embed code for our player, we ensure that the player changes from Flash to HTML5 and uses the appropriate delivery protocol(RTMP, HLS, MPEG-DASH) based on the detected devices. You don't have to do anything - just copy and paste the embed code and that is it.