The Most Important Video Marketing Metrics To Track
The popularity of video marketing is undeniable. And the fact that 78% of marketers say video has contributed to sales increases is no surprise. Most brands are now focusing on building an online presence to increase brand awareness.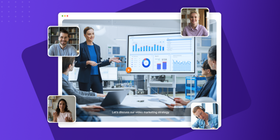 Your business can also gain a whole bag of benefits from streaming video marketing if you get that right, such as:
An increase in website traffic
More brand awareness
Higher conversion rates
Greater brand authority
Of course, to be successful you need a well-planned video distribution strategy so you can ensure the right type of video is on the right channel.
Yet, many businesses don't have a strategy and, if they do, they sometimes struggle to measure their video marketing efforts or do video content analysis. Video marketing is inherently different from traditional content marketing, and evaluating its success requires a different approach that's tailored to the channel.
Thankfully, most video platforms provide comprehensive data and online video analytics tools to help businesses track their video success. Platforms like YouTube make it easy for business owners to evaluate their success.
Social media channels also offer a range of different social video analytics and insights about impressions, audiences, and engagement. With these tools, measuring your video marketing and live streaming performance might not be as tricky as you think.
So, let's get into it!
Know Your Video Marketing Goals and KPIs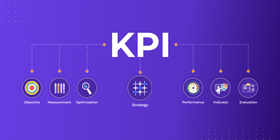 Just like with a blog post, it's essential to know the end goal of your video before starting. For example, if you aim to increase conversions but show your video on a channel where CTAs are difficult to access, chances are it won't be successful.
Perhaps you want to increase brand awareness or engage more with your target audience, determine the right time of the day to schedule your Instagram posts, or you might want to drive more traffic to your website. Whatever the case, before any content planning or filming starts, determine your goals and ensure everyone sings from the same hymn sheet.
Moreover, video marketing is suitable for every stage of the buyer funnel. Therefore, having a clear understanding of which stage of the sales funnel your audience is at will also impact the success of your video.
There will be an overlap of data, which is not a bad thing. Using a variety of insights helps provide a clearer picture of the impact of your video marketing strategy.
Want to know more about which data to use?
Let's take a closer look at the important KPIs for video marketing.
Video Marketing KPIs for the Awareness Stage
The awareness phase is a crucial part of the lead generation strategy. Educational, explainer and informative videos familiarize consumers with your brand while also engaging them emotionally so that they will want more information about what you have to offer.
Whatever you do, the video content you produce should be engaging and informative.There are various forms of data you can tap into when tracking video engagement metrics at the awareness stage.
Impressions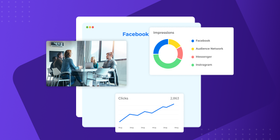 Want to know how many social media feeds your video is reaching? Impressions are the ideal metric to help you find out. Impressions refer to the number of times your content is seen, even if it's by the same user.
Mainly used for platforms like Facebook and Instagram, impressions tell you how many times your video was seen regardless of whether it was watched or whether the same user saw it multiple times in a newsfeed.
If your goal is brand awareness, a high impression count suggests that lots of people are viewing your content. However, there is an issue with impression data. It doesn't tell you whether your ideal audience interacts with the content or if you have any audience retention. They may scroll past it on their feed, but there's no way of knowing if it's had an impact without looking at other data.
Likes And Dislikes
Similar to impressions, likes and dislikes need other data to provide an accurate picture. Lots of likes may indicate your content is well received, but it's difficult to tell whether the feedback comes from your target market without looking at other data.
Dislikes and cross-face emojis needn't cause discouragement. On the contrary, sometimes it's good to create videos that are controversial – it opens up a conversation and helps your brand assert its values.
Shares And Comments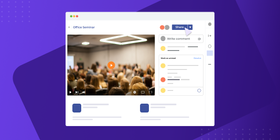 According to Sprout Social, 48% of social marketers use shares as a way to measure the success of their campaigns.
Shares indicate that your content resonates with your audience. Moreover, algorithms favor shared content – your videos are more likely to be featured in Explore tabs or rank higher on Google.
Comments can be a ranking factor, but they are also an important addition to customer research. Paying attention to what your audience thinks and says while noting the language used helps keep your messaging on point. In addition, listening to customers' complaints and reacting in a positive way reflects well on your brand.
Want more shares? Don't be afraid to ask for them. A gentle nudge at the end of the caption can be enough to get your viewers to hit the share button.
Video Marketing KPIs for the Consideration and Conversion Stage
Videos are a valuable addition to your marketing in the consideration stage of your sales funnel. They can make the difference when consumers are considering your product versus your competitors'.
Don't dismiss the awareness stage KPIs for video performance. There is some overlap. Likes, shares, comments, and impressions still count. But the consideration phase also calls for insights into view/play rates, watch rates, and ad lift recall.
View Rates
The view rate or video percentage watched is the percentage of people that watched your video after seeing the thumbnail. According to Databox, a decent play rate on average is 41%-60%.
However, there's one factor to take into account.
Different platforms have different time values as to what counts as a view:
Facebook – 3 seconds
Instagram – 3 seconds
YouTube – 30 seconds
LinkedIn – 2 seconds
Twitter – 2 seconds
Snapchat – 1 second
When looking at average view rates, also consider whether other factors have skewed the data, such as boosted posts and promoted content.
Want to improve your view/play rate?
Try these tips:
Make sure your title keywords are optimized for the viewer's intent
Create an engaging thumbnail
Make sure the first 5 seconds of your video grab attention
Watch Rates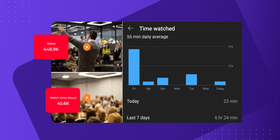 Watch time measures the total amount of viewing your video has accumulated. It also includes replays and returns, so if someone clicks play and watches an episode for 30 minutes but then sees it again 2 hours later, it'll credit the video with another 15 minutes watch time.
The longer the watch time, the better. You want your audience to engage with your content, and a longer watch time means they're interested in the video.
Watch rates can vary from platform to platform, but generally, you can find your average watch time by dividing the total watch time of your video by the total number of video plays, including replays.
Avg. watch time = Total watch time/Num. of video plays
Factors that influence watch rate include the length of the video and the channel on which it appears. Keeping marketing videos under 2 minutes seems to produce the best results
Ad Lift Recall
With ad recall, you can use video content analytics to measure the success of your video content in terms of how memorable it is. That's a good way to judge whether an ad campaign was worth it.
There are several different ways to measure the success of your video advertising campaign. For example, imagine you're promoting the website of a bank. Different social media sites will provide different recall metrics. Facebook asks people what they remember, whereas YouTube offers an entire brand lift strategy for recall purposes; however, there are some restrictions on who can use this service.
It's too easy to rely on video streaming metrics alone when measuring the success of a campaign. Even if your results are unsatisfying, it doesn't mean your campaign has failed. If your video marketing isn't achieving your goals, you need to go back and figure out why before making any assumptions. Use the data alongside human insights and knowledge.
An ad that doesn't grab attention isn't likely to perform very well. Using ad recall data helps you judge how memorable your videos are.
Click-Through Rate
Click-through rate or view count is a term used to describe how many times someone clicks on the video thumbnail. But for sites where pop-ups are present, it's also important to consider who else might be clicking those links and visiting your site from them as well.
Adding a call to action or CTA to a video can be challenging. YouTube provides plenty of opportunities to add CTAs, whereas other platforms like Vimeo only allow CTAs at the end of the video.
For videos on your website, it's best to use a professional video hosting platform. These not only keep your web hosting bandwidth intact but also provide video analytics tools to correctly determine the success of your campaigns.
If your click-through rate is low, all is not lost. Try the following tips, and it should improve over time:
A/B testing
Use storytelling and emotion
Optimize your CTAs
Use click trigger copy around your CTAs
Make sure you're focusing on a highly targeted audience
Final Words: Take Your Marketing to the Next Level Using Video Data and Metrics
Video marketing isn't an easy option. It requires as much planning as written content, if not more. Scriptwriting, lighting, filming equipment, live streaming equipment, and location all play their part in your video's success
Once filming is over, it's still not the end of the story. Knowing how to analyze video data and insights will energize your marketing efforts.
References & Further Reading