The Definitive Guide To Mac Streaming Software: Stream Like A Pro!
Mac owners often complain about compatibility. That's because many of the streaming software solutions on the market are not Mac-compatible. It's a big problem if you need to do streaming on your Apple PC, and the go-to software solutions are mostly limited to Windows.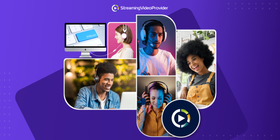 Luckily, the popularity of Apple products, including Mac PCs, is changing this. Which in turn allowed for the development of more software options and compatibility with the popular names. So, we've compiled a list of some of the programs that you can use on an Apple computer.
We'll compare different choices and give you some handy tips to help you get the most out of your Mac when streaming. Whether you're an experienced streamer or just starting out, this article will help you find the best streaming software for Mac.
So, let's get started!
What To Look For In Mac Streaming Software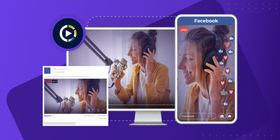 First things first, how do you know a specific Mac streaming program is great?
Here is a list of the most important features to consider.
User-friendliness
You want to focus on creating content, not navigating complicated software. So, look for streaming software that is user-friendly and easy to learn. It should have a well-organized interface and intuitive controls.
Customization capabilities
Look for features like customizable overlays, widgets, and transitions, as well as the ability to add your own graphics, logos, and branding elements. The more you can tailor your stream to your specific needs and preferences, the more it will stand out from the competition.
Stability and performance
Reliability is crucial when it comes to streaming software, as any glitches or crashes can seriously disrupt your live broadcast. Consider the software system's requirements, and make sure your Mac can handle it all without any performance issues.
Integration with third-party platforms
Chances are you'll be using a streaming platform to distribute your stream, so it's best to find streaming software that easily integrates with such services.
Encoding options
Different streaming software may offer various encoding options, such as software-based (x264) or hardware-based (NVENC, Quick Sync) encoding. You'll want to choose software that provides the encoding options you need. Hardware-based encoding, for example, can offload some of the processing demands from your CPU, improving overall performance during streaming sessions.
Pricing
Keep in mind that more expensive software might offer advanced features or better support, but make sure to weigh the benefits against your budget and needs. If you don't need those features yet, it may not be the time to invest in high-ticket streaming systems.
Comparison Chart: The Top Streaming Solutions For Mac
Let's now break down the top software streaming options for Mac OS by the various features they offer.
| | OBS Studio | Ecamm Live | Streamlabs OBS | Wirecast Studio | Lightstream Studio |
| --- | --- | --- | --- | --- | --- |
| Multiple Scene Support | | | | | |
| Streaming Templates & Presets | | | | | |
| Plugin Support | | | | | |
| Learning Curve | Intermediate | Beginner Friendly | Beginner Friendly | Beginner Friendly | Beginner Friendly |
| Feature Set | Comprehensive | Comprehensive | Comprehensive | Comprehensive | Limited |
| Biggest Downside | Not very user-friendly | Limited plugins and integrations | Potentially unstable | Large investment | Limited feature set |
| Pricing | Free | From $16/mo | Free | From $599 | From $20/mo |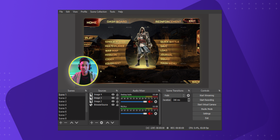 OBS (Open Broadcaster Software) has been one of the best broadcasting programs for Mac for quite a while now. That's due to its feature set and the fact that it is free and open source.
OBS supports pretty much any setup and is very scalable. It allows you to start with a modest setup, and you can scale up to large productions for live video. All things considered, this is great video streaming software for Mac.
The program also supports nearly every feature you'll want for streaming. You can add overlays, external audio mixers, custom RTMP, multiple scenes, picture-in-picture, live chat widgets, and the list goes on.
Key features
Completely free despite being feature-rich software
Very versatile – scales with your requirements
Total control over your broadcast with advanced OBS settings
Chroma key (green screen) support
Huge selection of plugins to extend the functionality
Multiple scene support – swap between camera or desktop capture instantly
Community integration – chat and overlay support
Cons
Not as user-friendly as some of the competition
Many settings require technical knowledge
No settings templates – requires manual configuration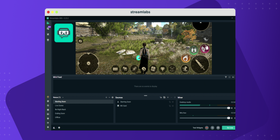 Streamlabs OBS is a powerful and feature-rich streaming software designed for Mac users who want to create high-quality live broadcasts with ease. As a fork of the popular OBS Studio, Streamlabs OBS builds upon its open-source foundation to provide a more streamlined and user-friendly experience.
Streamlabs OBS simplifies live streaming on a Mac by integrating essential features such as customizable overlays, widgets, and chat integration, all within a single platform. This makes it an attractive option for streamers who appreciate the functionality of OBS Studio but are looking for a more polished and intuitive interface.
Key features
More user-friendly interface compared to OBS Studio
Wide range of built-in themes, overlays, and widgets
Chat and donation integration
Save streaming settings, overlays, and other customizations to the cloud
Regular updates and dedicated support
Cons
Higher system resource usage
Some OBS Studio plugins may not be compatible with Streamlabs OBS
Potential stability issues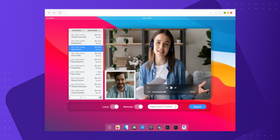 Ecamm is video broadcasting software for Mac that doesn't have a Windows version. It's well-suited for all types of live streaming. The software supports multiple scenes, multiple inputs, multicam support, and much more.
Ecamm works well with other software without the need for additional configuration. It also allows for Mac desktop screen capture with a simple click.
Key features
Great value for money considering the features available
Works well with other software
Supports multiple scenes, inputs, and multiple cameras
Pre-set streaming site configuration
Chroma key (green screen) support
Relatively beginner-friendly while offering a vast set of features
Cons
Mac only – won't work with any Windows PC setups
Can take some time to familiarize yourself with the software and features
Limited plugins and integrations when compared to OBS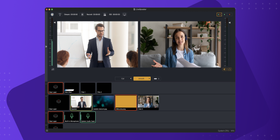 Wirecast Studio is for streamers that are serious about their streaming and production quality. There's a multitude of options for you to fine-tune the stream to be exactly what you want. You can edit it down to the finest detail.
Despite offering the ability to delve deep into settings, Wirecast is still user-friendly. It's much more user-friendly than software like OBS. For example, it's extremely easy to add special effects.
This software has everything you need from a streaming program. This even includes guest functionality that supports up to 2 remote users. This allows you to add more people and collaborate with them on your stream.
There's a Wirecast Pro available, but we suggest that, in the beginning, you use Wirecast Studio because it offers most of the features you'll need.
Key features
Huge list of features and networks are supported
Tons of configuration options while remaining user-friendly
Ability to get things up and running quickly
Chroma key (green screen) support
Animated titles and graphics with 90 templates included in the Studio package
Unlimited inputs that for streamers who use a lot of external hardware
Cons
High price point for people on a budget
Some reports of bugs with certain configurations
Limited plugins & add-ons compared to OBS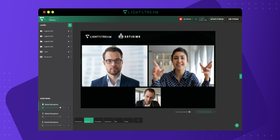 Lightstream Studio is a versatile and easy-to-use cloud-based streaming software designed for Mac users who want a seamless and hassle-free live streaming experience.
With its intuitive drag-and-drop interface, Lightstream Studio allows users to create professional-looking broadcasts without needing to download or install any software on their devices.
The platform offers a wide range of customization options, including overlays, transitions, and text, as well as integration with popular streaming services like Twitch, YouTube, and Facebook.
Key features
Cloud-based platform (perfect for older Macs)
Intuitive drag-and-drop interface
Lots of customization options, including overlays, transitions, and text options
Automatic stream backup
Cons
Needs a stable internet connection to work
Lack of advanced features
Potential latency issues because it's cloud-based
What are the requirements for streaming on a Mac?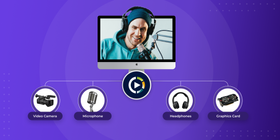 The first important step is to find out what you need and choose the right streaming software accordingly. If you're looking to connect various types of hardware to your stream, you'll need to ensure that those inputs are supported by the streaming software you choose.
When streaming from your home computer, CPU and internet upload speed will be important factors to consider. Streaming uses your CPU to encode the video. This is taxing on a computer and may result in performance issues on older machines.
Keep your Mac's internal components and limitations in mind when you choose the broadcasting programs to use. Machines with the newer NVIDIA graphics card (CPU) and the NVIDIA Encoder (NVENC) can be used for hardware encoding.
Many Macs do not have ethernet ports. So it's important to configure the wireless network correctly to reduce packet loss and dropped frames while streaming from Mac and Mac OS.
When looking for the best live streaming software for Mac, it all depends on what you want to achieve. If you plan to only broadcast video conferencing, you'll need different software than what's needed to broadcast webinars.
Learn more about building your streaming setup here.
How To Get Started Streaming On Mac
If you're only starting to stream live with your Mac, it's a good idea to begin by streaming directly to a social media site. It's quite straightforward, you'll get simple results, and you'll be able to learn the basics.
Use free broadcasting software for Mac initially to give you a better idea of which features are important to you. It'll also help you make informed decisions when you choose specialist streaming software or when you upgrade to other applications.
As you look for the best streaming software for Mac, you need to outline what you want to achieve when streaming. This will give you a good idea of the features you need in the software.
Many times people simply want to host meetings, run Podcasts, or have team discussions. If this is the case, you don't need the additional features that are offered in OBS or Wirecast. Zoom will be a great fit for you.
However, if you want to interact with your audience, customize the stream, or have multiple hardware inputs, it's worth it to consider one of the paid options. Of course, you can stick with OBS if you want to.
Frequently Asked Questions
Live streaming software allows you to broadcast a video directly to your audience from your video source. Most users broadcast via screen capture software or from a camera that transmits the live data to a specific platform for real-time playback.
If you are planning to create and broadcast live video content on your Mac, streaming software will provide you with the tools and features necessary to ensure a smooth, high-quality stream with various customization options.
When selecting streaming software, consider factors such as your budget, desired features, ease of use, integration with other platforms, and compatibility with your Mac. The article provides a detailed comparison to help you make an informed decision.
Yes, there are free options like OBS Studio and Streamlabs OBS, which offer powerful features without any cost. However, some advanced features or customization options may require a paid subscription.
Conclusion
It's best to start with the basic, free live streaming options for Mac to first get familiar with the software.
Even though it might be difficult, it's worth learning how to set up OBS, as it's open-source with a huge community and it has a wealth of possibilities. You'll get better results when you know the app well.
Ecamm Live and Wirecast Studio are also great programs. They offer functionality without having to deal with complicated options and menus. These apps are made with the user in mind and aim to offer any feature you want when streaming from your Mac.
References & Further Reading
If you'd like to learn more about streaming, please visit some of the links listed below.


You Can Start Streaming Professionally Today
Try It Free