Live streaming Events: Easy, Step-By-Step Guide
There's no doubt that the way we consume media is changing for good. As part of the cord-cutting trend, more and more people are enjoying live streaming events.
According to a study conducted by West Monroe, approximately 59% of the respondents stated they had already cut the cord – parting ways with conventional media such as the TV.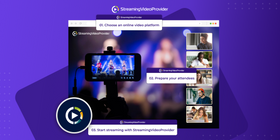 Then, on the other side of the spectrum, there are all types of organisations broadcasting all types of live streams. From virtual graduation ceremonies to online church services and everything in-between, live streaming events is becoming the norm, rather than the exception.
And, with 84% of employees eager to continue working remotely, companies need to adopt ways to bring together their workforce through live online events and seminars. Internal live streaming—using secure, high-quality channels–enables your employees to bond and collaborate, no matter the geographic location.
Coupled with the ability to monetize your streams, live event broadcasting also enables companies large and small to enter the booming business of PPV streaming.
What Do You Need To Live stream An Event?
So, what do you need before you can stream your events? Here's a list:
1. Event Technology
Audio Equipment

When it comes to professional live streaming setups, the quality of your audio should be top-notch. With guest speakers and executives abound, you don't want the audio to sound bad.

There are various types of microphones you can use, from lavalier to USB mics. What you choose ultimately depends on your requirements and budget. Here are some audio tips for live streaming.

Camera Equipment

Next comes the video. Again, there are various cameras and setups when it comes to streaming media but all of them generally fall in two categories.

Single Camera Setup

This makes use of a solitary camera that records the entire event and, like audio devices, you have plenty of camera options to choose from. Here's a bit of expert advice on the best streaming camera for a single camera setup.

Multi-Camera Setup

For bigger levents, you may choose to integrate a multi-camera live streaming setup that deploys several cameras to show different angles of the event.

From professional cameras to DSLRs, you can integrate all of them into one stream. If you're confused about how to live stream an event with multiple cameras, check out this guide on YouTube.

Encoders

So you have the video and the audio, but how do you live stream the media feed?

While the camera and microphone capture digital signals, your computer only understands 1s and 0s – this is where an encoder comes in.

Software Encoder

This is a cost-effective option suitable for small event broadcasting such as church live streaming. As the name implies, software encoders are programs that need to be installed on a computer and, in order to actually use them, you need a capture card.

OBS is an excellent example of a software encoder.

Hardware Encoder

These are used by professional gamers and for large scale event broadcasting. While they are more expensive, they also provide vastly improved reliability and speed for a higher quality live streaming experience.

EzeCaster Pro is an example of a hardware encoder.
2. Live Streaming Service
Once you have your live streaming equipment, you can move on to selecting the right live streaming service for events. Such platforms are built on top of powerful Content Delivery Networks that ensure your live event will reach viewers around the globe. Whether you're going to broadcast a virtual event or a hybrid event, the streaming service is crucial to the viewing experience.
You generally have two options here:
Free Services

There are various free platforms out there and some of them, like YouTube and Facebook, you know very well. These platforms are a great option when you're streaming a free event and you want to gain mass exposure.

If you're doing a pay per view event stream or you want to monetize your live streaming event in some other way, free platforms are not a feasible option.

Paid Services

When it comes to professional video production, the ideal channel should provide you with a secure environment, allow you to sell tickets and enable you to get paid. This is what premium event streaming services do.

Some of the most popular event streaming platforms include EventBrite, StreamingVideoProvider and VimeoPro.
How To Choose The Right Event Streaming Service
There are some event management questions to consider in order to choose the perfect option for broadcasting your live events:
What is the level of security that you desire in your live streaming?
Do you want to customize the stream with your own corporate branding template?
Will you monetize the video stream?
How long do you want to hold on to the live stream's recording?
Considering these questions, here's how you can choose the best premium live streaming platform for your business.
Security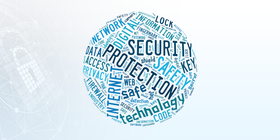 When shopping for a streaming service, one of the biggest considerations should be the level of security.
Is there a method to protect your stream from screen recorders? How foolproof is the ticket sharing process? Can you deploy restrictions to limit access to the stream?
Leading platforms come with advanced video privacy and security capabilities such as geo and IP restrictions, encryption and hotlinking. You may also want to look for advanced features such as Dynamic Watermarking (to discourage screen recording) and two-factor authentication (to prevent ticket sharing).
Payment Options
A common live streaming mistake is picking a platform that doesn't allow you to monetize your content the way you want. Check if your event streaming platform is in fact event ticketing software, i.e. it does feature payment tools, because not all platforms do. The payment structure greatly influences how much you will earn from your live streams.
Many platforms charge a commission based on the number of viewers and the ticket price. Simply put, the more you earn, the higher the commission. For instance, if you earn $1,000 dollars through a live stream video on EventBrite, then the platform will deduct approximately $220 as their commission.
To avoid such unpleasant surprises, it's best to opt for a platform with a fixed payment schedule because you'll know what to expect.
Shameless plug here: With StreamingVideoProvider, you only pay a monthly fee and everything you earn through your hard work is yours to keep.
White Labeling
Another consideration in your event planning process is if and how you'll be able to brand your production. For a completely professional look to your live event broadcasting, you would want your own company logo on the stream. Most companies market their live events on by simply placing event pages on their own websites.
If you want to white label your live events, StreamingVideoProvider gives you this option. Not only can you add your logo and colors, but you can also completely erase all traces of our brand.
Recording The Live Event Stream
Professional pay-per-view broadcasts often carry keynotes and other important information that a user may find helpful and want to review later.
Hence, you should choose a platform that saves your stream as a video file for later use. For instance, StreamingVideoProvider automatically archives your video to let viewers watch on-demand. They only have to click on the same URL to watch the video link.
Multistreaming
While you want to leverage the secure environment of a paid streaming service, you don't want to miss out on the exposure provided by free streaming sites–but most of the time, you can only choose one, e.g. You can't publish a Facebook live stream on another platform.
If you want to stream your live event to multiple channels at once—Facebook, YouTube, your website, you'll need a multistreaming service. For more information, feel free to check out our guide on how to multistream.
How To Live stream An Event
Here is a step by step guide on how to start streaming with a live event video streaming service. We will be using our platform, StreamingVideoPlatform, as an example.
By the way, with StreamingVideoProvider, you can upload an event "live" stream, e.g. you pre-record a webinar and stream it for your audience like it's happening in real-time.
Ready to start? Here's a video guide to get you started with StreamingVideoProvider.
And here are the steps:
Create a free account here.
Click on Add Media, then Live Stream. Name your live event stream and click Create
Select your live stream in the video panel and click Live Studio
Click Select Source to connect your streaming equipment. Select the RTMP Encoders option to connect to any software or hardware RTMP encoder.
Copy the RTMP URL and Stream to your streaming software or hardware. We're using OBS in this example, so this screen shows the OBS interface.
Switch back to the admin panel and click Start Broadcast.
If you want to embed the live stream on your website, click Embedded Code, then Copy To Clipboard on the right-hand side. All you have to do is paste the resulting code in your website HTML.
This is it!
From buying equipment to choosing a high-quality streaming platform, this is what it takes to get started with live streaming events.
All that's left is for you to start the camera, configure the microphone and start streaming. Good luck!
References And Further Readings:


You Can Start Streaming With Any Camera In Just 2 Minutes
Go Live Now