Best Video Monetization Platforms In 2023 for Selling Your Videos & Live Streams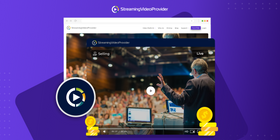 Why You Need A YouTube Alternative
YouTube is a powerful platform for marketing, but, sadly, it's not suitable for video monetization.
Although it's easy to see the appeal of a free platform, by relying on YouTube's ads to make money, your revenue is going to be... a pittance. That is, of course, if your videos don't get demonetized. And if you meet the stringent requirements that allow your videos to be monetized in the first place.
Adding to the challenges, there are millions of creators all clawing to get a percentage of that middling pot of coins, competing with you to make money. And to top it off, you also sign away your rights, giving YouTube the ability to sub-license, re-distribute and make money from your video in any way that it sees fit.
If you're not okay with these disadvantages and you want to monetize your videos without YouTube, this guide is for you. This list will highlight the best pay per view video hosting. If this is new to you, check out our breakdown of how pay per view works.
How We Compared the Video Platforms

There are plenty of online video platforms to choose from, but how do you separate the wheat from the chaff? We've focused on those with the features best suited for monetizing your videos, as follows:
Monetization options - How can you earn money from your content?
Payment process - How quickly can someone purchase access to your content and how quickly do you get paid?
Privacy and security - How does the platform protect your content from thieves?
Live streaming - How does the platform deliver your paid live streams?
Video hosting - How does the platform deliver your on-demand videos?
Customization - Can you control the branding and the user experience?
Marketing - Does the platform have features to help you market your business?
Analytics - Can you track the behavior of your viewers?
Copyrights - Does the platform allow you to keep your copyrights?
Full Comparison of the Top 5 Video Monetization Platforms 2023
In the table below, you will see a side-by-side comparison of the top five video monetization platforms in 2023.
StreamingVideoProvider (that's us!), Dacast, Cleeng, Wistia, and Vimeo Premium are all listed, along with all of the important stats that you need to know to help you make an informed decision.
Dacast
Cleeng
Vimeo Premium
Wistia
StreamingVideoProvider
Video Monetization
Pay Per View



You need a third-party integration




Single video ticket, Playlist ticket

Rent videos



You need a third-party integration




Passes limited by time, e.g. 2-week pass or limited by usage, e.g. 20-video pass

Subscriptions (SVOD)



You need a third-party integration

Custom ads



Pre-Roll only; VAST, VPAID, VMAP.




Possible only when using a third-party video player




Pre-post-mid-roll; VAST/VPAID.

Payment Process
Customer gets instant access
Payout time
35 days delay with your first payment request, then 3 - 5 business days
3-5 days
3-5 days
30 days

0 days




You get paid instantly

Commission & Processing fees
9.9% + $0.40 (or 9.9% + €0.40)
$1.68/$0.29 + 2.9%
10%

N/A




Depends on the integration you're using

No commission & No fees
Privacy & security
DRM Video Encryption (To prevent unwanted downloads)



SSL encrypted connection but the video itself is not encrypted




SSL




encrypted




connection but the video itself is not encrypted




Uses Amazon AWS which does support content encryption but it's not clear if it's enabled.




128-bit AES encryption

Dynamic Live Stream Watermark (To prevent screen recording)

N/A




No live streaming option

PPV ticket-sharing protection



Uses geo and IP data to stop abuse based on the distance between IPs addresses

N/A




Depends on the integration you're using




Two-factor authentication

Advanced Security Features
Password protection
Domain restriction, IP & GEO restrictions
Domain restriction
Domain restriction, Password protection
Domain Restriction, IP & GEO restrictions, Password protection
Live streaming
Adaptive video streaming

N/A




No support for live streaming

Cloud recording
N/A
Live chat
N/A
Video streaming & hosting
Available in Mainland China
Video Player



You need a third-party player

Video Channels
Unlimited
One channel with multiple live and on-demand videos
Unlimited
Unlimited
Unlimited
Multi-playlist Player
Customization
White labeling
Logo, colors, URL
Logo, colors
Logo, colors
Logo, colors
Logo, colors, URL
Customize player controls

N/A




Cleeng doesn't come with a video player

Autoplay video

N/A




Cleeng doesn't come with a video player

Channel templates
SEO-optimized
Marketing
Collect email addresses
CTA buttons
Ability to run webinars
Analytics
Payment reports



You need a third-party integration




You need a third-party integration

Per-video stats
Pricing
Starts from $19/month
Starts from $99/mo

$75




/mo




billed annually

Free plan with up to 3 videos; Pro plan at $99 with 10 free videos + 25¢/video after the limit
Starts from $38/mo
Why Choose StreamingVideoProvider For Video Monetization?
No commission
Instant payout
All-in-one solution. Unlike some of the solutions listed above, we provide everything you need to monetize and protect your on-demand videos and live streams.
Full range of monetization options. Custom ads, PPV, pre-sales, subscriptions, rentals, you name it.
Deep analytics. You don't just get aggregated data, but also detailed statistics per viewer.