The Best Live Streaming Equipment (Hardware & Software)
Since you're here, we'll assume you know how to set up a live stream and all you really need a concise, easy to understand video production equipment list. That's what we've got for you—we will tell you exactly how to pick your streaming gear. No fluff, no fuss. Grab your pen and a notepad and let's go over the best live streaming equipment in 2023.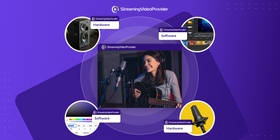 Beginner Live Streaming Equipment
If live streaming is new to you, no need to worry! This live video streaming equipment could serve equally well as a YouTube camera setup and as a webinar streaming setup.
Who's It For?
Youtube Streamers
Vloggers
First-Time Webinar Hosts
Consultants and Coaches
1. Best Video Camera for Beginners
If you've just started streaming and you're looking for the best camera for live streaming for beginners, you might think there are very few options. But that's not true!
Webcam

It may not be top of the line or of the greatest quality, but it works just fine for beginners.

Smartphone

A smartphone is pretty much a high-end live streaming video camera that you can make calls from. Except it requires less of a learning curve. Insanely enough, the IPhoneXS beat out the Canon C200 (a $6,500 camera at its lowest price) when it came to color grading. Using a smartphone may not just be a cheaper option, but also a better option for performance. If you're looking for good cameras for YouTube beginners, you might already have one in your pocket—your smartphone.

Inexpensive video camera

No need to spend your life savings here. One of the best affordable video cameras on the market is the Canon PowerShot SX730 point and shoot camera with image stabilization. It's easy enough for beginners, it can film in full HD and it's also one of the best camcorders for YouTube.

360 live streaming camera

In a recent survey, 90% of Americans said that content will be better in a 360 video format than in traditional video formats. So, it's no wonder that 360 cameras are picking up steam. If you're looking for a 360 camera, try the Ricoh Theta V. It's slick, yet packed with features.
2. Tripod
A tripod is a crucial part of the equipment needed for live streaming because it helps you achieve premium broadcast quality.
Using a smartphone? Try a Digiant 50-inch aluminum tripod.
Or if the Canon PowerShot is your cup of tea, go with the 57 inch ButterflyPhoto tripod.
3. Capture Card
This little box of magic converts the raw signal from your video and prepares it for processing by a computer. Note that you don't need a capture card when streaming with a webcam or a smartphone.
We recommend using the Intensity by Blackmagic Design. When you're streaming on a budget, this capture card gives you incredible capture and playback quality for a reasonable price.
4. Computer
Here is a sample computer configuration for live stream beginners:
| | |
| --- | --- |
| Processor | 4th generation Intel Core i5 (or its AMD equivalent) |
| RAM | 8GB or more |
| HDD | At least one 1Tb HDD (possibly two because raw footage takes up a lot of space) |
| OS | Windows 7 or higher for PC or the latest version of macOS for Mac |
5. Live Streaming Software Encoder
Live streaming is challenging as it is, so it's best to go with a simple and easy to understand live streaming software. We recommend XSplit for beginners as it doesn't require too much prior knowledge to operate.
6. Live Streaming Platform
As a beginner, you might want to opt for a free streaming platform like Youtube Live or Facebook Live. It will work fine until you outgrow your YouTube channel. When you decide you want to monetize your live streams and protect them from pirates, you can switch to a live video hosting platform for business like StreamingVideoProvider.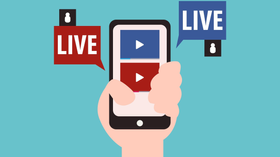 Single-Camera Live Streaming Equipment
All right, so, you have tried a basic live streaming equipment setup and now you want to move to the next level. Here's what you need:
Who's it for?
Church Live Streaming
School Sports Streaming
Seminars/Corporate Event Streaming
Health And Wellness Classes
1. Best Video Camera for a Single-Camera Setup
2. Tripod
A tripod is an essential piece of live streaming camera equipment. The 57-inch ButterflyPhoto tripod for the Canon VIXIA HF R25 is a great, inexpensive option.
3. Capture Card
A little more advanced than the Intensity capture card, the Decklink 8K Pro by Blackmagic Design is a sophisticated capture and playback card that can handle high-resolution video data.
4. Computer
You may want a computer with the following specs:
| | |
| --- | --- |
| Processor | Intel Core i7 6th generation processor (or its AMD equivalent) |
| RAM | 16GB or more |
| HDD | At least one 1Tb HDD (possibly two because raw footage takes up a lot of space) |
| OS | Windows 10 for PC or the latest version of macOS for Mac |
5. Lighting
Figuring out the best lighting for streaming is a science on its own but here's where to start!
For a start, we'd suggest trying basic three point lighting. This is a setup in which three different lamps are placed in a triangular position around the subject. The main light (or key light) is the most prominent light and is shone directly on the subject. The fill light is positioned lower than the main light but is shone from the side. The final lamp, the back light, shines from behind the subject.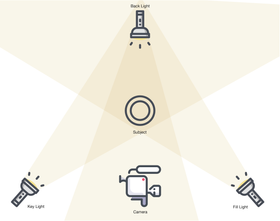 6. Live Streaming Software Encoder
Open Broadcaster Software (OBS) is a good option when it comes to streaming encoders. It gives you enough features without being overly complex. It'll take a bit of learning at first, but it's worth it.
7. Live Streaming Platform
Free platform
YouTube Live or Facebook Live. These platforms allow you to stream your content for free. However, there are some limitations:
No branding options
No protection from pirates
Little to no opportunity for monetization. Unless you're willing to earn pennies via ad revenue.
Business video platform
The other option is to use a business video platform like StreamingVideoProvider. Here are the main advantages of going the professional route:
Professional (Multi-camera) Live Streaming Setup
Welcome to the big leagues! You're ready to do wonders on the green screen! Let's talk about live event video production equipment where you usually need a multi-camera live streaming setup.
Who's it for?
Video production companies
News and media broadcasters
Professional sports events
Entertainment events
Music concerts
Big churches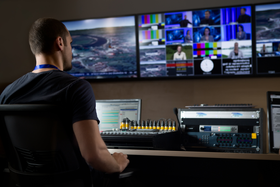 1. Best cameras for a multi-camera Setup
Here are a few rules of thumb to help you:
Your main camera should be of highest quality and placed front and center.
Your secondary or third camera should be placed either to the side or behind the subject.
Take a look at this article to get more of an understanding on how to get set up.
If you are streaming a sports event or an event with lots of movement and excitement, we recommend using an action camera like the Mevo Plus Live Event Camera.
If your event requires a fully-polished professional look, you may want to go with a high-resolution camcorder. Truly, there is a ton of difference between SD HD and ultra HD and you will see it when you buy a 4K Ultra HD camera. We recommend the Sony FDR-AX53. It's a bit expensive, but your video quality will make it worth every penny.
2. Tripods and Rigs
Don't cut corners and save money when it comes to tripods and rigs because sophisticated cameras can pick up even the slightest tremor. If you want smooth pans (and who doesn't!), get a tripod and/or a camera rig.
Tripod. Manfrotto tripods are the best video tripods in this business. While they may be hard to find, it's worth searching for. We recommend a tripod with rubber feet for greater stability.
Mid-level spreader. This piece of live streaming gear allows you to set the proper leg angle for your tripod for a perfectly stable camera.
Camera rig. A shoulder rig can be a true life saver because most professional live streaming cameras are heavy. Our favourite brand of professional shoulder rigs is Neewer.
3. Microphones
There are few different types of external microphones for live streaming that you can use for your event:
Handheld

Handheld mics are great for stage productions and music events. The Sennheiser e935 Cardioid Dynamic Microphone offers top notch sound quality at a more than reasonable price.

Headset

Motivational speakers, corporate meetings, major sermons. These are events in which having a microphone headset would be perfect. We recommend sticking with Sennheiser for your headset. Specifically the EW D1-ME 3 wireless microphone. Perfect sound and amazing clarity without complicated configuration.
4. Lighting
Three Point Lighting. You'll always want to use a three point lighting system when filming a single subject. We recommend using Neewer CN-160 lamps in your set up. Here's why. Also, check out this video to learn how to set up your lamps properly.
Stage Lighting. When your event takes place on the grand stage, you'll need specific fixtures to provide your audience with awesome lighting. According to SSCR Theatrical Distribution Products "Professional lighting is centered around the concept of targeting certain areas and not others through different means. Lighting managers typically divide stages into zones of 8- to 12-foot diameter circles with slight overlap." Here's a quick tutorial on choosing the proper lighting for your on-stage event.
5. Hardware Encoder for Live Streaming
Taking place of the capture card and computer setup, a video encoder is a piece of live streaming hardware that processes the raw signal from your camera and prepares it for streaming.
Hardware like this is a small investment, but also a huge time saver. This is due to the fact that an encoder sends the live feed directly to your live video hosting platform. We recommend using EzeCaster Pro.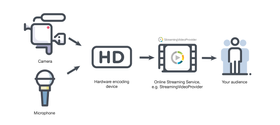 6. Audio/Video Mixer and Switcher
This tag team allows you to switch back and forth between video feeds as well as mix multiple audio tracks (whether that is a voice from the microphone or background instrumental music). You have two options:
Software switcher

If you've just started using professional video production equipment, try multi-camera live streaming software such as Wirecast.

Hardware switcher

If you're a bit more advanced, try a hardware device like this Blackmagic Video Switcher. However, keep in mind that it can be confusing—just the front panel has a couple dozens of buttons.
Putting It All Together
Now that you have an overview of the best live streaming equipment, you're ready to gather the items and get the ball rolling!
We hope the links we've provided will help you in understanding what is necessary for your production. Our recommendations are based on affordability, online reviews, and required skill level. While it may seem daunting at first, once you've begun, streaming will become second nature.
References And Further Reading


You Can Start Broadcasting Like A Pro In Just 2 Minutes
Try It Free