The Best Platforms For Live Streaming Events To Maximize Your Reach
Your live event is all set and ready to go. You've got a small crowd in front of you, but you know there are many more people out there who would love to be part of it. This is where platforms for live streaming events can help!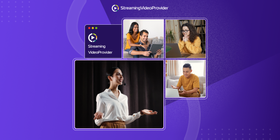 These tools, some free and some paid, allow you to show your event to people all over the world. You can even make money by selling online access right from the video player!
Live streaming is becoming easier and cheaper to do. That's why it's expected that the live streaming market will grow to be worth over $223.98 billion by 2028. With that in mind, it's really important to choose the right platform for your streaming needs. First, let's look at the key features to watch out for when picking your streaming service.
What to look for in an event streaming platform
Now that we've covered the logistical benefits of using hardware vs. software encoding, let's talk about the functionality of the event live streaming services. Your live event video streaming service should be feature-rich, secure, and reliable.
Here are some essential features to look for when deciding on your platform.
Live stream archival — record your streams for later viewing
2FA (two-factor authentication) — stops ticket sharing, increased security
Multistreaming — distribute your broadcast to multiple platforms live
No hidden fees — some platforms may charge a fee for each ticket sale
ABR / MBR streaming — automatically optimizes the quality of your broadcast
White-label video player — customize your video player's appearance and remove any traces of the video platform's branding
Global CDN — broadcast your live stream all over the world
All of these features are essential if you are looking to grow your audience. Multistreaming (sometimes also called simulcasting) is especially handy. If you are regularly hosting live events, you might want to give it a try!
This allows you to stream to multiple platforms at once. This can be used to broadcast your pre-show to multiple free platforms, such as YouTube and Twitch. Then you could then broadcast your main event to your own website via PPV.
The Best Premium Platforms For Live Streaming Events
Now that you know what to look for when choosing a platform, let's try to find the best platform for live video streaming!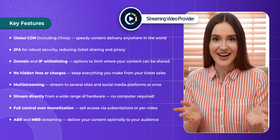 We understand the struggles that video content creators face when it comes to running a live event. That is why we have created our platform to be both easy to learn and easy to master.
With StreamingVideoProvider, you can share your events all around the world. One cool feature is that you can sell tickets to your online event right from the video player. This includes monthly subscriptions, pay per view, and even custom pricing schemes.
The platform is flexible, so it works well whether you're new to streaming live events or if you've done it a lot before. But what really makes it special is how it helps you keep control over your content. It has advanced security features like live video encryption and IP restrictions, so your videos always stay safe.
In a time where live streaming is becoming more common, StreamingVideoProvider is a platform that offers a smooth and easy experience for sharing your events live online.
Here are a few of the features live event organizers love.
Key Features
Global CDN (including China) — speedy content delivery anywhere in the world
Full control over monetization — sell access via subscriptions, pay per view, rentals, custom advertisements, or custom pricing
No hidden fees or charges — you only pay a flat monthly fee
Stream archiving — automatically record your live events for later viewing
2FA for robust security, reducing ticket sharing and piracy
Domain, IP, Geo whitelisting — options to limit where your content can be shared
Video encryption — protect your content while it's being broadcast
Multistreaming — be in two (or more!) social networks or websites at once with our multistreaming solution
Stream hardware flexibility — supports a wide range of hardware
Deep Analytics — know who engaged with your event, when, and for how long
ABR and MBR streaming — deliver your content optimally to your audience
Live chat — Stay in touch with your audience and engage them during the stream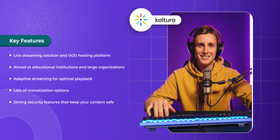 If you work as part of an educational institution or university, Kaltura is a good option to consider for live broadcasting. This platform offers some great communication and collaboration tools. These features can help streamline the broadcasting process.
Ideal for virtual classrooms and lecture capture, Kaltura serves a very specific purpose. Kaltura isn't ideally suited for smaller broadcasters, however. The platform is better suited for those that work as part of larger organizations.
Kaltura's platform is built to scale, meaning that as your audience and requirements grow, Kaltura grows with you.
Key Features
Stream archiving — record your live streams for later viewing
Monetization tools — options like pay-per-view and subscription services
Interactive tools — engage your audience with features like real-time polls, quizzes, and live chat
Analytics — Track your event's performance and gain insights
Video editing tools — edit your videos with built-in tools for trimming, adding captions, and more
Security features — including password protection, encryption, and IP-based access control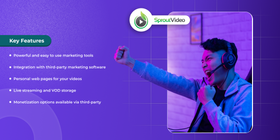 If you are looking for both live streaming functionality and video hosting, SproutVideo is a good option. The platform allows you to create your own video website page, which is a nice feature. If you do not plan to outsource web design, you may find this handy.
SproutVideo comes with a selection of marketing tools that can help you generate leads. These features can help you promote your content effectively. Integration with Hubspot, Zapier, and Mailchimp helps you align your marketing.
Currently, SproutVideo doesn't support multistreaming.
Key Features
Archive your live streams — Record your streams for audiences to watch later
Monetization options — Generate revenue through pay-per-view, rentals, or subscriptions
Security measures — including password protection, IP address restriction, and private link sharing
Interactive features — real-time live chat and comments during your broadcast
Analytics and reports — access viewer analytics and performance reports
Customizable video player — tailor the look and feel of your video player
Marketing tools — SEO tools, social sharing, and email marketing integration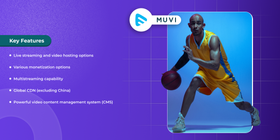 Another platform that supports both live streaming and archiving is Muvi. The security features available here include watermarking and DRM. Muvi is another good option for broadcasters that want to keep their content safe from piracy.
Muvi isn't as intuitive as some of the other live streaming services for events. This means that more inexperienced broadcasters might have difficulty getting to grips with the CMS.
Muvi also supports multistreaming, and it has a powerful CDN. You should keep in mind, however, that there is no coverage for China. Another negative is that the platform is quite a bit more expensive than the competition.
Key Features
On-demand playback — Archives your live events, making them available for later on-demand viewing.
Monetization tools — subscriptions, pay-per-view, and advertisements are available.
Customizable video player — tailor the video player to match your brand identity
Analytics — viewer statistics and insights to understand your audience better
Security — including DRM, password protection, watermarking, and encryption
Interactive features — engage your audience with features like comments, ratings, and reviews
Multistreaming capability — go live on multiple sites
Global CDN — Streaming to Mainland China is not supported
Dacast is another platform that brings with it a wealth of security options and broadcasting features. Multistreaming is supported, and monetization can be configured in just a few easy steps. This platform is well-suited for beginners and more advanced users alike. This is due to an easy-to-use interface and simplified menus.
Dacast has a global CDN with support for mainland China. ABR and MBR streaming is supported in addition to a streamlined monetization system. This allows you to start selling access to your content immediately.
Key Features
Live video archival — store and share past events for viewers to watch at their convenience
Monetization options — including pay per view, subscriptions, and advertising tools
Security and privacy — including password protection, geographic and IP restrictions, and SSL-secured video streaming
Analytics — viewership data and performance reports
Multi-bitrate streaming — uses adaptive bitrate streaming to provide a great experience on all devices and internet speeds
White-label service — customize the video player to match your brand
Multistreaming support — broadcast your event to multiple platforms
Global CDN — including support for Mainland China
The Best Free Platforms For Live Streaming Events
Now that we've covered the top premium platforms, let's take a look at some of the free live event broadcasting platforms available.
These live event video streaming services are more limited than the premium options we've covered. However, they are good options to keep in mind for beginners.
YouTube goes without explaining. You will likely know how user-friendly it is for browsing and watching videos. Well, the user-friendly nature of the platform extends to its creation and live streaming tools, too.
With YouTube live streaming, creators can stream content immediately with ease. For this reason, it is a great platform for beginners looking to venture into streaming for the first time.
The Google-owned platform is also useful for promotion purposes. You could use YouTube as one of your multistream destinations in order to reach wider audiences.
Key Features
Simple and easy to use — ideal for beginners
Completely free
Live streaming and live video archival
Variety of apps for smart devices
Huge audience
Another popular, free platform allowing you to live stream an event is Twitch. Twitch is owned by Amazon and in recent times has started allowing more varied content. Initially, Twitch was just a gaming platform where broadcasters could stream their gameplay to other gamers.
As the platform grew, Twitch also became known for VOD streams under its IRL category. This type of content resembles the VLOG and live event content that you see on YouTube.
Twitch has a huge community of loyal viewers that regularly pay to subscribe to their favorite channels. Audiences donate to support creators due to the limited monetization options available.
As with YouTube, Twitch can be used as a multistream destination. This means you can broadcast to Twitch and YouTube at the same time from just one location. This is assuming that your chosen premium streaming provider supports simulcasting.
Key Features
Great community
Large audience
Paid subscriptions via Twitch partnership
Variety of apps across many devices
Some great third-party tools available
Table comparing premium and free event streaming platforms
| | | |
| --- | --- | --- |
| | Premium Platform | Free Platform |
| Multistreaming | Most premium platforms support multistreaming | You can only share your content on the platform |
| Monetization | Full control over monetization. No terms of service and advertiser guidelines to worry about | Very limited, usually via advertisements. Subject to viewership numbers and eligibility. |
| Security | Comprehensive security such as 2FA, DRM, and watermarking. | Can support 2FA, but otherwise, basic protection. |
| Access control | Fully customize who has access to your content. Password protect select videos. | Private and unlisted video options. Subscriber-only access, e.g.,Twitch. No passwords for videos. |
| Access to China | The top streaming platforms allow streaming to Mainland China. | No access to Chinese audiences. |
Frequently Asked Questions
You can stream live events for free on platforms such as YouTube and Twitch. If you are looking to sell access to your event, however, you will need to use a premium streaming provider.
Yes, many live streaming platforms offer monetization features such as pay-per-view, subscriptions, or advertising, allowing you to generate revenue from your live events.
Most live streaming platforms offer security features such as password protection, encryption, and IP address restriction to protect your content. However, the specific security measures may vary between platforms.
Yes, many platforms offer video-on-demand capabilities, allowing you to archive your live streams for viewers to watch at a later time.
Yes, many live streaming platforms provide interactive features such as live chats, comments, or real-time polls that allow you to engage with your audience during the broadcast.
Conclusion
If you are new to event live streaming, you can become familiar with the process by trying YouTube and Twitch. These are great platforms to start with, but you will quickly notice the limitations that come with these free platforms. You can also try one of the free trials that most premium providers offer which gives you access to all of the premium features and benefits. This will help you decide which is the best live event streaming service for live video streaming based on your requirements.
Once you are familiar with live online event broadcasting, you can start to think about how you want to monetize your content. You can also start to think about making use of white-label video players that allow you to brand and customize the look of your video player. As you use live event video streaming services more and more, you will wonder how you ever managed without them!
References & Further Reading
To find out more about improving your live streams, check out the links below: