Hosting Hybrid Events: Audio, Visual, and Lighting Tips For Part-Virtual Events
In the past few years, the workplace has experienced unprecedented changes. An all-encompassing digital transformation has shaped – and continues to shape – new ways of working that focus on the idea of "hybrid".
Part-virtual and part-in-person, hybrid workspaces have become a staple of today's business world. These combine digital elements with in-person ones (like a physical office). Within this flexible, dynamic new trend, another interesting phenomenon is emerging: hybrid events.

Organizing a hybrid event comes with advantages but also challenges to digital marketing performance. Hybrid event organizers must be able to strike the right balance between the two worlds. On the one hand, they need to provide a spotless experience to event attendees who choose to be physically present. On the other hand, they must deliver the same level of value, interaction, and engagement to those who are participating via a digital device.
Achieving this is far from simple, and that's why we prepared this essential guide. Here, we will help you navigate the complexities of part-virtual events. We will also talk about how to decide what type of technology to use, and suggest the best ways to maintain your guests' interest.
What Is a "Hybrid Event"?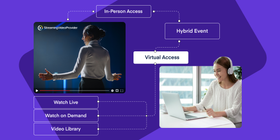 In the enterprise streaming world, a hybrid event is an event that takes place both in-person and online. On the one hand, these events include elements of live events, such as in-person and online guests and speakers who all meet in a physical venue. But they also include elements of virtual events, such as the possibility to dial into the event from anywhere in the world with a digital device.
To organize a hybrid event, you need to select a reliable and secure virtual event platform. At the same time, you will also need to book a pre-defined slot at a venue of your choice. You may also wish to have explainer videos to help people log in and set their computers up for attending the live event remotely.
Once your part-virtual meeting has started, the challenges begin. You will need to keep the attention and interest of both your live participants and remote attendees. So you have to consider how to build inclusivity.
Before we tell you how to run a hybrid event, let's take a deeper look into why hybrid events can be so beneficial for your business.
The Advantages of Hosting Hybrid Events
Though there are lots of advantages to hosting hybrid meetings/events, we have whittled them down to five main ones.
1. Greater Flexibility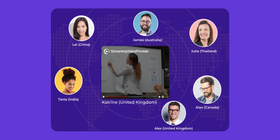 One of the most significant benefits of a virtual event is the huge flexibility that it affords. By organizing a part-virtual event, you allow your guests to take part in the way they prefer. Some of them, for example, might be local to you and prefer to travel to the venue. Others might hail from places that are too far to allow them to travel, which means they will find it easier to join your hybrid virtual event by dialing into a virtual event software.
2. Wider Reach
Part-virtual events are open to people who are not always local to you. Remote participation enables your company to invite as many people as you like. With an in-person event, in fact, you are always going to have to limit the number of guests according to the size of your chosen venue.
Virtual events, though, can accommodate a large virtual audience without impacting the bottom line or the quality of the event.
3. Higher Engagement
Keeping the engagement rates high throughout the event is no easy feat. This, though, is also one of the most crucial aspects that determine the success of the event itself. A hybrid approach can help you with that, too.
For example, consider the Q&A session of your event. It's common for people sitting in the room with you and the other speakers to find it intimidating at the moment of asking questions. Those who have dialed into your event from home, though, might feel more at ease to break the ice and kick off the session.
This, in turn, generates a virtuous circle of knowledge and information sharing. As a result, you will be able to boost the interest, virtual rapport, and engagement of all your attendees.
4. More Sustainability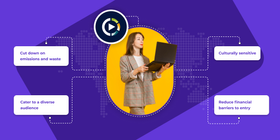 In a world where we must do all we can to slash our carbon footprint, hybrid events can actually help us achieve that. Consider the example below.
If only 20 or so of your event's attendees travel by public or private transport to the event venue, this has the potential to decrease CO2 emissions. Plus, you can cut down on negative environmental impacts further with other best practices, such as asking participants to share a mobile business card.
While hybrid conferences/events are still not 100% sustainable, they are a great first step in the right direction.
5. Larger Network of Speakers
As your part-virtual event is open to a huge number of guests, you can also reach out to a much wider network of speakers. Keynote speakers at hybrid events, in fact, do not need to be present at the event's venue if they can't or don't want to. They can dial into the meeting and hold their presentation from wherever they like.
This also helps to accommodate any last-minute changes in plans or anything unpredictable.

How to Organize an Exceptional Hybrid Event
Ensuring exceptional live stream quality is paramount if you want successful hybrid events. Hosting hybrid events entails more than choosing a hybrid event platform. Let's look at hybrid events best practices that will always deliver plenty of value to all your attendees and speakers.
Loud and Clear: Audio Tips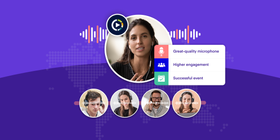 One of the most common and frustrating issues that can crop up with a part-virtual event concerns its audio quality.
So, looking after your audio systems is one of the top priorities when organizing a hybrid event. The challenge is twofold. You'll need a good sound system for the in-person guests sitting inside the venue and the virtual attendees who are joining from other parts of the world.
To achieve this, it's essential that you select a great-quality microphone both for your in-person and virtual speakers. In-person speakers who plan to move around the room will need lavalier microphones. Remote ones should make sure to join the meeting from a quiet, private room with no external noises.
Make sure that all your speakers run a good number of checks before the event begins. It is necessary they inform you of any potential problems or difficulties they are having.
What's more, use the tools at your disposal. In hybrid event planning, you can include some event content, such as music, as part of your event. If you decide to do this, consider using this music event sponsorship proposal. It can help you set the mood for your meetings
Eyes on the Prize: Visual Tips
Live videos, such as hybrid events, can sometimes also incur technical problems when it comes to the visual aspect. One of the biggest challenges in this respect is to make sure that your virtual attendees remain as engaged and active as your in-person ones.
You will therefore need to pay extra attention to detail. You can adjust the angles of your cameras to better show the faces and expressions of your speakers and presenters. Similarly, if you are going to introduce a remote speaker, you will benefit from having a big screen that can display them in sharp, good quality to your in-person audience.
Opt for a high-resolution video feed that will help your in-person guests to read and see all the presentations in a clear and engaging way.
Moreover, consider ensuring that all your presenters have triple-checked their presentations. Ask them to check that any visual elements in their presentations can be seen easily on multiple platforms. This will benefit your remote attendees.
Shed Some Light: Lighting Tips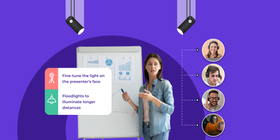 Lastly, it's worth mentioning the lighting aspect of your virtual event, too. This is linked with the visual aspect that we have just discussed. Good lighting is essential to make sure that your attendees, particularly your virtual ones, truly do feel like they are part of your live event.
Remember, for example, that lighting focus will need to be on specific people at specific parts of the event, such as keynote speeches and Q&A sessions. If you can, choose LED floodlights to illuminate longer distances. Also, always consider the lighting fixtures that are most durable and environmentally friendly.
Your remote speakers will also need to have a neat, clean background. One without any distractions (or, if they prefer, a green screen background can work great, too). They might also benefit from buying a video conferencing lighting kit. These kits are very affordable and include a phone holder, a stand, and an LED ring light. The ring light that can be attached to their screen to will help soften the light on their face.
conferencing lighting kit. These kits are very affordable and include a phone holder, a stand, and an LED ring light. The ring light that can be attached to their screen to will help soften the light on their face.
Ready to Deliver Great Value at Your Next Hybrid Event?
The workplace is now characterized by the presence of digital devices. It was only a matter of time before meetings and events went digital, too, as we can now see with the rise of virtual conference platforms. This has changed the world of event management and remote meetings.
Companies around the world, though, are noticing that virtual events are not always the answer: the name of the game is "hybrid". With a hybrid event, you can deliver great flexibility, reach out to a much wider range of guests and speakers, and even do your bit for the planet.
Follow the tips in our article and get ready to deliver unprecedented value to both in-person and remote guests!
References & Further Reading