The 9 Best Free & Paid Video Hosting Sites (Full Comparison)
There must be other video hosting sites like YouTube and Vimeo, right?
It's not that these two video platforms are bad but, the truth is, you make peanuts with platforms like YouTube and you simply don't have the freedom and customization that you would get with private video streaming and hosting services for business like StreamingVideoProvider and Wistia.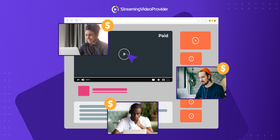 So, what are the alternatives to YouTube and Vimeo? Do you really need private video hosting for business? How can you monetize your premium content?
Read on and we'll lay it all out for you!
Where to Host Video Files: Free Video Hosting or Private Video Hosting For Business?
There is certainly no shortage of video hosting sites. However, each option has pros and cons that need to be weighed before you make a final decision.
Let's make this easier...
Video streaming service options can be broken down into two major categories; platforms for video on demand and live video marketing, and private video sharing sites.
Video Marketing Platforms

Video marketing is about exposing your content to thousands or even millions of viewers. Equipped with features like "suggested videos", these online video hosting sites help you broaden your reach and expand your audience in a short time-frame.

Most of the time, these platforms won't overwhelm you with features. Uploading and hosting your videos is straight forward, there is unlimited bandwidth and storage space.

You are, however, trapped within pre-made parameters and rules restricting you from any type of customization in uploading and sharing. For example, you can't choose between different monetization options and you could forget about API capabilities or advanced privacy settings.
Business Video Hosting Platform

These online video sharing platforms allow you to share video content both publicly and privately. The trick is that you retain full control. With free video hosting sites, you are never 100% sure how secure your content is.

Business video hosting is ideal for you if you wish to share your videos securely, to monetize your videos, and to retain full custody of your copyrights.

These platforms can be used by any type of business or organization in a number of ways, e.g. as the best place to host private videos such as sales proposals, training videos, church sermons, online courses, to create VOD sites similar to Netflix, to store marketing videos, and much, much more.

Business video hosting sites allow for more freedom and customizing capabilities, e.g. white labeling—the ability to rebrand the platform and make it your own.
Free Video Hosting Sites (like YouTube) That You Should Know About
Everyone knows about free video hosting sites like Youtube and Vimeo. With YouTube racking up more than 1.8 billion users monthly and with YouTube videos getting over 500 million hours of watch time daily, it's no surprise that the size of your potential audience is astronomical. However, this also makes YouTube more of a general social media website.

So, we'll suggest a few free unorthodox services that can help you really zero in on a particular type of audience.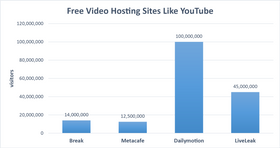 Business Video Hosting Platforms
Business video hosting is the best choice for professionals and business owners. Cracking open that wallet just a bit will give you access to features and capabilities that are otherwise shut off from you with free video streaming platforms. These features come in abundance, so we've done our best to summarize each platform for you. Best of all, most of these platforms allow you to open up a free account to test them.
Viewing Censorship

NONE

Our global video hosting CDN allows you to stream within corporate networks and Mainland China without worrying that your content may be banned.

Privacy and Security

StreamingVideoProvider is a secure video hosting platform that gives you top-notch protection around the clock.

No screen recording. Dynamic Watermarking makes capturing your paid videos a risky undertaking.

No unauthorized downloads. Your videos are encrypted with the same technology used by the US government (the 128-bit AES HLS algorithm)

Password protection. Only those who have the password can watch your video. You can also set the expiry date and usage limit.

Unique private link sharing for quick and secure sharing.

IP restrictions. Whitelist specific IP addresses or groups of IP addresses, e.g. for streaming within a corporate network.

Domain hotlinking. Ensure no one else can embed your videos on their website.

Geo restrictions. Limit streaming to specific locations.

You can upload high-quality video files up to 30 Gb with a simple uploader that pauses if your connection drops and resumes automatically when you're back online. All files are automatically converted for the web.

White Labeling

Add your own logo and colors, change the domain name and even customize our player and channel templates.

Analytics

We give you real-time data about each viewer—what they watched, for how long, where they are located, and more.

Monetization

StreamingVIdeoProvider is an all-in-one platform for live streaming and video on demand that allows you to sell Pay Per View (PPV) tickets and subscriptions:

Sell tickets directly from the video player

Add a "Donate" button for church streamings

Get paid instantly

Keep track of your earnings

No delays, and, certainly, no commissions

Hosting Costs

Disk space: 50 GB per month

Bandwidth: 250 GB per month (741 hours)

Price: Starting from $46/month
#2. Video Cloud by Brightcove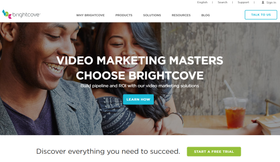 Viewing Censorship

No official statement has been made by this online video platform to indicate whether or not they are capable of delivering content to Mainland China. As to streaming within corporate networks, that's also unclear.

Privacy and Security

Brightcove offers three types of security options:

Digital Rights Management encrypts your video

License Management allows a licensing server to retrieve video permissions sent by the video player

Policy Management lets you customize video policies based on licensing agreements

Host Large Video Files

According to their website, files up to 100GB can be uploaded without any issues.

White Labeling

NONE

Analytics

You can receive and decipher your analytics with third-party integrations and HTML5.

Monetization

You can earn money through ad placements in and around the video player.

Hosting Costs

Videos: 50 to 200

Plays: Up to 100,000

Price: $199/month
#3. Wistia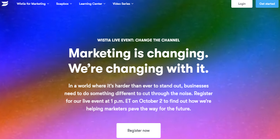 Viewing Censorship

No official statement has been made by Wistia indicating whether or not they are capable of delivering content to Mainland China.

Privacy and Security

The security and privacy features are provided by hosting on AWS servers with SSAE-16 certification.

Host Large Video Files

You have the ability to customize the uploader with Javascript API. The file size limit is 8GB.

White Labeling

White labeling is not supported but you can upload your own logo and change the colors.

Real-Time Analytics

You're given real-time analytics per user. You can also view your analytics with Google integrations.

Monetization

NONE

Wistia has no way to collect or track earning.

Hosting Costs

Bandwidth: 200 GB

Price: $99/month
#4. SproutVideo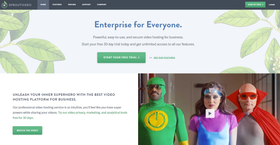 Viewing Censorship

No official statement has been made by SproutVideo indicating whether or not they are capable of delivering content to Mainland China.

Privacy and Security

SproutVideo offers the basic package of privacy features:

Login Protection ensures that only those with login usernames and passwords can view your videos.

IP Address Restriction gives you the ability to "allow" specific IP addresses to access your content.

Password protection allows for private video streaming.

Global Whitelisting lets you choose which countries can or cannot view your content.

Host Large Video Files

You can upload any video format up to 10GB per file.

White Labeling

Choose a theme and upload your own logos and colors.

Analytics

You are given stats that include location, device, user, and domains.

Monetization

NONE

Hosting Costs

Disk space: 500 GB per month

Bandwidth: 500 GB per month

Price: $59.99/month
#5. Vidyard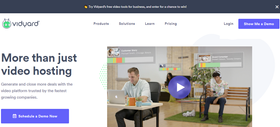 Viewing Censorship

Vidyard delivers content globally, including Mainland China.

Privacy and Security

The platform promises fast and secure hosting, featuring the following capabilities:

IP Whitelisting. Limit playback to specific IP addresses or groups of IP addresses.

Single Sign-On (SSO). Require authentication before viewing a video.

Log In System. Force the viewer to type in a username and password before accessing your video content.

Access Codes (Passwords). Ensure that only the person who has the access code can watch your video.

Domain Restrictions. The ability to whitelist certain domains.

Host Large Video Files

Allows for uploads no bigger than 18GB by anyone with a link without needing an account.

White Labeling

You can edit colors and player controls as well as add your own logo.

Analytics

Vidyard tracks engagement, region, and devices.

Monetization

NONE

Videos hosted on Vidyard are typically for marketing and sales purposes, but the platform doesn't feature any way to create a video paywall.

API

API is available but only through collaboration with Vidyard's Professional Services Team

Hosting Costs

Bandwidth: Unlimited

Price: $150/month
How to Choose the Right Video Hosting Platform for your Business
Here is a simple quiz to help you make your decision. Try answering these questions with Yes or No to get a clear view of the requirements suitable for you. Then, you can go on and find the best video hosting for your business with confidence.
Do you need to host large video files (> 10GB)?
Do you need private video hosting and streaming?
Do you have viewers in China or corporate networks?
Do you need white label video hosting?
Will you monetize your content?
Will you need video analytics?
Feel free to give the tables another look to see which video hosting platform offers you exactly what you need. If you've answered yes to all of the above questions, then we have to let you know that StreamingVideoProvider ticks all of these boxes (at a better price than similar platforms).
References And Further Reading