Pay Per View Events: How To Set Up PPV Streaming And Monetize Live Streams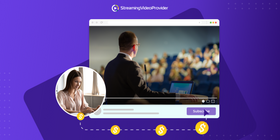 We've written before guides on how to sell videos online and how to sell training and educational video courses online and how to get paid to live stream because this is a lucrative business idea, especially when using pay-per-view streaming. This post will walk you through the exact steps you have to take to set up a pay per view event online.
The workflow is the same regardless of the way you implement it but, for the sake of example, we'll sometimes refer to our platform StreamingVideoProvider.
How Does Live PPV Streaming Work?
Live streaming has a lot of moving parts especially when you want to monetize your live stream. It can be downright overwhelming, so we'll try to keep it simple by giving you only the essential information. Here's what you need to do to get started with PPV live streaming.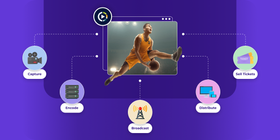 Capture

Capture video and audio from your webcam, smartphone, a DSLR camera or multi-camera setup connected to a visual mixer. Alternatively, stream a pre-recorded video.

Encode

Use an RTMP software or hardware encoder to convert the raw input into a digital video stream.

Broadcast

Allow a large number of people to watch your stream simultaneously by using an online video platform.

Distribute

Adjust the stream quality to the viewer's device and internet connection, as well as deliver your live stream to any device, worldwide.

Sell Tickets

Set up ticket price and types such as Sell, Rent, Subscription or Mix and Match. Receive direct payments.
Yes, Facebook Live and YouTube Live do most of this for you, but you can't do PPV live streams directly on these platforms. So, you need a different solution.
Phase #1: Preparing your PPV Live Stream
1. Choose the Right Camera for Your Live PPV Stream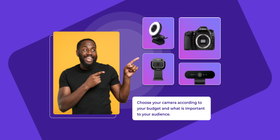 You don't always need the most expensive camera on the market. For example, if your PPV event is a music festival or a concert, you'll need at least a few professional cameras and a visual mixer, because your viewers will probably expect a TV-like experience.
By contrast, if you're trying to set up pay per view streaming for live shows, webinars, live coaching, training sessions, live entertainment, sell local sports events, or broadcast your church's services, you may not need the most expensive camera on the market. You still can get an HD live streaming camera under $200.
In case you're only streaming live PPV video (without audio), the easiest way would be to get yourself an IP camera and follow this guide on how to stream an IP camera to your website.
Choose your camera according to your budget and what is important to your audience.
2. Take Care of the Live Video Encoding
Cameras output raw data that is not suitable for live broadcasting unless you connect the camera to a video encoder. Here's the what you need to know in a nutshell:
The most popular encoding format is RTMP (Real Time Messaging Protocol) because it provides a stable connection and low latency.

There are two types of live streaming encoders: software and hardware RTMP encoders.

Software encoders are more affordable (even free). It's a software that runs on your computer (which has to be with powerful CPU such as i5 or i7). You may also need a capture card if you plan using an HDMI connection.

Hardware encoders are in a higher price range but are stand-alone and plug-and-stream. You don't need to dedicate a powerful PC, purchase a capture card and connect all the pieces to produce a live stream.
Bottom line: If your budget is limited, go for a software encoder such as OBS. If you're looking for the best quality, buy a hardware encoder such as EzeCaster Pro.
3. Configure The Broadcasting Options
To publish your pay per view live stream on the web, you need a "broadcasting station" a place to host your video content so that viewers can access it.
Perhaps, the first question that comes to mind is:
"Wait, can I just use my Wordpress site to publish a PPV event?"
Unfortunately, no, because live streaming requires a lot of bandwidth and most hosting providers limit your bandwidth. To put this into perspective, as soon as a few people tune in to your event, your entire website can easily crash. Also, live streaming to mobile devices can be very tricky.
What is the solution?
To broadcast high-quality streams without constant buffering and glitches, you need a PPV streaming service. It will spare you a lot of frustration and ensure that your live streams are never cut off in the middle.
For example, with StreamingVideoProvider, you can set up a live stream in under 5 minutes without worrying about bandwidth or hosting.
You can try it yourself for free.
3. Set Up Live Streaming Delivery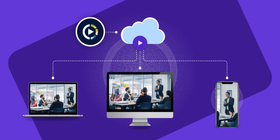 The issue with delivery is that there are dozens of video formats, devices and browsers that your viewers can use. You have to make sure that you're streaming your PPV event in high quality and in each of these formats. In other words, you need hundreds of variations of your live stream, all played simultaneously!
Plus, you have to make sure that the video loads fast. So, if the viewer's internet connection is slow, you'd probably want to deliver the live stream in lower quality so that they can still enjoy seamless playback.
This is another compelling reason not to attempt to use Wordpress if you want to live stream pay per view events.
The good news is that streaming video platforms handle all of this behind the scenes. For example, StreamingVideoProvider uses a global multi-bitrate video CDN to automatically adapt your live stream to the device that's playing. This means that you can, for example, quickly build a streaming website that delivers your content reliably on any device.
Phase #2: Live Stream Security, PPV Payment and next steps
We already laid out a few very important reasons NOT to use Wordpress to publish a pay per view live stream. So, for the rest of this article, we will only talk about on how to use a dedicated PPV service.
4. Protect Your Live Stream from Pirates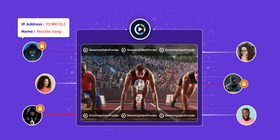 Unfortunately, live streams are vulnerable to pirates even when you're using a streaming video platform. Your viewers can simply download a screen recording tool and capture your entire event as they are watching. And, since these tools capture whatever is on the computer screen, it's very difficult to prevent recording.
However, some live streaming platforms discourage this behavior with video watermarks.
For example, StreamingVideoProvider has the option to place a watermark with the viewer's IP address and name. While this person might be able to watch the event again, it's highly unlikely that they will expose their personal information by uploading the recording to a torrent sharing website or to YouTube. The watermark is placed at random times and in random spots to make it impossible to erase.
So, when you're choosing your PPV streaming video provider, it's a good idea to check if they offer live stream watermarking.
5. Configure PPV Tickets And Accept Payments
When you use a dedicated live streaming platform that comes with video monetization features, you don't need additional event ticketing software. You can use the same platform to broadcast your event and configure live stream tickets to sell, rent or offer subscriptions for your live events, webinars, live shows etc. This means you can focus on marketing your event instead of figuring out the technology behind live streaming.
For example, here's how to set up a pay per view live stream (event) with StreamingVideoProvider.
Note! Be careful about commissions. We don't take a percentage of your earnings but most other platforms do, e.g. Vimeo's commission is 10% which means you'll pay them $100 for every $1,000 you earn.
6. Don't Forget to Record Your Live Event
What if someone misses your pay per view live stream?
A nice touch would be to let them watch the recording on demand. Plus, this can become a substantial source of revenue for you, in addition to pay per view live streaming.
Some live streaming platforms have this option. For instance, StreamingVideoProvider records while you're live streaming pay per view. Within a minute of you pushing the "Stop" button, anyone can watch the recording using the link to your live event. This way, those who bought a ticket can stream your event both live and on-demand and those who haven't bought a ticket can easily do so and watch the recording.
You can use this live streaming cost calculator to determine the cost of streaming PPV events.


You can set up a live pay per view event in less than 5 minutes
Try It Free