The Ultimate Church Live Streaming Setup Guide (All The Equipment And Services You Need)

Putting your worship services on air can be an almost impossible balancing act. Not only do you have to learn how live streaming works, but you also have to find the right technology for your church sanctuary. Before long, your head starts spinning with all sorts of conundrums:
"What camera for streaming church services do I need? What is encoding? How do I set up church live streaming on a shoelace budget?"
But, before we dive into the technical details, let's find out if it's worth it. Statistics say that half of Bible readers search for and read biblical texts online. So, does this mean that believers also want to watch live church service broadcasts?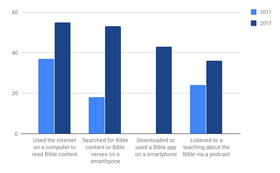 Reading the Bible online is becoming more and more popular.
Top 6 Reasons Your Church Should Be Live Streaming
Consider your values. There is a heated debate around online worship. Some say that faith can't be practised online. Others argue that it doesn't matter what media you use to spread the word as long as you reach the unchurched and help them find their way. As we saw in 2021, however, certain circumstances may prevent in-person worship altogether. Still, if broadcasting sermons online is 100% against your church's values, then you probably shouldn't do it.
Consider the overarching benefits. Streaming your church services online is a way to reach the sick and elderly, to attract newcomers looking to join your church, to stay connected to the ones who are away (e.g. soldiers) and, last but not least, to reach worshippers around the globe.
Learn from others' experiences. A common fear among church leaders is that broadcasting sermons online will hurt church attendance. In reality, it's quite the opposite. For example, The Church of England managed to double the number of people they reach every month by live streaming on social media. And Life.Church became the largest church in America (Congregation: 70,000) only after starting to broadcast their church services online.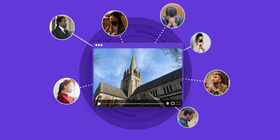 People still visit churches in person but many are also looking to practice their faith online
It's a church marketing tool. People don't just want to listen to sermons passively. They want to be a part of a community. So, think of live streaming as a way to invite people to join your community. Once they step through the sanctuary door, find more ways to engage them, e.g. children's activities, volunteering, mass prayer, confession, and so on.
Statistics: State of the online church
People do watch online sermons. The numbers say that it's vital for your church to have an online presence and to give strangers a taste of the worship experience inside the sanctuary. 1 in 4 Americans watch Christian programming online every week and 80% of church goers say they look up a church's website before visiting live.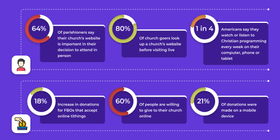 People want to stay connected and give to their church online
More and more people donate online. According to BlackBaud Institute, Faith-Based Organisations that accept tithing online increased their overall donations by 18%. Plus, in 2017, 21% of donations were made on a mobile device.
Choosing the best camera & accessories for streaming church services
In this section, we've hand-picked the best church streaming equipment you'll need to successfully stream your church services, so continue to read.
Best Cameras For Live Streaming Church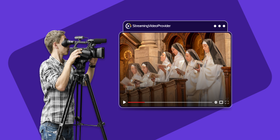 Choosing the right camera to stream church services is not that difficult
How expensive should your live streaming camera be? If you're aiming for a professional church video production, then you might want to shoot for high-end equipment or even a multi-camera streaming setup. But if you're not looking for CNN-level video quality and you don't have a CNN-size budget, then don't let money be the obstacle to spreading the message. All you need is a camera that has an HDMI output and can stream in HD.
The best camera for live streaming church is the one that has an HDMI output and can broadcast in HD. You can get it for less than $1,000 or even for free (donations).
Here are your best options:
Be creative with your budget! You can look into used church video equipment. You can reach out to your congregation and ask them to help.
Common mistakes when choosing a camera for your church services
Ignoring low light sensitivity. Cheap cameras are only good when shooting in daylight. They won't do when you want to live stream a service from inside the church. That's why low light sensitivity (ISO) is one of the most important features you need. Here's more information about this.
Using a webcam. Webcams are built to film faces at a short distance. They are great when you want to chat with your kids during summer camp but nearly useless when you want to film the pastor from the back of the nave.
Essential live streaming accessories
| | | |
| --- | --- | --- |
| What you need | Why you need it | Recommended product |
| 1. Tripod | To ensure great picture quality when using a camcorder or a DSLR camera | |
| 2. Microphone for the pastor | To make sure remote worshippers can hear him clearly | |
| 3. HDMI cable | To get the video signal out from the camera | |
| 4. HDMI extender (optional) | Needed if your camera is away from the encoder/computer | |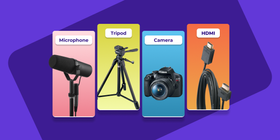 Live streaming accessories to capture sound and video in your sanctuary
The tripod plays an important role in this simple church live streaming setup. It protects your videos from becoming a shaky mess. The external microphone is a must. Even if your church streaming camera has a built-in mic, it's useless when filming from more than a few of feet. The echo inside most houses of worship is also a reason to never attempt to use a built-in mic. Finally, the HDMI cable is what transfers the video signal out from the camera and in to your computer or encoder. We'll talk about encoding a bit later.
Church lighting ideas and tips
If you're just starting out with sanctuary lighting design, the first thing to do is to evaluate your current worship space. Is it a traditional church with dim light coming from chandeliers? Do you have natural light coming through the windows? Do you have any lighting fixtures? If yes, do you use LED or tungsten lighting?
Now, let's find out how you can get the lighting right for your first live stream.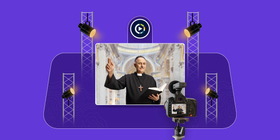 Three point lightingis the easiest way to illuminate your church's podium
To get started, try basic. Imagine your subject is at the centre of the area you want to illuminate and your camera is right in front of the subject:
You need two light sources at 45 degrees, in front of the subject.
You need one more light source, at the rear of your subject.
The next issue to tackle in your church stage lighting process is choosing the right type of light sources. This simple calculator can help you pick the right brand and type of lamps.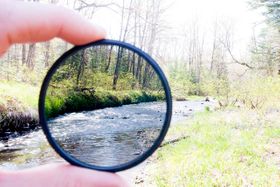 Neutral density gel helps reduce the natural lighting in your worship space
Finally, you have to find tune your setup according to the natural light that gets in. If too much light is coming from the windows and adjusting your stage lamps doesn't help, try purchasing blinds or neutral density gel.
Choose The Best Live Encoder For Your Church
We hope that, at this point, you've set the stage for church live streaming, both literally and figuratively. The next step is preparing your church's live stream for the web. Unfortunately, this isn't as easy as pushing the "Rec" button on your camcorder. Your camera produces a raw live stream that has to be encoded in order to post it online.
What is video encoding?
Your camera records all that is happening inside your house of prayer, with the highest possible video quality. However, the resulting video stream is extremely large in size and it's not suitable for live streaming. So, if you want to broadcast your ministry online, you have to compress this raw video content. That's why you need a video encoder. It reduces the video stream's size so that it can be transported quickly over the web.

How live streaming encoding works
Now, let's look at the different types of encoders and how to choose the right one.
Best software encoders for streaming church services
Software live streaming encoders are computer programs. See The Best Live Video Streaming Software. To get one working, you will also need a computer + capture card. The capture card is what takes the video signal from the camera and sends it to the software encoder. While this might seem like the cheaper option at first, keep in mind that you need a very robust machine that is capable of processing large video files in real time. At the time of this writing, we recommend a computer with an Intel Core i7 processor and an Intensity Pro 4K capture card. As to software encoders, we recommend Adobe's Flash Media Live Encoder if you're a beginner and OBS if you need advanced controls. Both are free. See How To Set Up OBS: Tutorial From A To Z
Best hardware encoders for streaming church services
Hardware live streaming encoders are stand-alone devices that don't need a computer to transform the video signal. With a hardware encoder, you remove the need to purchase a high-end machine, you get faster video processing and you simplify your church video system. Using the EzeCaster Pro, for example, you can start live streaming with the push of a single button—there is nothing to install, connect or configure. The device will automatically be connected to our live streaming platform which means that you can also record your church service straight to the cloud.
Quick comparison. Let's now look at the pros and cons of software vs hardware encoders for streaming.
Hardware

Stand-alone
High performance
Set and forget

Software

Requires a computer to run
Performance depends on the computer
Ability to tweak the settings
Conclusion On Choosing Live Encoder For Your Church
Take a closer look at the resources you have. Do you have a computer that's powerful enough or will you need to buy one? What's your budget? For example, if your budget is below $1,000, then you'll probably want to hunt for a second-hand computer + capture card and go with the slower software encoding. If you have, say, $3,000 at your disposal, then you can opt for a hardware encoder and enjoy faster performance.
Next, do you need flexibility? If you want to play with the video quality settings, go with a software encoder. If you prefer a church video setup that "just works", the hardware RTMP encoder is the better choice.
Connecting your church streaming equipment
In this section, we'll show you how to put all your gear together. First, we'll look at how a live streaming setup works. Then, we'll explain how to connect the equipment. There will be slight differences depending on whether you chose to stream with a computer + software encoder or with a hardware encoder. The last piece of the puzzle that you will need is a church live streaming platform. We'll discuss these in detail below.
Streaming from your computer with a software encoder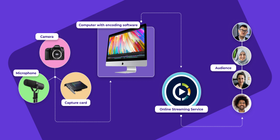 Church live streaming setup: Software encoding
It can be daunting at first, especially when you don't have a lot of experience with technology. We hope the above diagram of a live streaming setup will help you.
If you haven't chosen an encoder yet, here's a list of free software for live streaming. Now, let us walk you through this setup:
Step 1: Place your camera on the tripod
Step 2: Connect your camera to your capture device using the HDMI cable
Step 3: Connect the sound output to the camera
Step 4: Connect the capture card to your PC
Step 5: Install the streaming software
Step 6: Connect your camera. Here's how to do it with Flash Media Encoder and here's how to do it with OBS.
Step 7: Select the streaming service, e.g. YouTube
Step 8: Copy and paste the stream key from your streaming service (e.g. YouTube) to your streaming software (e.g. OBS).
Streaming with a hardware encoder (live streaming box)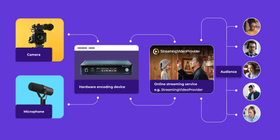 Church live streaming setup: Hardware encoding
We'll use the EzeCaster Pro as a example but the steps are generally the same with other live streaming boxes.
Step 1: Connect the camera and audio source to your EzeCaster Pro Encoder.
Step 2: Connect your EzeCaster Pro to a LAN or WiFi network.
Step 3: Log in to your live streaming service (our client area in this case)
Step 4: Select the Eze Caster Pro as live video source
Step 5: Click auto configure and start streaming to your website, Facebook, YouTube or any other platform you decide. You can also stream to multiple platforms at the same time.
Bonus: Install the EzeCaster Pro mobile app if you want to broadcast from your mobile
Now let's look at the two types of live streaming solutions that are most often used by churches.
Live streaming church services on Facebook Live or YouTube Live
It might seem like a quick and easy solution at first but keep in mind that your live stream content will be at the mercy of their platform.
We already covered the steps to connect your church live streaming equipment. Now, let's see how you can post your live stream to Facebook.
How To Live Stream Church Service On Facebook
.
Before you get started, note that you need a Facebook Page. If you don't have one, follow these steps. Next, go to your church's Facebook page and make sure you have admin rights. Then, start the live stream from the Facebook page. If you're using a software encoder, see this tutorial. If you're using a hardware encoder, head over to the encoder's admin panel. You can also schedule a Facebook Live but this will not work for recurring events, i.e. you can't make it start automatically every Sunday at 9 am.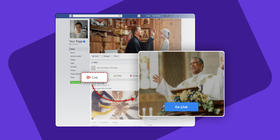 How to broadcast your church services with Facebook Live
How To Live Stream Church Service On YouTube
Broadcasting from your desktop to YouTube is much similar to doing it with Facebook. If you decided to live stream to YouTube with a software encoder, see this tutorial. If you decided to use a hardware encoder, again, head over to the encoder's admin panel. Like Facebook, YouTube also allows you to pre-schedule an event but, again, there is no ability to run a recurring live stream.

Note the limitations. Facebook and YouTube limit your live stream to their platform, i.e. you can't publish your Facebook live stream on YouTube and vice versa. This means that you'll potentially reach less people because you'll be limited to a single platform. On both platforms, your live stream will be cut off after running for 4 hours. Most churches also get their Facebook and YouTube live streams interrupted due to copyrights issues. We'll look into these a bit later.
If you want to broadcast without limitations and censorship, you might want to consider a online video platform. We'll discuss this option in the next section.
Live streaming church services with an online video platform
A live streaming platform gives your worship team full control over the live streaming video as well as extra tools to engage your online audience.
You can publish sermon videos and testimony videos. Oftentimes, these platforms offer video hosting together with live video broadcasting. This means that you can quickly create a video library on your church's website. Considering the fact that 4 out of 5 church goers look up a church's website before visiting live, it's probably a good idea to have some video content published there.
You can incorporate passages and other media. With a live streaming platform, you have the option to embed additional media content in your sermons while you're live. Depending on your specific style of worship, this can be anything from Bible quotes and illustrations to a pre-recorded video about The Passion of Christ.
You can engage online worshippers. If you choose a streaming video platform that offers live chat, you can make your online audience feel like they are in the same room. This is a great opportunity for church leaders to connect with their parishioners after the sermon, to answer questions and to get input. If post-sermon discussions are not yet a thing in your church, here are a few reasons to consider them.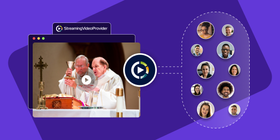 A church video platform enables pastors to stay connected with their parish
YouTube And Facebook Vs. A Live Video Platform For Worship Streaming
There are certainly a lot of compelling reasons to be on social media right now but which social media website should your church choose? There is no right answer to this question. What's "in fashion" today will be outdated tomorrow. Take the Facebook-Cambridge Analytica case for example. While it did not put an end to the largest social network, the next such scandal could do it. What if, when that happens, you have hundreds of videos on Facebook? You will lose all of this content because it doesn't belong to you. It belongs to the social platform.
With this being said, let's see a quick comparison between using a specific social media platform and a live streaming platform at your church.
| | |
| --- | --- |
| Facebook, YouTube or another social media platform | Live video streaming platform |
| They can take your content down at any time | You own your content |
| You can only stream to one social media platform | You can broadcast on your website and on as many social media websites you wish |
| Potential copyright issues | No copyright issues |
| You can record sermons and post them on your website but you can't let people download them | You can record sermons and let your parishioners download them |
| No donation option | You can receive donations online |
| Related videos distract your audience | No related videos when streaming on your website |
| Unwanted ads | No ads |
| Free | Small monthly fee |
Issues with copyrighted music
Both Facebook and YouTube have algorithms that analyze worship music while it's playing live. If the algorithm decides that your live band is playing copyrighted music (which might indeed be the case), it will take your live stream down immediately.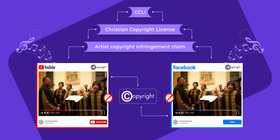 Broadcasting live church music on your website could lead to copyright claims
You can reduce the risk by purchasing a CCLI license but, unfortunately, this doesn't always solve the problem. You might also need the Christian Copyright Solutions license. And, still, having the right license doesn't mean that you're out of trouble. An artist can still file a copyright infringement claim if they decide you're not using their work appropriately. In this case, your live stream (and the recording) will be taken down until the claim is resolved. Considering that Facebook and YouTube are free services, you can't count on a fast response from their support.
Broadcast sermons on your website
It is possible to embed a Facebook live stream or a YouTube live stream on your website. The trouble is that both of these platforms create a new link for each live streaming event. This means that you have to update the link every time you broadcast. It's time-consuming and, if you forget to embed the sermon live stream link, your online worship audience will be frustrated.
Receive donations
According to NonProfitsSource, 49% of all church giving transactions are made with a card and 60% of people are willing to give to their church online. Social media websites don't provide the means to receive online tithing. Live streaming platforms do. So, if you want to allow your congregation to give to your church digitally, a video streaming service is the way to go.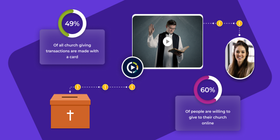 Here are the best top 7 church live streaming services that can help your church receive more donations
Total cost to broadcast your church services
The biggest challenge here is in finding the silver lining between being too cheap and going overboard with your video and audio gear. At some point, you will probably have to cut expenses and that's fine. Just keep in mind the common pitfalls and avoid installing complex equipment by yourself unless you really know what you're doing.
Now, let's recap the church live streaming essentials and calculate the total cost of live streaming your church services:
Camera for live streaming church ($199 - $899)

Wireless headset microphone system for the pastor ($299)

Tripod ($32)

HDMI cable ($7)

Church stage lighting packages ($249 - $649)

Computer + capture card as a cheaper solution ($1,200) OR Hardware encoder for better quality ($2,000)

CCLI license - only needed if you live stream through Facebook or YouTube with a computer + capture card ($75/year)

Video platform specializing in Live Streaming For Churches so you can go live on your church website and on social media simultaneously, record your church services, receive donations and more (free for 15 days, then $75/month)
The total cost of broadcasting your worship services is $2,000 - $4,000. Note that this is the realistic budget if you're building your church video production setup from scratch and you're looking for the best audio and video quality on a budget.
You can reduce this number by making use of existing resources (e.g. IP cameras that have been previously installed) and purchasing second-hand church equipment.
References And Further Reading
Want to dive deeper? We handpicked the best resources on the web to help you become an expert on church live streaming.