How To Be An Online Yoga Teacher With A Subscription Website
More and more people have been spending time inside their homes lately. This has resulted in a decline in both physical and mental health and left many people seeking a solution. This article is all about showing you how to be an online yoga teacher, listing the various ways of monetizing and marketing your content.
If you are looking into how to teach yoga online, it can be easy to be put off at the thought of moving your lessons to a website.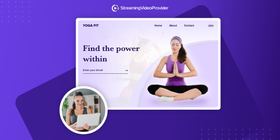 You may not consider yourself technically minded, but that's ok! We are here to help you get off to the right start with creating your own yoga subscription site. It's not as hard as you might think!
Where to start as an online yoga teacher
To start with, teaching online while maintaining a website can seem daunting, but there are a few things to remember. Using easy website builders and dedicated video platforms makes things simple and scalable.
You can start off small, get familiar with things, and then ramp up your production once you become more comfortable. In fact, that is the way you should go about this — start small and slowly branch out little by little into other video types and content variations.
When you become more familiar with the tools and your content schedule, you can then start to implement your "premium" paid content to your website.
How to teach yoga online and make a living from it
1. Create a schedule and a general plan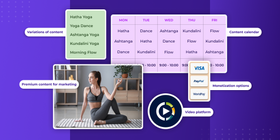 Before you even think about teaching anything, it's best to come up with a solid plan of action by getting everything written down or typed up. You should consider which types of yoga you will teach and how you will distribute your content across multiple networks.
Your plan should also include when you intend to stream, which types of content are linked to specific days and how you plan to monetize your content.
Here is what to consider for your plan:
Types/variations of your content
Simple content calendar
Think about repurposing premium content for marketing
Go over your monetization options
Think about which video platforms you will use
2. Choose the right equipment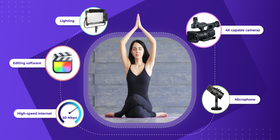 Using the right equipment is essential for both beginners and experienced creators alike.
In many ways, your content is only as good as the equipment you are using. You may have the best content around, but if your audio keeps cutting out and your video quality is terrible, viewers won't stick around.
You should be looking at the following types of equipment to elevate your content:
Well-placed lighting and visual setting
4K capable cameras
Dedicated microphones
High-speed internet
Due to the nature of your content, you should also make sure your setting is not only suitable but visually appealing to the viewer.
If you don't have much space inside, you can always consider hosting some classes outside in a garden area. This will provide some visual variation.
3. Making a yoga subscription website
This is the part that many yoga instructors are worried about! Getting your yoga subscription website up and running will take a bit of work, but you don't have to be a coder or a web designer to get a website up and running.
Before we get started, the main complexity with a lot of subscription websites like this is integrating payment options for your content.
The fantastic thing about a Pay-Per-View platform like ours is that you can sell access to your content directly from the player! This solves the headache that many users have of trying to integrate payment options on websites when they have no previous experience.
With that being said, the only thing we really need to focus on with your website is making it look visually appealing and having the option to embed your online yoga classes.
If you have no experience at all with coding or design, we recommend using WordPress or one of the many website builders out there. WordPress is very user-friendly and has a simple drag-and-drop interface that you can use to create your website.
Once you have created your account and selected a theme, you can start experimenting around with different visual styles.
As soon as your site is up and running, you can embed your videos into your WordPress website. You do this by copying the embed code from your provider, and pasting it to your chosen page.
Let's take a look at how this works.
When in WordPress, once you have chosen to add a new page, scroll through the options on the left of your screen until you see custom HTML.
This will allow you to paste your embed code into your website from any provider. It works with sites like YouTube and premium video hosting platforms like StreamingVideoProvider.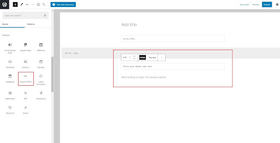 We have covered some additional methods for embedding your video content with WordPress over on our website.
Once you have saved your page, finish up any other changes and click Publish at the top right corner of your screen.
You should be left with something very simple, resembling the image below.
Here we are using the WordPress theme Balasana to show you how things should look just by simply pasting in your embed code.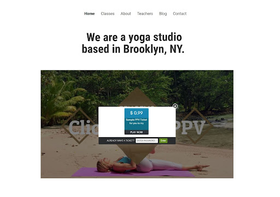 Of course, you will want to spice up your website by adding various visual elements and features. But the part that most would consider difficult is made easy by using StreamingVideoProvider. With that, you are ready to sell access to your classes directly from the player.
As this functionality is built into the player itself, you can still continue to share YouTube videos to your site using the same embed method without requiring users to pay to access them.
4. Choosing a video provider to host yoga lessons

As we touched on earlier, choosing a premium video platform opens up a lot of avenues for you to make money as a yoga content creator.
With sites like YouTube, you are limited to only ads as a monetization option, and not all content is eligible. Using a premium video hosting platform like ours allows you to be flexible with your monetization via an advanced paywall.
You still want to run ads? No problem! We aim to give control back to you as the creator while opening up many other monetization options to you and you.
With StreamingVideoProvider, you have all of the control over your content and paywall. For example, you can allow your viewers to either rent your content for 5 days, buy one-off access to a single video, or buy a monthly online yoga subscription package.
Let's take a more detailed look at how you can structure your paywall and monetization.
Sell your videos: Charge a one-time fee and allow your audience to have unlimited access to a specific video or collection of videos (playlist).
Rent your videos: Charge a one-time fee and grant your audience access for a limited number of days. (Possible to create a time-limited video pass).
Offer subscriptions: Charge a recurring fee (can be monthly or annual)
Create custom access: Mix and match all options to create custom access
| | Download Videos | Configurable Paywall | Sell from Player | Streaming to China | Ticket Fees | Payout Time |
| --- | --- | --- | --- | --- | --- | --- |
| StreamingVideoProvider | | | | | None | Instant |
| YouTube | | | | | N/A | Monthly via Adsense |
| Vimeo | | | | | 10% | 3-5 days |
5. Marketing your yoga content

Now you have everything in place to start teaching yoga to the masses, you're going to need some viewers! If you are completely starting from scratch, it is important to set your expectations realistically early on.
Chances are, growth in viewership will be very slow for the first few months, but don't let that stop you. Although you may not frequently have thousands of viewers initially, you are creating a catalog of content that will be archived online.
This will provide additional value to your future viewers as they can be granted access to all of your archived content. As time passes in these initial months, you will be honing your skills for future audiences.
Organic social media campaigns
Being active on social media is good for many reasons. You have the ability to reach new viewers and also keep current users informed when you go live or release new content.
Remember to also appeal to those that prefer visual content through the use of Instagram and Pinterest. A good starting idea for content is to screenshot a moment from one of your videos and overlay some text listing 5 quick tips, for example. Provide online yoga coaching in snippets (like Instagram stories) to give users a taste of what you offer.
In addition to promoting your paid content, you are giving your audience valuable and useful information. This is essential in order to establish yourself as an authority in your field and build trust and reputation.
Make use of Facebook ads
Facebook ads are a great way of targeting users with specific interests. By configuring your campaign correctly, you can send targeted ads to users that list relevant interests to your services in their profiles.
Take some time to improve SEO
As many businesses are now selling their products or services online, there is a lot of competition. This is why it is so important to be found for relevant search terms when viewers are looking for you and your content.
Using YouTube, Twitch, and micro-video platforms
Although you are looking into how to make money teaching yoga online, free platforms shouldn't be completely ignored! You can still make use of YouTube to build your audience and create snippets of content. You should create free content that stands alongside your premium online classes and yoga videos.
Streaming a live class for short periods on Twitch can also help build your audience as more and more people become interested in health and fitness.
Using sites like TikTok is also recommended as you can give quick tips while directing viewers to your main online yoga membership website.
Make use of your archived content
Once you start creating content across multiple platforms, you will be sitting on a good amount of marketing material. You should focus on creating shorter clips and highlight reels from your previous content so that you can use them in your marketing.
Content creators often do this. It's a great way to promote you and your yoga business!
Conclusion
Learning how to be an online yoga teacher can be a daunting task, but taking things a step at a time is essential. You probably couldn't do a headstand on your first day of yoga practice, could you? This will both help you think things out in a methodical way, and it also makes the whole process a lot less stressful.
The best way to teach yoga online is to start with a good plan, so spend some time getting a solid schedule created before doing anything else. Some days can be for free content for YouTube; other days will be your PPV days for premium content.
Remember to keep making use of all of your previous content for marketing and promotion on social media.
After reading this article, you should know how to be an online yoga teacher and make the most of your skills and talents, improving the health and mental wellbeing of your viewers.
References & Further Reading
If you would like to find out more about anything covered in the above article, please visit the links below.