AVOD, SVOD, & TVOD: How To Monetize Videos For Your VOD Business
Even if you're not doing VOD (Video on Demand) for your business, you're most likely doing it in another way. As a viewer or consumer.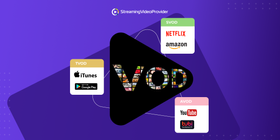 Think about it. Is there a YouTube channel your kids can't get enough of? Or are you following online video tutorials of your favorite fitness instructors? Even your beloved Netflix subscription is essentially Videos on Demand.
But how exactly are these video creators making so much money, and how can you do the same?
Right now, we are living in a video-first world. There's never been a better time to make money from streaming videos online. Thanks to the pandemic, more and more people are glued to their screens. And they demand content in different forms. People want to be entertained, learn, get fit, and engage with the outside world. This means one thing:
If you've got an idea for a VOD service and you want to earn a decent monthly income from sharing quality content with your audience, you're starting at the right time.
By the time you finish reading this post, you'll know exactly how to monetize your videos. And you'll understand the different business models to start a VOD business of your own.
Knowing Your Stuff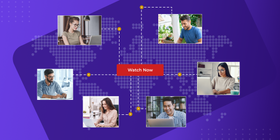 An example of a company that uses VOD is Virgin Media. In 2005, Virgin Media (formerly Cable TV providers Telewest and NTL) introduced VOD. They used the name Sky by Broadband. It used a peer-to-peer approach. Where video content came from many users who downloaded each piece of content.
When streaming content, it's important to know monetization strategies and how to get paid to live stream. Whether it's your first time live streaming or you have a long line of loyal followers, knowing different ways to monetize your channel can help you to earn big bucks. And, yes, the earning potential can get really big in this industry!
There are a few options to choose from when you want to sell your video content online. Before we go into the best pricing strategies for you, here's a brief overview of the different streaming models available. Namely AVOD, SVOD, and TVOD.
SVOD (Subscription Video on Demand)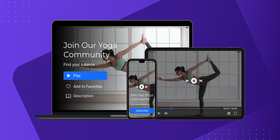 You may ask: What is SVOD?
SVOD services allow you to sell a subscription to your channel. And release premium content on a regular basis.
You may offer a monthly or annual subscription fee with an option for viewers to sign up for a free trial period. On SVOD platforms, you can also offer a freemium package. Or you can give your viewers the opportunity to view a sample or restricted content for free.
TVOD (Transactional Video on Demand)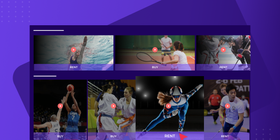 Remember the days when you rented a movie from the video store?
TVOD, or transactional video on demand, works the same way. Viewers purchase or rent new releases or exclusive content on a pay-per-view basis.This option may supplement an SVOD model.
TVOD is an excellent tool to build anticipation or promote a piece of upcoming content. Often used to monetize sporting events, TVOD is growing more and more popular every day.
AVOD (Advertising-based Video on Demand)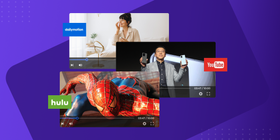 Who hasn't watched a YouTube video that's been interrupted by ads?
That's AVOD working in all its glory! This model allows you to offer free content while advertisers pay you to display their ads to your audience. As you'd expect, this works best when you have a sizable and fully engaged audience.
What's Best for You?
Now you know the basic pricing models and strategies for selling your video content online. But how would you know what is best for you and your business?
Let's dig a little deeper
Choosing SVOD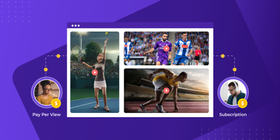 To recap what does SVOD stand for? It's a subscription-video-on-demand service.Do you offer classes or ongoing content that can be streamed over time?
If yes, SVOD is the ideal way to monetize your videos.
You can also use it if you want to monetize a library of content that can be streamed over and over again.
Keep in mind that your viewers will pay a subscription fee. So, it's crucial to keep your content relevant to your viewers' needs and interests.
For example, your subscribers won't be interested in videos about ad-hoc software if they've signed up for info about fitness. Your viewers aren't going to watch a video on call trunking if they subscribed to get DIY tips.
The more relevant you keep your content, the more you will build your reputation. And the less likely you are to lose subscribers!
SVOD offers flexible subscription options to create an ongoing revenue stream. But before you jump in, you need to determine if you have the right kind of audience for this model. Consider how many followers you have and the ways in which your target audience consumes video content.
Niche audiences, for example, are more likely to want a long-term relationship with you. Whereas broad entertainment audiences are less likely to stick around month after month.
Once you've created these long-term relationships, you can also ask for feedback. This will enable you to keep creating the kind of content your viewers will keep paying for!
Choosing TVOD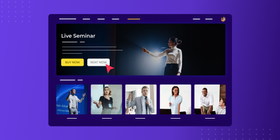 The great thing about TVOD is that anyone can buy or rent your content as there is no joining fee. With such a wide audience, your content doesn't need to be so niche or specific.
One example where this model works well is if you run video services as a general business coach. You may want to share a video about call management one day and affiliate marketing the next.
TVOD also allows you to promote a specific rental or purchase, such as a new movie or live event on your channel.
You have the freedom to offer single videos, series, or feature films. Multiple options allow you to have different prices to suit the videos that you are selling.
Choosing AVOD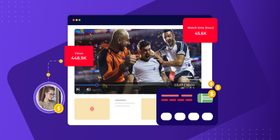 Individual ads require large volumes to make big money, so this option is best if you have a large following or audience.
The most popular example of AVOD is YouTube, where viewers can watch content at zero cost and with no commitments.
AVOD provides a lucrative revenue stream for very large or growing audiences. Smaller video creators find they can earn reliable revenue through a combination of SVOD and TVOD models.
Bear in mind that the ads you show on your channel will need to be relevant to your target audience. There's no point in showing an ad for OnlyDomains if your channel is aimed at kids!
Let's say your YouTube channel is based around topics such as CCaaS. Running ads on something at the opposite end of the scale is probably a bad idea. For you and the advertiser!
Advertisers will only be willing to pay you if they know they'll make a decent return on investment. It's important you think about who your viewers are and not only think of numbers when considering this monetization model.
To Sum Up…
If you're wondering where to start, check out our roundup of the best video monetization platforms.
One of the main benefits of offering a Video on Demand service is that your content remains accessible for months or even years. This is useful if your viewers need to access it whenever they want.
Besides, you can later use the archived content for other purposes, including marketing or lead generation.
VOD is excellent for this age where convenience gets priority. Video on Demand allows viewers to search online libraries and watch content whenever and wherever they please.
Unlike television, there are no restrictive broadcast schedules. Your viewers have complete freedom over what they watch and when. A VOD platform also provides a high-quality viewing experience over broadband internet. It offers a quick start-up and minimum buffering time on gadgets such as tablets, PCs, phones, and smart TVs.
With so many benefits to VOD, it's hardly surprising that it's consistently growing in popularity.
When it comes to monetizing your videos, we've shown that there are many options available. The key is to look at the requirements, size, and engagement of your audience and choose your model accordingly.
With the right strategy, the world really is your oyster!
References & Further Reading