How To Monetize Your Videos Without Relying on YouTube
You have put a lot of time and effort into creating videos. Now comes the moment you've been waiting for—it's time to turn your videos into profit and earn good money by simply doing what you love.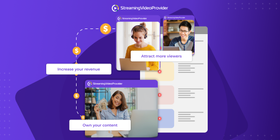 YouTube is the second most visited website after Google, with over 2 billion monthly users. In 2023, the highest-paid YouTubers managed to earn between $15 million and $29.5 million.
These stats are mind-boggling!
So, it's no wonder video creators are hooked to this platform in a bid to reach the masses and make a living for themselves.
However, ever since YouTube has rolled out its new policy that requires at least 1,000 subscribers and 4,000 hours of public watch time over the past 12 months to earn money from the YouTube channel, people are looking for alternative ways for video monetization. Besides, even if you get to the Holy Grail of YouTube monetization, your channel can be demonetized at their discretion.
Wondering how to monetize videos without relying on YouTube or where to monetize your YouTube videos? We're here to show you how. But let's first look into what YouTube does offer.
How to Monetize Your Videos With YouTube
Video monetization comes in many forms. Here are the most popular ways you can get paid for video content.
YouTube Partner Program
We can't skip this one. The article is about YouTube, after all.
The first step here is to enable monetization on youtube by applying to the YouTube Partner Program (YPP). While anyone can create a YouTube channel and utilize YouTube Studio, you need to fulfill certain requirements to become a member of YPP. These include:
Have more than 4,000 watch hours on your channel in the last 12 months
Have at least 1,000 subscribers
Set up a Google AdSense account to track the ads shown on YouTube.
Affiliate Marketing
This is another lucrative option to monetize your video content or even monetize YouTube live and improve your sales process overall.
All you need to do is add affiliate links to products (that you review and use) in your videos and tell your viewers to buy them. If a viewer makes a purchase using your affiliate links, you earn a commission.
The easiest way to put affiliate links is in your video description. However, you can also add them directly to your video content itself.
Brand Sponsorships
You can also make some good money with your YouTube videos through brand sponsorships, also known as influencer marketing.
Brands are investing a large portion of their advertising budget on influencers who have a massive following. This is an excellent opportunity for video creators to reach out to brands and offer to create videos that feature their products.
Make use of your favorite search engine and research brands that complement the content you produce. Engage with them on social media, pitch to them, and show how you would help their brand.
Here's an example of a great sponsored brand video.
Ways to Monetize Your Videos Without Relying on YouTube
Now that you're aware of the ways to make money through YouTube, let's have a look at three strategies to monetize your video content outside of YouTube.
Create Your Own VOD Platform
Create a VOD platform for like-minded people who can benefit from your valuable content as well as be a part of an online community.
Video on Demand (VOD) is a way that allows users to enjoy a variety of video content in their leisure time and from any device with internet access.
VOD platforms, such as Netflix and Hulu, have revolutionized the way we consume video content. A study shows that VOD viewing time has increased 155% over the last year.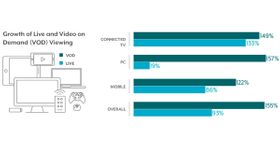 With so much potential, it's no wonder many businesses are utilizing VOD platforms to monetize their video libraries and create stable income streams.
"How?", you may ask.
Suppose you want to create an online education platform where your students can access all the study materials and interact with teachers and other students under one roof.
You can either create a VOD platform by hiring an app developer or you can use an all-in-one video platform that allows you to build a customizable video channel that can be embedded on any page or blog post on your website.
The idea is to select a video monetization platform that:
Allows you to upload videos and organize video playlists based on different categories
Provides different video monetization options
Allows you to add live and pre-recorded videos in a few clicks
Lets you customize the video player and channels to match your brand's identity
Provides in-depth analytics about the performance of your content.
And, video production shouldn't be scary. With a free screen recorder, you can quickly record lectures for your online school. Edit them by adding a logo and colors that suit your brand. Plus, you can insert CTAs throughout your videos, such as links to course material or quizzes, to lead the viewers to the next step.
Now, let's dive deeper into video monetization. You can monetize your VOD platform in three different ways — SVOD, AVOD and TVOD. Let's dive a bit deeper in each one of these:
SVOD
Subscription video on demand (VOD), a.k.a. a streaming video website, is the most popular model to monetize your video content. This allows your users to enjoy unlimited access to the entire video library for a small recurring fee that is paid daily, weekly, monthly, quarterly, or annually.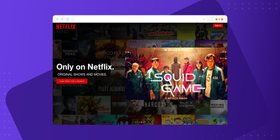 Video creators and businesses can reap benefits from the recurring income from subscribers, whereas viewers can enjoy as many videos as they want on any compatible device.
This model suits those platforms that feature a wide variety of content in categories like entertainment, movies, TV shows, sports, and so on.
Common examples include - Netflix, HBO, and Hulu.
AVOD
AVOD stands for ad-based video on demand.
This type of service is free for its customers as your content is supported by third-party ads from sponsors. This is especially effective in terms of revenue when you run custom VAST/VPAID ads.
With this model, advertisers pay to place their ads in front of your viewers. This strategy works best for companies or creators with a large audience size. The higher number of viewers you have, the more income you can earn from the ads you run on your video platform.
TVOD
Transactional video on demand service allows your viewers to access video content on a pay-per-view basis. Just like a DVD store where customers pay for a particular DVD, your users are charged per video or video package instead of accessing the entire playlist.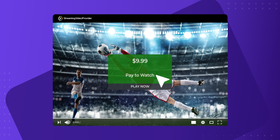 This model works great when you have unique content to offer to your audience. Plus, if you're hosting live streams on your platform, you can charge a fee from your viewers to access it. This process is called pay-per-view live streaming.
Double Your Reach With OTT Apps
If you want to reach a wider audience with your video content, utilizing an OTT app is the way to go.
Check out the following stats:
So, what is it about OTT apps that make them so appealing to the user?
Over-the-top (OTT) is a system of streaming video content at the user's request. They have more control over accessing any content wherever they want. Plus, they can save more money and improve their experience compared to paying for TV/cable subscriptions.
The primary difference between VOD and OTT lies in the fact that OTT is strictly streamed content that cannot be downloaded like VOD content. Further, VOD can't offer live streaming, while OTT can.
In short, OTT offers both video-on-demand and live streaming content.
For example, Wanderlust TV.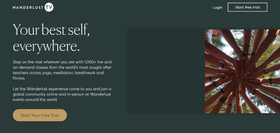 So, if it's live content you want to include in your video marketing strategy, OTT apps can be the perfect option for you.
Like VOD, you can either create an OTT app from the ground up. Or lease an app from OTT platform providers.
Through these platforms, you can easily create an OTT app for any device, including iOS, Roku, Amazon Fire TV, Apple TV, Android TV, Xbox, and so on, resulting in better reach and even more revenue.
Facebook Video Monetization
Another lucrative strategy to earn money from videos is Facebook video monetization.
Facebook has rolled out its monetization policy for content creators, helping them make more money through their videos.
The latest changes are:
Generate income from short-form video
Expanding the in-stream ad eligibility criteria for content creators
Accelerating viewer support via free Stars giveaway.
Now, more individuals dabbling in content creation will be able to monetize their video content with ads long term. However, they have to meet certain criteria to earn from their published videos, which vary according to each video ad type: In-stream, live, and gaming.
For example, for in-stream ads, the Facebook pages must have 600,000 total minutes of watch time in the past 60 days and five or more active video uploads. This includes regular videos, recorded live videos, and live streams.
And, if you're interested in monetizing your live streams, you must have 60,000 live minutes viewed in the past 60 days.
Facebook is one of the biggest social media networks around, with over 2.7 billion monthly users worldwide. So, if you're not utilizing Facebook to monetize your videos, you might be missing a huge opportunity to drive insane revenue for your brand.
Want to know more about Facebook video monetization? Check out this video by Lester Diaz.
Over to You
YouTube video monetization might be a powerful way to earn recurring income for your business. But that's not the only option you have.
If you wish to leverage video monetization to grow your business and generate revenue streams, it all comes down to YouTube channel vs website streaming. Stop relying on YouTube. Now that you know how to make money as a content creator, test different monetization options and see which of these works for you.
References & Further Reading