10 ways to protect your online course videos and content from being downloaded
If you have an online course, you're at risk of content theft. As a content creator, or an information or education-based organization, you need to protect your digital assets.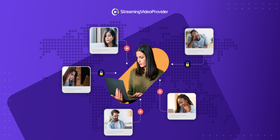 Even big enterprises like Hollywood are subject to piracy. According to DataProt, annual revenue losses from digital piracy around the globe are between $40 billion and $97.1 billion in the movie industry. In fact, 126.7 billion views worth of TV episodes produced in the US is pirated every year.
Your stolen content can be redistributed without your consent. So should you delete your video players and stop producing videos and content?
Not at all, according to Neil Patel, a well-known name in the online industry. It's still possible to make a profit from online courses.
Whether you sell training videos on your website, or you have an online education membership website, you have valuable knowledge to share with a market that will pay for this information and you should share it. But you have to be smart about it.
You need to implement safeguards that will prevent video downloads and keep your content safe.
In this article, we'll show you different ways to protect your video files and other online content. You can do it yourself or use third-party services. Either way, it's important to know the legal aspects of online content protection and you'll learn more about it here.
Five do-it-yourself ways to protect videos online
By now you're certainly asking: "How do I protect my videos from being downloaded?" So let's look at how to stop downloads without using a third party.
1. Disable right-click and copy functions
One of the easiest ways to copy content is to right-click on the mouse, select "Save as", and the content appears in your downloads folder. Another easy way is to copy and paste it to another platform. You simply highlight the content and then use the CTRL + C function or right-click to copy it.
Fortunately, you can disable the right-click and copy functions on your web pages. Video protection in WordPress is a plugin that allows you to disable the right-click button.
Be careful, though, right-click and copy functions are there to make it easier for users to copy or save certain parts of your course. Without it, they'll need to take notes, which may affect the overall user experience. You can offer a free download with a download button in exchange for an email address to build your email list.
2. Disable direct access to videos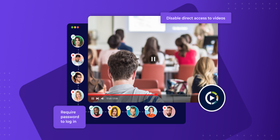 When you have an online course, you may want to limit how users access your course content. Visitors should not have direct access to download the embedded videos or content by simply typing the URL on their browser. It makes it easier for unscrupulous parties to access and make copies of your content.
You can prevent direct access to your learning materials via direct URL access from .htaccess. By adding a few lines of code, you'll be able to manage how visitors can reach your content and save videos.
3. Use watermarks
Claim ownership of your course with a watermark on your images and videos. There's a variety of ways to do it. You can add your name, logo, website, or a combination of different elements that would show you own these assets.
Of course, you should be careful that watermarks don't interfere with the message in your image or video.
When your content is shared illegally, a watermark proves that the party who shared it does not own the content. Keep in mind, however, that a simple watermark can be removed. So, you may want to consider using a third-party service that provides dynamic watermarking.
4. Use two-factor authentication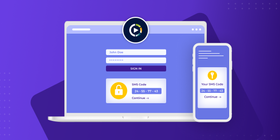 You can protect your online course by gating it and implementing password access protection.
However, passwords may no longer be enough. Some hackers could bulldoze their way through your password-protected content so it's better to have multiple levels of authentication.
You can use two-factor authentication or multi-factor authentication by adding multiple layers of authentication before anyone can access your content.
This way, even if someone cracks the first layer, usually the password, there's a second layer of authentication to protect your content. Other forms of popular authentication options are one-time pin (OTP) and biometrics authentication like fingerprint scanning.
You can even protect PPV content with two-factor authentication that prevents viewers from sharing Pay Per View (PPV) tickets. Learn more about how PPV works and how to sell live streaming videos.
5. Show your face
There's no better proof of online video and image ownership than having your face in it.
You can either use a professionally done video, record your webcam, or even a record video call. It would be hard to dispute your claim when they play the video and see you teaching the course. And it goes beyond the face. People buy your whole persona – the way you speak, your demeanor, and how you explain things.
They may try to duplicate files, videos, and images but they can't duplicate you.
How to protect your online course legally
Aside from the things you can do on your website, you can also use existing laws and regulations to protect your online course.
Here are three points where we explain how to prevent users from downloading video files with the law as your backup.
1. Apply for a trademark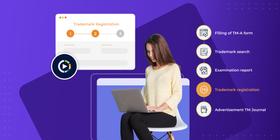 A trademark protects your identity in the marketplace. It can apply to names, symbols, and even color schemes. And yes, it can also apply to the name of your course.
As long as it's a unique course name and is not a common term, you may be able to apply for a trademark.
Anyone who uses it or reproduces it without your consent can be fined or sued in court. The problem, however, is that applying for a trademark is not as straightforward as you'd expect. Applicants encounter a lot of problems while trying to get a trademark.
I'd suggest getting a trademark attorney for assistance.
2. Copyright your course
Copyrighting your course means you get legal protection for your original creative work. That means you're the only one who can monetize it, or provide consent to others to monetize it.
Your copyright applies to your images, graphs, texts, videos, and PDFs.
It's a lot easier to register than a trademark, and it's clear proof of ownership of your online course assets. This will come in handy when someone else claims ownership of your course.
3. Email a copy of your course to yourself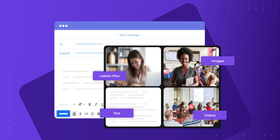 It's not exactly a legal procedure, but it is very useful in resolving legal disputes surrounding your ownership of the online course.
What you can do is email the whole course to yourself, including everything: the curriculum plan, lesson plans, images, texts, videos, etc.
Once you've sent the email, do not open it.
If a dispute over the ownership of your content occurs, you have indisputable, untampered, and time-stamped proof of the length of time you had the course.
If the other party is not able to show proof that they had it for longer (which they won't), you have a guaranteed victory.
Third-party services that help safeguard your online course and video content
You can also protect your online course by taking advantage of apps, websites, and software available in the market. So here are two points on how to protect video from download using a third party.
1. Host your course on a third-party gated website
One of the available options is to use secure video hosting for your online course on an online learning platform. The main disadvantage is that you will be sharing profit with the website. But it also comes with several benefits.
For one, most of these platforms already have built-in audiences. So it should be easier to reach people who are interested in your online course.
The second advantage is their 'supposed' security. Since they are hosting online curses from multiple clients, you would think they have sophisticated security protocols and policies that prevent duplication of content.
However, in 2015, Udemy faced significant backlash for allegedly profiting by publishing pirated online courses.
So be careful when choosing an online course website to publish your content. Make sure that you got your legal grounds covered.
2. Use a private video streaming service

Like most things in life, applying high-level and multi-layered security features on your website doesn't have to be your job. Just get someone else to do it, or in this case, get a third-party platform to do it.
A quality private video streaming service can:
Encrypt your videos – An HTML5 video player encryption prevents your online videos and content from being intercepted when users stream them.
Prevent hotlinking – Hotlinking is the act of stealing bandwidth by linking directly to your domain where the media file is hosted, instead of downloading it and hosting it on their website.
Allow geo-blocking – This gives you the option to block viewers based on their location. It could be due to language and culture differences, regional-specific content, local regulations, and laws, or other reasons.
Prevent password sharing – A dedicated private video streaming service can use two-factor authentication to prevent users from sharing their passwords and, so, prevent group buying schemes.
StreamingVideoProvider offers these and many other security and privacy features, along with custom pricing options and an advanced video CMS to manage your course content. Best of all, there is NO revenue sharing. You only pay a flat monthly fee and keep all of your revenue to yourself.
Conclusion
Your online course can be worth a lot of money. Invest in the right protections and safeguards to prevent others from duplicating and redistributing these learning materials you worked so hard to develop.
There are multiple ways to protect your online course. Choose the ones that will work for you. The truth is that nothing is fully secure on the internet. Your goal is to make it hard for thieves to copy your work so it's no longer worth their effort.
References & Further Reading