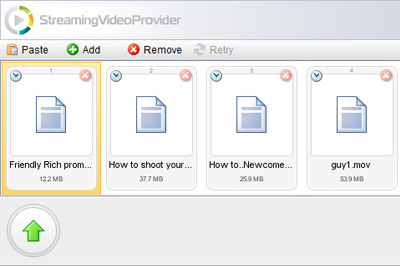 Java Video Uploader
Upload large video files (up to 10GB each) straight from your browser. It's easy - no need to install any software! The Java Uploader has an unique connection resuming feature, meaning users won't start all over again if your internet connection drops during the upload process.
HTTP Uploader Alternative
For those who don't have Java installed on their computers, and wish to upload files up to 100MB, the HTTP Uploader is the answer. Both uploaders allow you to specify the video file title and add additional tags so you can identify and easily filter your videos.
Java Uploader > Features
Large Video File Support - up to 10GB per file.
Multiple Uploads - upload multiple videos simultaneously.
Auto Resuming in case of disconnection or crash.
Background Uploading - continue with your tasks whilst your videos upload.
Windows & Mac Support
Wide range of supported video & audio formats.
Embeddable On Your Website - enable your viewers to upload
No Software To Download - works within any browser.
Video branding and metadata support

To learn more about the Java Uploader and see examples, go to our Knowledge Base