Have you been looking at how to start an online school, but you're not sure what steps you should take, or if it's even profitable?
Don't worry; you're not alone.
Many people are skeptical before they create an online school. After all, it's normal to see success stories and think, "Yeah, but is it going to work for me?"
You know you've got a skill to teach, but there's the little feeling in your gut making you doubt yourself.
So let us put your mind at ease…
Right now there are thousands of students in hundreds of niches hungry to learn from a teacher like you.
They want to take courses from the comfort of their own home, from a teacher with real in-the-trenches knowledge, who can cut through the usual classroom jargon.
An online school is also one of the cheapest, most profitable online businesses you can start. For a small investment, you have the chance to grow a large and stable income.
In this article, I'm going to talk you through why it's a good idea to start an online school, and how you can take your first steps today…
What You'll Learn
Use the table of contents below to navigate through this post:
Why You Should Start An Online School
Online schools are the future of self-education.
People who want to escape their dead-end job, learn a new skill or finally pursue their passions are using online courses to do so.
That's why over 10 million people have accounts on websites like Udemy , and traditional schools are seeing growth of up to 40% in online school enrolments .
They want to learn the skills they need, on their own time, with a teacher they know and trust.
And it makes sense. 22 Jump Street was a great film, but nobody wants to find themselves wandering the college halls trying to fit in again, do they?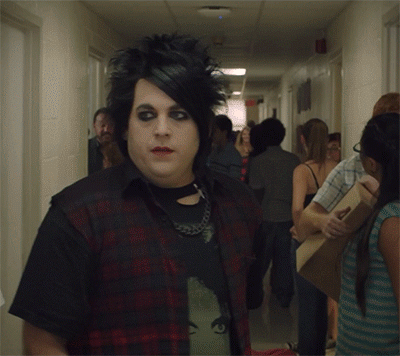 This hunger for online self-education has created a great business opportunity. And, if you have a skill people want to learn, it could be the start of a profitable business. How?
You can start an online school.
While it may sound like a daunting task, it can be one of the most lucrative decisions you make. Your initial investment is pretty low, and the potential profits are high.
Entrepreneur Ramit Sethi, the owner of GrowthLab, currently ranks teaching online as the most practical online business to run right now: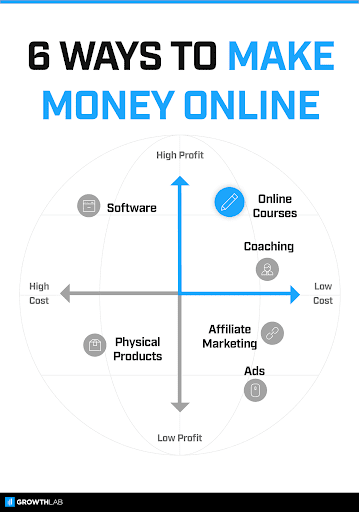 Our data at Uscreen backs this up too. The average Uscreen school owner generates $3,800 in monthly passive income, with running costs as low as $199 per month .
Not a bad profit margin, right?
As someone who runs an online school , let me tell you something else; it's one of the most flexible businesses you'll ever run.
You can work from wherever you want, whenever you want and with whomever you want. All while keeping complete creative control over what you teach.
Turn on your computer. Connect to the internet. Create what you want. Repeat .
If you need a little extra convincing, you can find ten more great reasons to start an online video business right here .
But if you can feel the urge to create an online school, let's take a quick look at one in action, so you can see how it all works.
How to Start a Profitable Online School in 5 Easy Steps
Click To Tweet
A Magical Online Academy In Action
Magic Stream is a great example of an online school in action.
They're an academy where would-be magicians can access tutorials and tricks on any device, at any time. Basically, they're the Netflix of magic.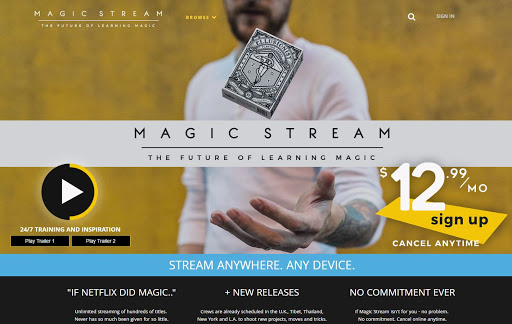 The Magic Stream team wanted to create more than an online course. Although their name and reputation could have landed them lots of high-ticket sales with a standalone course, they were compelled to create a bigger and longer lasting resource.
This wasn't just about magically making money online. It was about catering to the wants, needs, and desires of their audience.
For $12.99 a month magicians can access hundreds of videos to help them improve a wide range of skills. This is an affordable level of pricing and keeps their product accessible.
As long as students are subscribed, they have access. If they unsubscribe, they lose it.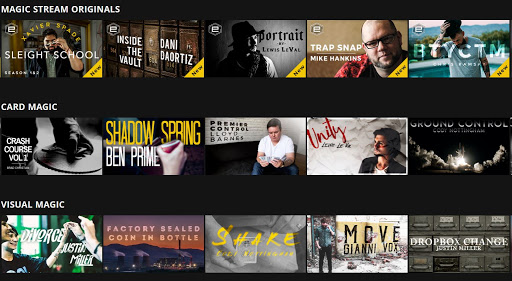 This business model comes with lots of benefits for Magic Stream as school owners, too:
Easy to scale:

With their course content created they can automate marketing and sales processes (or hire people to do them) and focuses on the creation

Attractive offer:

$12.99 per month is an attractive price lots of people can afford

Passive income:

Magic Stream receives a payment every month someone is subscribed for no extra work (even with just 100 students that's $1,200 a month passively earned)

Easy to manage:

They can update, change and add to their course with minimal disruption

Reason to stay subscribed:

Users want to stick around for upcoming videos

Community:

It's much easier to build a community around a school than a course
Now there's a good chance you've never heard of Magic Stream. But they're running a successful online school, catering to a specific niche, and earning a great passive income from it.
Imagine what you could do by following the same business model.
Speaking of which, let's dive into the different online education business models you can use, and how a school makes money online.
The 2 Types Of Online Education Business Model
There are two different business models you can use to run your online school.
The "night school" model

The "academy" model
Let's take a look at both of them and see which one is right for you.
Option #1: The "Night School" Business Model
h4
h5
h6
The "night school" models is a familiar one, and perfect if you want to create a standalone course.
We've called it the "night school" model because you'll recognize it if you've ever taken a night class or course around your day job.
Students:
Pay an up-front fee for the course

Follow a set structure from start to finish (with little deviation from the main topic)
Finish the course with a test or quiz to show proficiency
Online these courses look like those which are offered by companies like Udemy or Skillshare. They're laser-focused on one topic and have a specific end goal.
The benefit of these is you can "launch" your course and receive a larger up-front monetary payment. It's not unusual for these launches to range from four figures all the way up to six and seven figures.
But this also comes with its drawbacks. You can only earn one-off payments this way, and you have to create multiple in-depth courses if you want to cover a variety of topics. If you want to change a course, it often requires a complete overhaul.
Although profitable, it can be time-consuming and stressful.
Which is why we much prefer option number two…
Option #2: The "Academy" Business Model
With the "Academy" model you create a school to cover all the skills your students will need to learn. (Like you saw with Magic Stream before.)
It's like joining a sport of musical academy. A budding violinist wouldn't need a course about, "How to play Stravinsky". Instead, she'd need a complete education, cove ring topics like:
How to act on stage

How to care for her instrument

How to apply for positions in orchestras

How to adapt to different styles of music
She'd also pay a weekly, monthly or yearly recurring fee to be able to have this comprehensive education. She'd probably be a student for the long-term, too.
The same applies when you start an online academy.
You can create a business around a core theme or topic, and cover everything students need to reach their desired end goal. It's not just a one-and-you're-done thing, but an entire education.
From the business side of this, there are lots of benefits.
Students are hooked because they want the upcoming content and diversity you offer. They always have something to learn, and they're excited when new content comes along.
They'll stay with you long-term because you always have something to offer, and they always get the new value, without having to increase what they're paying.
Admittedly, these business models make less money in the short-term. You may not see the high four to six-figure launched from the night school model.
But you will be more profitable in the long term. Why?
Because you have a source of evergreen passive income.
Your students are here as long as you keep adding value. And, for the life-span of their education, you can generate far more income than launching a one-off course.
Regardless of which option you choose *coughoptiontwocough* it's time to look at how to start an online school. Let's go…
How To Create Your Online School: A 5-Step Guide
Choose Your Tribe

The first step is to decide the tribe of people you want to teach.

This is the overarching group of people who will want to enroll in your school. For example, Magic Stream's magicians. If you already had an idea for a course, it's worth looking at who your course would be a good fit for.

Your tribe can be as broad as an industry, like graphic designers. Or it can be narrow, like cake decorators in Canada. Whichever best fits your skill set.

Knowing who your tribe is will make…

…much, much easier.

Pick The Core Skills To Teach

Have you ever watched the TV Show Westworld? (Stay with me.)

All the robots in the show are made human by a "cornerstone" belief. It's a (fictional) event in their past they base their entire character around. They come back to it whenever they need a reminder or who they are.

These "cornerstones" exist in online schools, too. But you'll probably know them better as categories. (I'm going to call them cornerstones though because, well…it's cooler.)

They're the reason your students enroll, and why they keep paying for content they can probably get elsewhere for free. They're usually the two or three skills they know they'll come away with if they stick with you.

Let's say you're creating a business school for graphic designers. You might create content around these three "cornerstones":

Research

: How to find potential clients

Outreach:

How to effectively contact potential clients

Sales:

How to turn potential clients into a paying one

You can use them to help plan your content, drive your marketing and ensure you're delivering the results they're looking for. A benchmark, of sorts.

If you're unsure of this, think about the wants and needs of your tribe. What is the result they're looking for, and how can you help them get it?

Want to learn all of this in more detail? Check out Uscreen's brand new Video Business School! It will guide you through the whole process of launching an online video business of any kind from start to finish.

Plan Your Lessons

With your tribe and cornerstone ideas in place, you can begin to plan the first lessons you're going to teach.

Before you launch, it's good practice to have at least one "completable" lesson for each of your cornerstone ideas. This is a section they can start, finish and learn from before moving onto another topic.

Sticking with the graphic design example above, your first three videos might look like:

Research:

How to find potential clients on LinkedIn

Outreach:

How to craft the perfect pitch email

Sales:

How to sell to a client on the phone

You may also want to add additional extras to these lessons. You can include PDFs, audio tracks, print out sheets and anything you feel will add depth to the lesson.

Now, it's important to note you don't need to have a "finished" school by the time you launch.

The beauty of running a school like this is you can adjust, add and change your content based on your student's feedback.

If you enroll students, they watch a video, and they're crying out for more information on a particular topic, you'd do well to cater to their needs.

The idea at the start is to have enough content they feel like they're getting their money's worth, but diverse enough they know this isn't your average course.

Create Your School's Platform

Your final step is to get your school online.

To do this, you're going to need to use an online teaching platform. They'll help you to host your videos and courses, and save you lots of money on trying to do it yourself.

Before you choose a platform, you need to ask yourself the question about accessibility. How and where do you want your school to be used?

Will it be browser only?

Will people be able to access it on their phones and devices?

Will people be able to access through their televisions,

with OTT video apps

?

Depending on the school you want to run, different levels of accessibility will be expected of you. While a drawing school may be great from a web browser, a yoga school may need to go through their television.

Another of the major issues you'll face in setting up your school is how course platforms work. Many of them only allow you to create a standalone course, and you have to Frankenstein them together to make it resemble a school.

But there is a way to create an entire school where your students can seamlessly move from section to section. Better still, you can make it available on more devices, and cater to your customers where you need them.

Uscreen allows you to create an inclusive online school with categories and tracking student progress and has some pretty cool website themes. Check out our current customers for examples.

You can find out more about us, and what we offer, by clicking here.

Find Your Students Online

Now that everything's set up, it's time to spread the word in all the right corners of the internet to find potential students to your online school.

How you market your online academy will come down to your audience. You'll need to choose strategies that focus on where their attention is, and adding lots of value up front.

Here are some tips to help you get started:
Wrapping This Up…
By now we hope you have a much clearer idea of how to start an online school. And, the great opportunity they create for you as an online business owner.
If you have the skill to teach, and you want to make passive income, it's one of the most profitable businesses you can start.
But now we want to hear from you. What's brought you to look for how to start an online school? Do you have any questions about starting your school?
Let us know in the comments…