News, Updates & Coming Soon
Here you'll find the latest feature releases coming hot of the press. In the coming soon section you get a sneak peak at feature updates that are currently under development.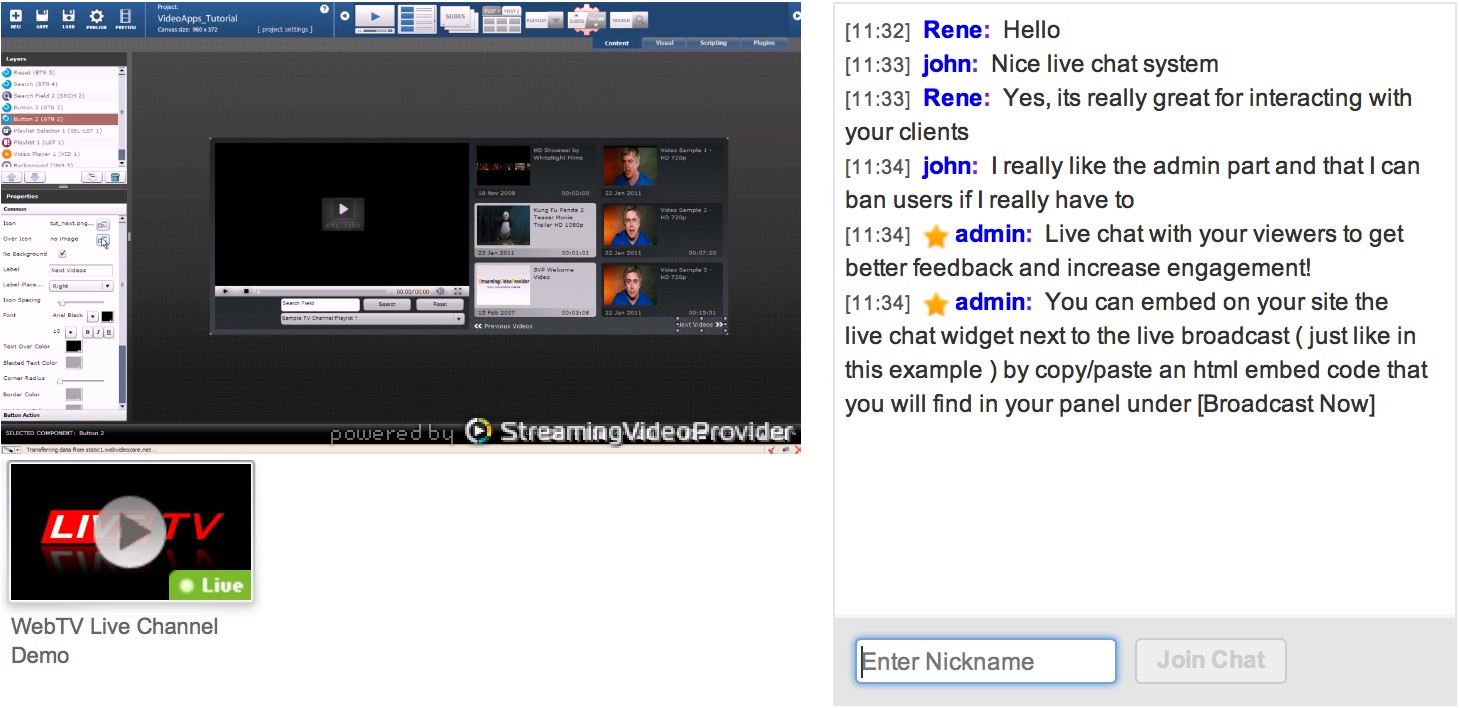 StreamingVideoProvider has just released a Live Chat feature. Live Chat allows you to chat and interact with your Live Event viewers. Opening great interaction possibilities and increasing engagement of your viewers.
StreamingVideoProvider has just release a brand new Broadcast Panel. The New Broadcast Panel brings all the most important features right in to the panel making it very easy to manage all aspects of your live event including Recordings, Webcast Slides and Live Chat
StreamingVideoProvider has just added the ability to stream live events and WebTV schedules to Android devices v3+ in HTML5 (without the need of Flash)
Custom Fields Dark | Size: 965×665 | Live Demo | All Video Apps
StreamingVideoProvider has just released 4 new Video Apps Templates with short and long description support for your video playlists
StreamingVideoProvider has just added the ability to Loop your Videos when using Direct URL Link publishing.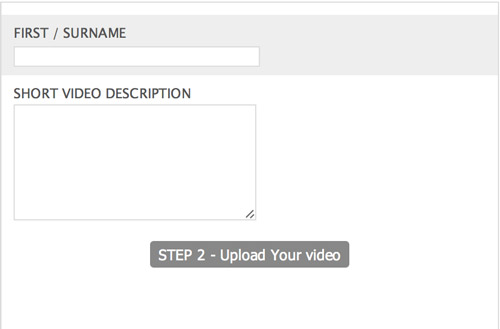 StreamingVideoProvider has just released a new Advanced External Uploader with Custom Form Data Collection.
The new External Uploader is embeddable on your site and allows your viewers to fill in a custom form. The collected information will be attached to the video uploads.
Click on the image below to find out more about the external uploader.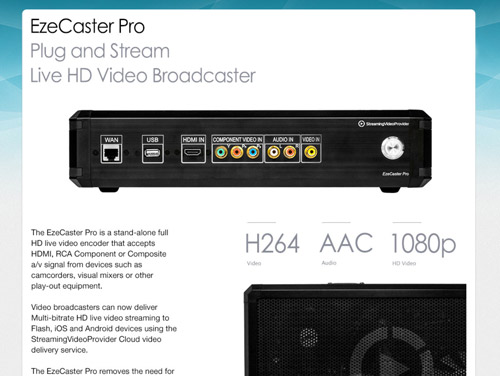 StreamingVideoProvider has just released the EzeCaster Pro HD All-in-One Video Encoder box.
It comes packed with features such as Multi Bitrate, Full 1080p HD Streaming to iOS, Android and Flash; Fully controllable from your Panel; Remote Start/Stop Broadcasting & Recording + many, many more features.
StreamingVideoProvider has just added the ability for you to generate SSL embed codes that can be put on secured web pages.
Here are the features that kept us busy lately. You may have seen them already on our blog but, here is the summary.
StreamingVideoProvider has just released Custom Fields to display Custom MetaData in your Video Applications.
StreamingVideoProvider has just released Live WebTV Scheduler. Create your own Web TV Programme.
StreamingVideoProvider has just released the ability for pay-per-view users to take monthly and recurring payments for their ppv videos from their users.
StreamingVideoProvider has just released IP Restrictions for your Videos.
By using IP restrictions you can restrict the access to your videos and video applications and allow viewers only from trusted IPs.
StreamingVideoProvider has just released Geo-Blocking Video Restrictions
By using Geo blocking video filtering you can restrict access to your content for viewers in specific countries or regions.
StreamingVideoProvider has just released integration with Google Analytics.
By integrating your Google Analytics account you will be able to track the total number of plays across all your videos during a chosen time frame and you also have the ability to see individual play counts, technology information, traffic sources and visitor information.
Pay-Per-View users can now accept payments using the following payment processors and solutions - 2Checkout.com, CCBill.com, PayPal.com, Authorize.net, Custom Payments via PPV API
In some cases it makes sense to allow your customers not only to stream your videos but also to download them to their computers.
StreamingVideoProvider makes it easy for you to enable a Download Video button that will be displayed around your new or already embedded video players or applications without the need to replace the embed codes.
We are very excited the announce the release of our Pay-Per-View API that enables users to integrate 3rd party payment / SMS processors with the StreamingVideoProvider's Pay-Per-View Paywall solution and also to manage your ppv tickets and passwords via the API.
StreamingVideoProvider makes it easy to restrict your playlists so they can only work on allowed domains in just a few steps. Most of the providers do not offer this feature to their customers.
Monetization & Password Protection for your Single Videos
The new feature that many of you have asked for now enables you to set up Pay-Per-View tickets for your single video players including Live Broadcasts.
We are very excited to announce the launch of our new easy to use Facebook & Twitter publishing feature that allows you to publish your video content (live broadcasts and video on demand) straight from your StreamingVideoProvider user panel onto your Facebook Wall or Twitter status page.
For those StreamingVideoProvider users who are using the VideoApps Studio as a publishing tool to create their video applications, we are delighted to announce a "VideoApp Direct Url" feature available under the Publish section of the VideoApps Studio.
We've just added a new search & filter bar within your PPV Orders & Passwords section so you can find easily any information related to your ppv orders and passwords.
We're very excited to announce the launch of the new Advanced Pay-Per-View / Password Protected Packages that gives you more flexibility when it comes down to setting up your video access restrictions.
The new feature allows you to create your own custom PPV packages and add custom tickets to them.
We are super excited to launch our 3rd generation highly customizable flash video player that offers high-performance video playback across multiple platforms, including TVs.
The Flash Player will automatically resume should you lose connectivity
Default offline splash image and overlay text
StreamingVideoProvider is proud to announce its new features recently added to the SVP video platform.
iOS Support - Secured Streaming over RTMP - SVP Video Encoder & Uploader App - Wirecast Support - Pay-Per-View Direct Links - More improvements and bug fixes
We are excited to announce the public beta launch of SVP Encoder & Uploader App, a new Windows based application that makes it easy for you to batch encode your video files locally before uploading them into your SVP Panel.
Newly added services to our API Version 1.12
StreamingVideoProvider is excited to announce some new features that were recently added to the platform.
VideoApps Studio - Pay-Per-View (PPV) playlists - Password Protection - Live Streaming - Reseller/Partner Program - Affiliate Program
We are delighted to announce the latest new feature(s) that is now available in our user's control panels - Daily & Weekly Scheduling
I have been watching this business grow over the last five years and I think that the year 2010 was a hallmark year for the online video market, as the space grew into a Godzilla or should I say, Videozilla!?
Based on my experience, I know for sure that this trend will continue into the coming year, too.
For Internet Service Providers, the greatest challenge is to constantly reinvent their skills to catch up with the latest technologies. No sooner have they mastered their skills in one area, that another one emerges. Making this even tougher for these service providers is the fact that customers these days are truly knowledgeable and up-to-date on technology facts.
Vaas is not the name of the new UFO spotted in the Arctic sky. VaaS or `Video as a Service' is a byname of the original – `Software as a Service'.
Why would you bother with VaaS?
Well, because you are probably going to hear a lot about it in the near future. The world of online videos is taking off big time and the sooner we accept it, the better use we can make of it.
Larry Kless, President and Founder of Online Video Publishing.com in his blog http://klessblog.blogspot.com/2010/08/video-publishing-platforms-and-value.html covers the recent Streaming Media East 2010 conference and in particular the session on 'Media Framework: Video Publishing Platforms'.
Thanks to YouTube, Google Video and other video-sharing sites, adding a video to a website is now very easy. All that one needs to do is to embed code from a video found on any video-sharing site in one's own website and have a video enabled website.. It is equally easy to find a piece of content which is relevant to a website and which might be of interest to visitors, generate the code, add it to the site and enable videos
In a world where song downloads are available for free, iTunes Store is an iconic name that will always be remembered as the service that spawned the legal music download industry. Within 18 hours after the service first went live, it sold approximately 275,000 tracks! Today, the iTunes Store is the second largest seller of digital music in the U.S. and has sold over 4 billion songs.
Never miss an Update !
Subscribe via RSS
Fan us on Facebook
Follow us on Twitter
Google Plus
Get Updates via E-mail
Enter your email address below to be notified about new updates.
Coming Soon
Multi Bitrate Dynamic Streaming
Your videos will be streamed in a stunning HD quality and for those viewers with lower internet speed, the player will switch auto and seamlessly to a lower bitrate
Expected in September 2013
EzeCaster Mobile for iOS
Stream live or upload videos directly from your iOS device straight into your SVP account
Expected in October 2013
Broadcast Panel as an embed
Making the broadcast now panel a stand-alone panel that can be accessed outside of the SVP Panel using direct url or an embed code. This enables your own users to broadcast live straight from your website by giving them an access to their own Broadcast Panels set to stream directly to Flash/iOS players. (you can generate a pair of Broadcast Panel & Flash/iOS Player and get their direct url links or embed codes)
Expected in October 2013
Live streaming from IP H264 cameras
Stream directly from H264 RTSP IP cameras
Expected in October 2013
HLS URL will be made available
Developers will be able to obtain and use the HLS http address for their video content ( both Live and VoD , that can be be used with 3rd party applications.
Expected in October 2013
Live chat plugin for the VideoApps Studio
It will allow instant chat between the broadcaster and the viewers
Expected in November 2013
Making the VideoApps Studio HTML5 compatible
Any apps designed by the VideoApps will be compatible with iPhone/iPad devices
Expected in November 2013
Pre/Mid/Post Video Ads Support in the VideoApps Studio
Display video ads before, during or after specific videos
Expected in November 2013
Screencaster
Broadcast live or record your screen – ideal for online presentation (one to many) or simply use it as bug reporting tool
Expected in December 2013
Video Email
Quick and easy way to record a video message using your webcam and mic and then email a link to the recipient for instant VoD playback
Expected in December 2013
New SVP Control Panel
Search, group, mass-control and manage your videos
Expected in December 2013
Pre/Mid/Post Input Forms
Easy way to set up custom forms and make them to appear before, during or at the end of the video enabling you yo collect valuable information from the viewers
Expected in January 2014
"Pay with a tweet" support in the Pay-Per-View
ou can request viewers to tweet a pre-configured tweet message before having access to protected videos. This is another variation of the pay per view/ password protected videos that encourages viewers to "create a buzz" around your content
Expected in January 2014
Pay per minute support in the Pay-Per-View
Offer your viewers an option to purchase a viewing time allowance. For example "Buy 1 hour access pass to our videos for $5". Viewer will be able to watch live or VoD content for up to 1 hour.
Expected in January 2014
Prevent viewers sharing passwords / tickets
Currently viewers can share their passwords/tickets. We are working on enabling our users to have control over how many users can be simultaneously using the password at the same time.
Expected in January 2014